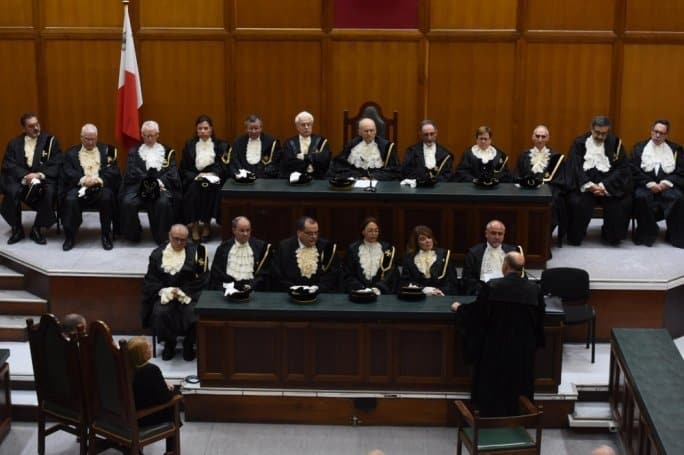 The First Hall of the Civil Court presided by Judge Mark Chetcuti, today rejected the government's claim that Repubblika has no legal standing in arguing that the government should not be appointing judges and magistrates without reforming the judicial appointments system.
The Court found that Repubblika was eligible to make this claim under the Charter of Fundamental Rights of the European Union that was one of three legal bases Repubblika cited to claim its right to make this complaint.
The Court however rejected the other two legal bases quoted by Repubblika – Malta's Constitution and the European Convention on Human Rights – since Repubblika failed to show it was a "victim" in the sense required by these laws to allow them to file a case in Court.
Having rejected the government's claim that Repubblika had no legal standing on the basis of the EU Charter of Fundamental Rights, the case will now proceed at a hearing next week where Repubblika is expected to present evidence to back its claim that the method of appointment of judges and magistrates in Malta is in breach of the EU Treaty.
In a separate decree, Judge Mark Chetcuti decided to postpone his decision on whether to refer Repubblika's complaint to the European Court of Justice in Luxembourg. In his decision he said he would wait for a decision by the European Court expected in the case the European Commission filed against Poland on interventions by the government of that country on the independence of its judiciary.
Judge Mark Chetcuti said he expects the Luxembourg decision on the Poland case to provide 'redeeming guidance' for his decision on Repubblika's request.
Repubblika's request for an interim measure to block the implementation of the government's appointment of six new members of the judiciary was rejected because interim measures are not allowed under proceedings grounded on the EU Charter but on the European Convention of Human Rights and the Constitution. Since Repubblika's legal standing on the basis of the latter two has been rejected, interim measures cannot be ordered.