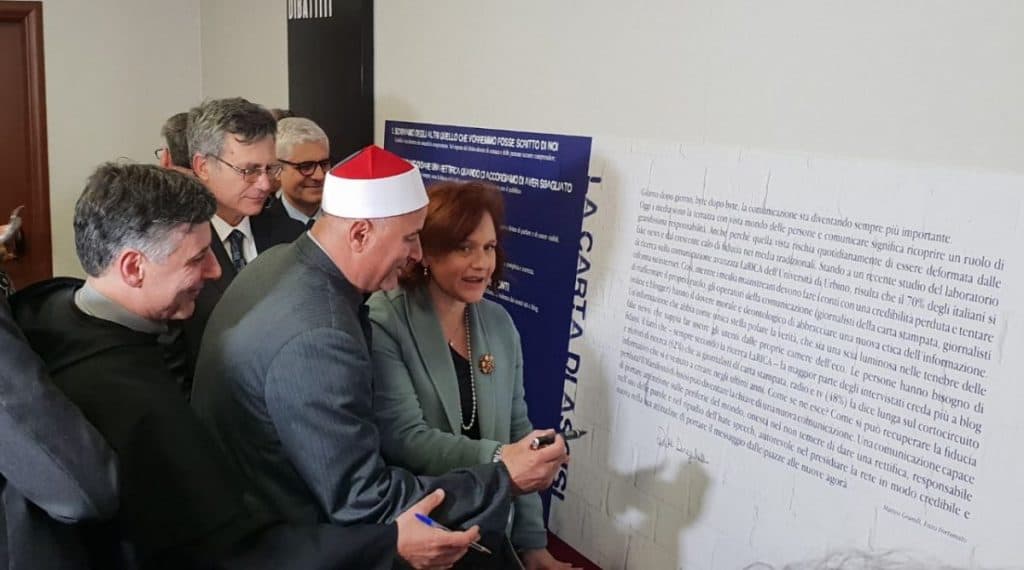 A few days ago I attended an event in Rome where representatives of churches and religious denominations, together with the Italian national union of journalists, Amnesty International and other free speech organisations signed 'the Assisi charter'.
This is a document that is a manual for people who write, whether as professional journalists, or as individuals participating in the community's conversations on blogs, comments boards, social media and so on. 'Words are like stones,' says one of the headlines of the charter. You can use them to kill people, or to build bridges across gaps in understanding for people to reach over whence before they could not go.
Religious people can be very skilled at distilling complex ideas and lessons into succinct guidelines. And with all the monotheists in the room, they brought it down to 10 simple instructions. Like anyone who knows the ten commandments inside out, I cannot claim to never fall short of these principles. I do.
But when I was invited to sign the charter on its inaugural day, I did so happily. I will be writing more about this in the next few weeks. But for now, here's my loose translation of the 10 principles that summarise the Assisi charter. Might I have the wisdom and the constancy to live by them.
1. DO NOT WRITE ABOUT OTHERS WHAT YOU DON'T WANT WRITTEN ABOUT YOU
Writing is communicating. Communicating is understanding. Hostility is an impenetrable wall blocking out understanding.
2. DO NOT BE SCARED TO CORRECT YOURSELF
Information should always be correct. Always be honest with readers. Do not be scared of writing a correction when you realise you have made a mistake.
3. GIVE A VOICE TO THE WEAKEST
Remember to give a voice to those who own nothing but their lives. By all means, defend your identity. But respect diversity and difference.
4. LEARN TO GIVE NUMBERS
When writing, always remember to fold into opinions all the data that is relevant to provide correct information.
5. WORDS ARE STONES. USE THEM TO BUILD BRIDGES.
Remember that when wrongly used, words can hurt, injure and kill; your blog or you website should not carry messages of death; denounce the keyboard warriors and seek to build bridges that rise above the walls of censorship.
6. BECOME THE MEDIA GUARDIAN OF TRUTH
Make yourself the spokesperson of those who thirst for peace, truth and social justice. When a journalist is threatened by mafie or camorre, walk in their shoes and never leave them alone.
7. DON'T THINK YOU'RE THE CENTRE OF THE WORLD
Do not believe the Universe turns around you. Try instead to use what you write to shine a light on the peripheries of the world and the edges of the soul.
8. THE INTERNET IS PRECIOUS. USE IT IN THE RIGHT WAY.
Remember the Internet is a revolution, but what you write is a revelation of what you truly are.
9. BE IN TOUCH WITH PEOPLE
The ultimate aim should not be to have a network of wires and cables, but a network of brothers and sisters.
10. BRING YOUR MESSAGE TO THE NEW DIGITAL SQUARES
St Francis's revolution was to bring the message out of churches and into squares. Remember today to bring about a new revolution, bringing your message from the squares to the new on line agoras.
The decalogue in the original Italian is here: