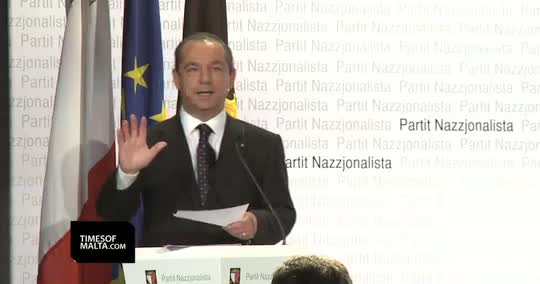 General Councillors of the Nationalist Party are being convened later this month to vote on a confidence motion in Party leader Adrian Delia.
The vote is beset by confusion, designed and intended by the leader himself. The last thing he wants from the process is clarity.
The most obvious contradictory message to Councillors is that since it was party members who chose the leader, Councillors should not feel they have the right to change that choice.
This is ridiculous. Commons MP Kenneth Clarke has warned Boris Johnson that should he try to fulfil his promise as party leader of delivering Brexit on 31 October without an exit deal with the EU if none is secured before then, he will defy him with his vote against him in Parliament. There's no talk of treason. As an MP Kenneth Clarke is accountable to his constituents, not to the members of the Conservative party electing their new leader. And he must fulfil his function without regard to what a person chosen by a separate suffrage thinks.
Granted that Adrian Delia was chosen by party members, two years ago. That does not mean that he can lead without the confidence of the General Council and the Parliamentary Group and the Executive Committee of the Party. These are all elected offices to which Adrian Delia must submit himself.
The real question that Adrian Delia should be asking is if the power to fire the party leader is removed from General Councillors, what are they Councillors for? Are they merely props for standing ovations at televised party conferences?
And if Adrian Delia is to survive this vote he is to be more ambitious than merely securing a simple majority of support.
Compare leaders in crisis. It's 2012 and Franco Debono has abstained in a parliamentary vote. I underline 'abstained'. He did not vote with the Opposition.
But Franco Debono challenged Lawrence Gonzi to assume responsibility for decisions he disagreed with.
How did Lawrence Gonzi react? Unlike Adrian Delia in many, many ways.
To begin with he did not allow people within the party to turn on Franco Debono. I got whipped because I thought at the time that now that Franco Debono had no longer voted with the party he had become fair game. I posted on Facebook a timid post that without naming Franco Debono implied he wasn't a true representative of PN voters of his constituency. Compare that with the spectacular venom that is posted on Facebook today. But at the time standards were much higher. The PN openly reprimanded me. I was not a journalist at the time but a C-class PN politician so a reprimand from your party was no walk in the park. That put me in place.
Then Lawrence Gonzi turned to General Councillors. He submitted himself to a confidence vote by secret ballot and insisted the ballot would be kept open to any challenger should they wish to run. As it happened Franco Debono — or anyone else — did not challenge Lawrence Gonzi on the ballot but Councillors could still vote (in secret) that they disapproved of his leadership.
That's when Lawrence Gonzi set himself a target. If less than 4 of every 5 Councillors supported him, he would resign anyway.
As Louis Galea said today in The Malta Independent on Sunday, unity is key for a successful political party. Everyone must be pulling on the same rope. He perhaps should have added that if enough people are unhappy with the choice of rope the party leader makes then it is up to the leader to fuck off into the sunset.
On that day in 2012 Lawrence Gonzi understood that. He understood and declared it was his responsibility as a leader to ensure he was the cause of unity not of breakdown.
Look at this concluding extract from Lawrence Gonzi's speech of 2012 calling for a secret confidence ballot. Look at the dignity, the elegance, the calm in the face of crisis. In other words look at the leadership.
Compare that with Adrian Delia, dodging the ballot and declaring beforehand he would not respect the outcome because he's only really interested in what the party members think.
Scratch that. He's only interested in what a very slim majority of voting party members thought of him in September 2017.
It's not like he's suggesting members are called up to confirm him now. He's not asking them if they changed their mind about him because he knows the answer to that.
This is what Councillors must understand. It is correct that the statute gives the job of choosing a leader to party members. That will still be the case if Adrian Delia loses the confidence vote later this month.
Councillors would not be over-ruling members by declaring they don't have confidence in Adrian Delia. On the contrary they'll be giving members the opportunity to express themselves in a vote. Adrian Delia sure as hell is not going to give them that chance.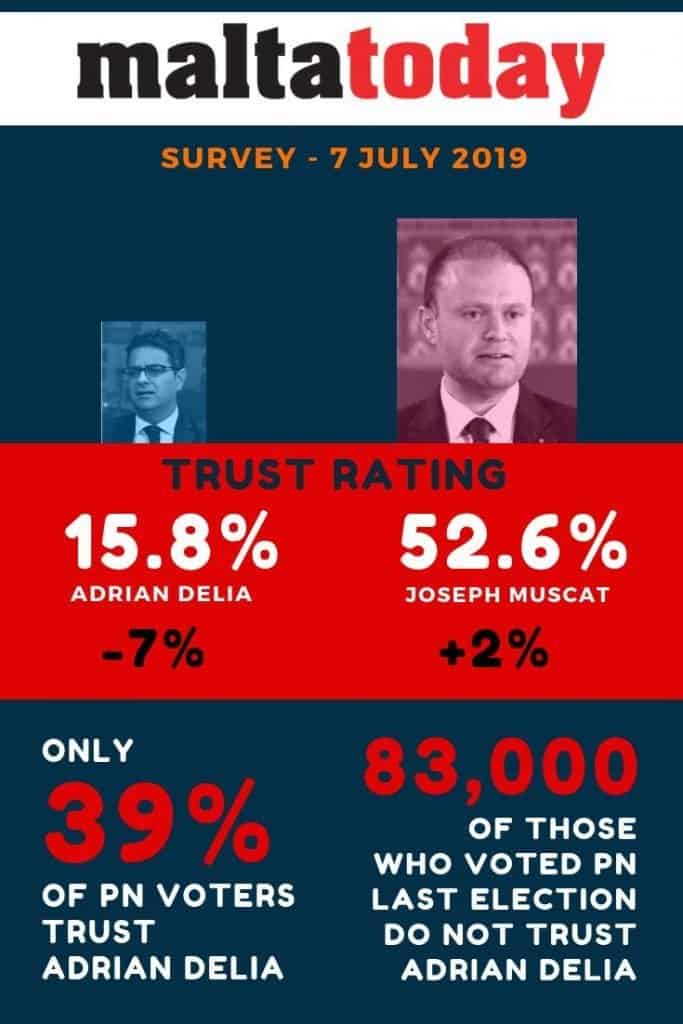 Of course he won't. Even he can read numbers. Consider today's Malta Today trust rating. His crowd of fans keeps getting smaller and smaller. It is not only nowhere near the possibility of winning or obtaining a half way acceptable loss at the next general election.
The confidence rating in Adrian Delia shows that more than 60% of voters who voted PN in June 2017 (one of the the worst showings of the PN in an election in the last decades, as we were so frequently reminded by Adrian Delia in the aftermath of that vote) do not trust Adrian Delia.
General Councillors cannot ignore the fact that that loss of trust must reflect itself in the party membership as well. It is their duty to give them — party members — the opportunity to express themselves again.
And they must do so now. Not in a year's time after Louis Galea completes his term. Not in two year's time after a devastating general election that sees the PN reduced to the status of a minor party and Labour elevated to tyranny by virtue of its perpetuity.
In the meantime, let us all see Adrian Delia not set himself an 80% threshold to consider himself as a unifying factor in the PN. And then he wonders why he continues to compare unfavourably than anything that came before him.
If you've watched the film clip that came with this post and you don't miss the old ways, you're probably one of the lonely 15.8% that told Malta Today you trust Adrian Delia. Fuck off already.