Godfrey Leone Ganado has prepared a series analysing the transcripts of Joseph Muscat's and Owen Bonnici's testimonies in court in the case filed by Adrian Delia asking he's given a copy of the Egrant inquiry report. The following is the first part.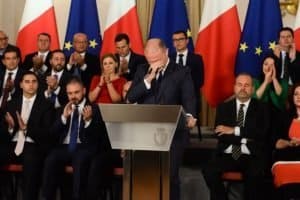 This series will carry extracts from the transcripts of the testimony given by Joseph Muscat and Owen Bonnici in the case 'Honourable Dr Adrian Delia versus the Advocate General', regarding the request by the Opposition Leader to be given a copy of the full Egrant Inquiry Report, which consisted of 1,500 pages, and of which only 49 pages of Principal Conclusions were published. The questions are being numbered and grouped by me, to make references easier. The transcripts are being reproduced in the original Maltese.
Please also note that I have not corrected the spelling errors in the transcripts. I must mention this, as incorrect transcripts may condition the interpretation used in the court judgements..
Sitting held on 29 October 2018
1.
Dr Vincent Galea: Meta l-Avukati Pawlu Lia u Edward Gatt kitbu lill-Kummissarju tal-Pulizia fl-20 t'April 2017, ghan-nom ta' min kitbu jekk joghghbok?
Dr Joseph Muscat: Kitbu f'isem tieghi personali Joseph Muscat bhala l-kaz li kien inqala.
Dr Vincent Galea: Tieghek u tas-Sinjura  tieghek?
Dr Joseph Muscat: U tas-Sinjura tieghi. Skuzawni, skuzawni, kitbu f'ismi. Kitbu f'ismi.
Dr Vincent Galea: Mela kitbu f'ismek, pero' tissemma s-Sinjura tieghek ukoll.
Dr Joseph Muscat: Ovvjament, ghax l-allegazzjoni kienet fuqha direttament u ovvjament impingi fuqi.
Mr Prime Minister – I don't know why you got confused in whose name the report was submitted by Dr Gatt and Dr Lia. The actual report states clearly 'ghan-nom u in rappresentanza ta' l-Onorevoli Prim Ministru Dr Joseph Muscat'.
What is actually suspicious is that you filed the report on 20 April 2017, which is just after dissolving Egrant on 6 April 2017. This was clearly timed to ensure that the Court would not have any access to the records at the Panama Registry. In fact, the allegations that you were the owner of Egrant, had been made a year earlier and you never took action. Please don't repeat the stupid comment that you were being patient and suffering the allegations in silence. Such a statement is fodder only for your gullible followers.
2. 
Dr Vincent Galea: Tista' tghidlilna kif waslet ghandek l-inkjesta u min ghaddijilek?
Dr Joseph Muscat: Jien ircevejt komunikazzjoni s-Sibt filghodu, minghand il-Ministru tal-Gustizzja li qalli li gie infurmat li l-inkjesta kienet waslet ghand l-Avukat Generali.
Dr Vincent Galea: U kopja taghha min ghaddijilek allura?
Dr Joseph Muscat: Inkarigajt lil Dr Lia biex jikteb lill-Avukat Generali sabiex ikolli kopja ta' dik l-inkjesta, jidhirli s-Sibt wara nofsinhar, tard wara nofsinhar Dr Lia ghaddili kopja tal-inkjesta.
Dr Vincent Galea: Ghaddilek physical copy? Electronic copy? Kif?
Dr Joseph Muscat: Kopja fizika. Kopja fizika, jigifieri kopja pprintjata. Jien ma ghandiex kopja elettronika. 
Dr Vincent Galea: Haddiehor li ghandu, jekk taf allura, ghax qed tghid illi, (the sentence stops here, unfinished)
Dr Joseph Muscat: Ma nafx jekk Dr Lia wasslitlux elettronikament jew fizikament, jien ma ghandiex elettronika.
Dr Vincent Galea: Taf jekk hemmx xi haddiehor li ghandu kopja elettronika?
Dr Joseph Muscat: Jien jidhirli, imma nahseb ahjar wiehed jistaqsi lilu, lill-Ministru tal-Gustizzja ghandu kopja elettronika.
Dr Vincent Galea: Gabilek Dr Lia, ux hekk qed tghidilna?
Dr Joseph Muscat: Iva.
Dr Vincent Galea: X'ghamilt bih dan id-dokument inti x'hin wasal ghandek?
Dr Joseph Muscat: Kelli l-parir tal-avukat tieghi personali, Dr Lia iddiskutejt imma ma' tnejn min-nies ohra, il-Ministru tal-Gustizzja u l-Kap tal-Komunikazzjoni tieghi, Kurt Farrugia.
Dr Vincent Galea: Jigifieri, pero' lis-Sur Farrugia u lill-Ministru Bonnici, ghaddejtilhom kopja.
Dr Joseph Muscat: Jidhirli li lin-naha tal-Ministru kienet wassliitlu minn naha tal-AG, mhux jien ghaddejtilu l-Ministru, lin-naha ta' Kurt Farrugia, ghaddejtlu l-kopja li kelli jien, jien ovvjament.
Dr Vincent Galea: Issa int, ghidt ukoll li l-inkjesta qeghda tigi analizzata, minn min jekk joghgbok qeghda tigi analizzata l-inkjesta?
Dr Joseph Muscat: Irrid nghid li jien l-inkjesta ma rajthiex kollha, qed naraha ftit ftit ghax ghadha sors ta' dispjajcir u rabja kbira ghalija. Nifhem imma li-l-ewwel punt li semma' l-Avukat Generali huwa punt validissimu li jissemmew terzi persuni li assolutament ma ghandomx x'jaqsmu xejn mal-kaz u sahansitra lanqas qeghdin fil-hajja pubblika u l-unika tort li ghandhom li jisimhom bhali jew bhal marti, ha naghti ezempju wiehed. Ghandhom jigu impercin dettalji personali ta' persuni li l-unika tort li ghandhom li jisimhom Michelle Muscat, per ezempju? Dik wahda mill-argumenti illi nahseb li huwa validi u li fuqhom kien hemm parir illi issir xi certu tip ta' redection.
It-tieni raguni li ghandha ssir, qalha anke pubblikament li ghandha ssir jew redazzjoni jew inkella tinzamm aktar qabel ma tigi ppubblikata fl-intier taghha il-workings tal-inkjesta huwa li tista' tfixxkel fl-investigazzjonijiet li l-Pulizija qed jaghmlu f'dan ir-rigward. Dan mhux qed nghid ghaliex jien kelli xi tip ta' access, imma dan intqal pubblikament u kien ikkwotat fil-mezzi tax-xandir u anke nies fil-qasam legali qaluli l-istess haga li kienu jitkellmu mieghi informalment. L-unici tlett persuni li ghandhom access ghall-inkjesta nerga nghid minn naha tieghi huma l-Avukat Pawlu Lia, l-Ministru tal-Gustizzja u Kurt Farrugia.
Mr Prime Minister – I am surprised how Dr Owen Bonnici knew, or was informed, before you that the Inquiry Report had reached the Attorney General, and I must question whether it was the Magistrate or the Attorney General himself who informed Dr Bonnici.
I am also surprised how you did not receive an electronic copy from Dr Lia, as electronic copies are the norm nowadays. Is it possible that the AG had a printed copy and no electronic copy? Or was this part of the orchestration to get Kurt Farrugia to take a photo of a bulky report to impress the public? I absolutely do not believe that you do not have an electronic copy, but just a printed one, which you ceded to Kurt Farrugia without keeping one for yourself. Did you perhaps say so, to cover yourself that you could not pass on the report to anyone, and that therefore you could not be accused of lying in court about it?
Mr Prime Minister – Can anyone possibly believe you in saying that, from 22nd July 2018 (date of publication of the report conclusions) to 29th October (date of your testimony), that is three months, you had no time to read the full inquiry report because you were still angry and sour about it? Can anyone believe that your lawyer, Dr Lia, who was commissioned to redact the report for publication, did not discuss the report piecemeal with you, while working on the redaction? Can anyone believe you that you were not keen and curious to know the names of the 477 persons who gave testimony, and what they said in their testimony? How did your spouse, Michelle Muscat Tanti, know what her friend and former Buttardi Partner, Michelle M Buttigieg, testified? Could she have known beforehand, because she was prompted what to testify, or was she informed by a chamber employee recording the testimony?
Mr Prime Minister – you gave as a first reason for going back on your promise to publish the full report, and instead to publish a redacted report, that, as pointed out by the AG, there may be persons who may be extraneous to this case, and who are not even in public life, and that the only fault they may have is that their name happens to be Michelle Muscat. To those who have some intelligence, this is what we call in Maltese 'Raguni Fazulla' or better still 'Imnejka'. Please also note that in the 49 pages of Conclusions, no other name Michelle Muscat, except that of your spouse, were mentioned. I cannot understand how the AG managed to make you swallow this, 'line, hook and sinker'.
The second reason is that the publication could interfere with the investigations the Police are carrying out on this case. In this respect, may I kindy ask you to state publicly what stage these investigations have reached, twelve months after publication. This means that you were either lying or taking the public for the usual ride.
At least you conclude by saying that the only persons who have access to the report are Dr Pawly Lia, the Minister of Justice Owen Bonnici and Kurt Farrugia.
Continues tomorrow.