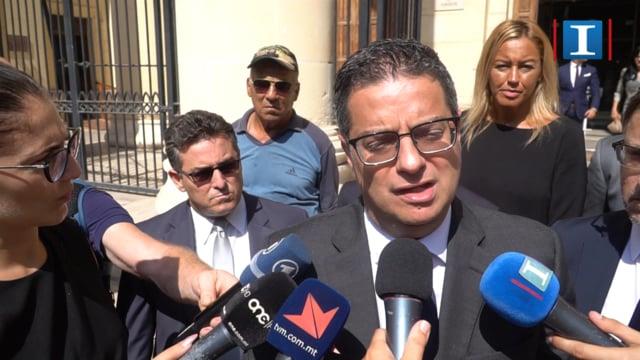 The PN today started its arguments in the Court of Appeal to try to have a decision to refuse Adrian Delia a copy of the Egrant report overturned. And it based those arguments on a court application filed by Repubblika in its own court action asking for an inquiry to start into the hospitals privatisations.
You might think the two issues are unconnected but this is a very small coven of conniving crooks we're talking about and it's all connected.
When Ministers Edward Scicluna, Konrad Mizzi and Chris Cardona gave reasons to the court why it should refuse Repubblika's request for an inquiry to start and included in their arguments a quote from the Egrant inquiry no one had seen before.
Repubblika complained it isn't fair to be made to argue in court when the other party quotes from a document it had not seen. Incidentally one presume the deciding Magistrate has not seen the inquiry report either.
Because that indeed is the crux of the matter.
In a separate case Adrian Delia complained to the Court that in the political battle there should also be equality of arms. It was not fair that the prime minister and his friends had a copy of the Egrant report but he, Adrian Delia qua Leader of the Opposition, didn't.
The court disagreed this was something it could intervene in and threw the case out.
Now that Adrian Delia is appealing he is relying on the incident in Repubblika's case and, as this Net News court report says, also relying on Repubblika's complaint that something is very strange when Joseph Muscat promised he hadn't passed on the report to anyone but his lawyers and three Ministers show up in court quoting from it as if they knew it better than their Thomas Aquinas.
Of course there's nothing wrong with any of this.
What's significant about it all is that this must be one of the first ever mentions that Repubblika got on the PN media. Things Repubblika says or does are usually reported as if they occurred spontaneously giving flesh to the ethereal passive voice.
Just a few days ago Repubblika was unmentioned but most obviously referred to in a motion by Adrian Delia loyalists referring to pseudo-bloggers, quite obviously your author, and pseudo-NGOs, again quite obviously organisations your author belongs to or is somehow related to.
It was moderately amusing to see the PN quote a ghost in Court today.