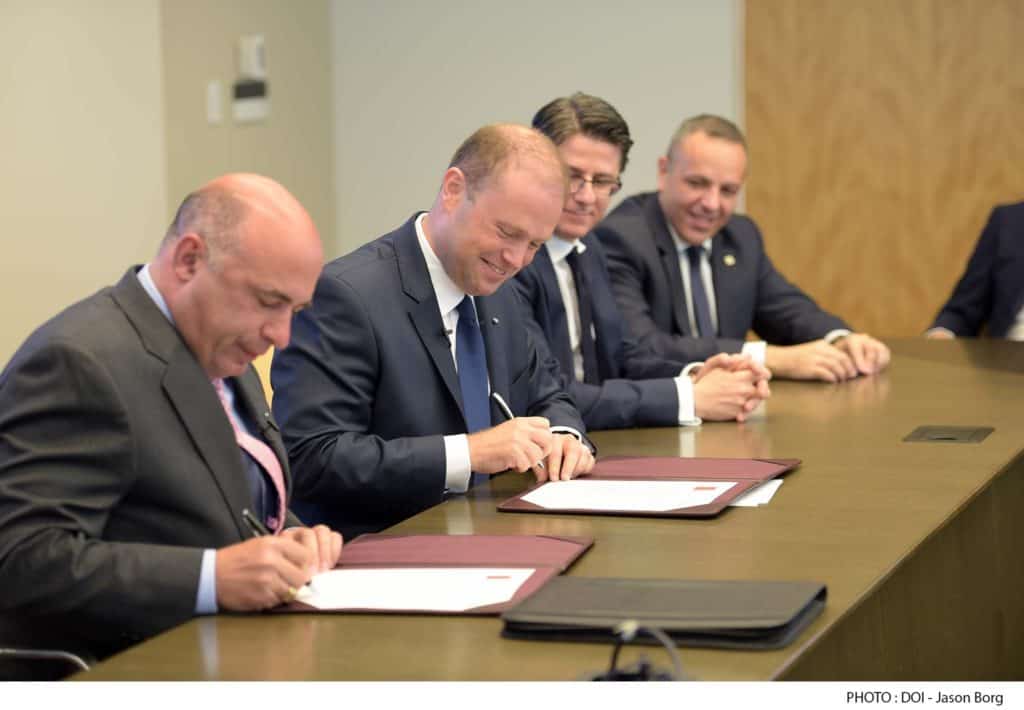 Given the evidence the police presented against Keith Schembri on the imbroglio at Progress Press, it would be irresponsible for the police and other institutions like the National Audit Office not to look deep into what happened with Crane Currency.
It's not that Keith Schembri's fingerprints were discovered on that deal. He's its acknowledged meister.
First, a refresher on what happened at Progress. The sister company to the company that owns The Times secured Malta Enterprise funding to help invest in new printing equipment. Keith Schembri supplied the equipment but over and above normal profits he charged an extra chunk which he pocketed off-shore beyond the reach of the local tax-man or he shared, also off-shore, with his partner and two decision-makers within Progress Press which he bribed.
Now, the known history of Crane in Malta.
It was first announced by Joseph Muscat on Independence Day 2016. He was in Boston, visiting the company's head office when he compared the investment with STMicroelectronics in terms of scale. A little bit of hyperbole was forgiven at the time because Joseph Muscat may have been excited.
He was speaking next to the company's then CEO Stephen Defalco who "praised the Maltese negotiating team as the most professional and responsive team I have worked with".
That was the first reason to twitch.
Two months later Times of Malta's Ivan Camilleri published the details of what the Maltese government committed to giving Crane Currency to open in Malta. The government would pay €27 million to build Crane's factory at Ħal Far. The government would also guarantee 75% of a €72 million loan to pay for the company's investment in the plant, including the purchase of the printing machines which would be supplied by Keith Schembri on the same model that he used when he supplied Progress Press.
Except Keith Schembri was no longer a "private" business operator. He headed "the Maltese negotiating team" the Crane CEO had praised so much.
The twitching now became a serious concern. In September Crane announced they would invest €100 million in Malta. By December we learnt that through cash and grants Maltese taxpayers would be covering €80 million and in any case, the balance would be loaned to Crane by Malta's Bank of Valletta.
A big chunk of that €72 million investment would find its way back into invoices raised by Keith Schembri's Malta businesses. That's while Joseph Muscat in Boston described Keith Schembri as "the catalyst" of the deal. Although by December Joseph Muscat changed his story to say Keith Schembri played no role in the actual negotiations, he only "facilitated" the deal.
Crane Currency got a blindingly good deal. They got to build a "state of the art" facility with barely any financial exposure to themselves. The deal had been so good that the owners of Crane Currency agreed to sell the entire business to new owners who paid them $800 million for it. Times of Malta's Ivan Camilleri quoted sources say "the Maltese plant was one of the major selling points".
Brand new factory. Huge returns. Little investment. Minimal risk. What's not to like?
Even Alfred Sant at the time wondered why the Maltese government had been so generous with Crane Currency? "What's going on?" Alfred Sant asked. "In order to promote new industries in Malta as a member of the EU, shall we need to extend 'subsidies' to foreign investment that are way too high?"
Alfred Sant saw this as an opportunity to justify his defunct anti-EU position. But that's a McGuffin. What matters is the factual observation that the government subsidies too generously Crane Currency. He saw it didn't make sense. Though if he suspected corruption, he didn't let on. Was the reason, a plan to defraud the government (and Malta Enterprise) and maybe even the Bank of Valletta so that Keith Schembri could pocket some more money?
The question needs to be asked given both what we know about what happened at Progress Press and the little that we do know about what happened at Crane Currency. And of course, the common factor remains Keith Schembri.
Not just Keith Schembri.
Perhaps the police would not be wasting time having a conversation with Mr Noel Galea. Until June 2017 he was the Chief Operations Officer of Progress Press. He was the guy that got the machines that Keith Schembri to work and make money.
Then he moved on to another employer operating machines that Keith Schembri supplied. His next employer? Crane Currency.