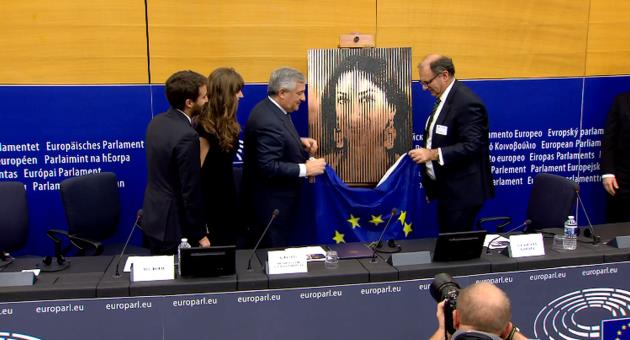 NGO Repubblika's president Robert Aquilina told the European Parliament's President David Sassoli today that "Malta's struggle against the Mafia is a European fight" and urged the European Parliament "not to underestimate the continental scale of the challenge of organised crime."
"Mafia organisations exploit Europe's freedoms to operate cross-border criminal activities whilst policing and law enforcement in Europe is dragged down by internal borders," Repubblika said. "European crimes should be stopped by a European police force enjoying seamless jurisdictional authority. European prosecutors should be able to file charges at European criminal courts. A European problem requires a European solution and it is in your power to achieve this."
Repubblika wrote to the European Parliament ahead of a debate on the developing situation in Malta.
The NGO said that "just over a year since Joseph Muscat's departure from politics and the loosening of his grip on Maltese institutions, we are seeing brave officials in the police, the prosecution service and the magistrature step up and take long overdue action against Joseph Muscat's chief co-conspirators and enablers."
"We are now at an extremely delicate juncture in the ongoing battle in Malta between the mafia that gripped its institutions and killed Daphne Caruana Galizia and the people committed to justice and the rule of law. Honest policemen, prosecutors, magistrates, as well as journalists and activists are under constant threats from criminals, both those remanded in custody and those that are still beyond the reach of the law. We cannot allow anyone to underestimate the risks they are taking to their lives, families and property."
Repubblika informed the European Parliament that "just this week Keith Schembri, Joseph Muscat's right-hand man, who is now remanded in custody charged with money laundering, forgery, fraud, corruption and lying under oath, branded the work of the police and prosecutors who charged him as the work of a 'political establishment' that resents the successes he secured for Malta's Labour Party. That position was echoed by Joseph Muscat who responded to calls for independent investigations into stories published by Daphne Caruana Galizia as 'revenge' for his past electoral successes."
Repubblika described these statements as "nothing short of populist mobilisation of retribution against officials pursuing evidence, no matter where it takes them, especially if it takes them to the heart of the criminal gang that captured Malta in the last few years and still refuses to let go."
Listing fresh scandals Repubblika mentioned the fact that policemen and prosecutors have produced witnesses in court that have testified to the direct involvement of past and present government ministers in major crimes including armed robbery and conspiracy to murder.
"Two days ago, journalists exposed a government minister for arranging illicit contracts, paid for by her department, with a person she is close to."
"Three days ago, journalists exposed two senior government officials who used private emails to draft for Yorgen Fenech submissions he needed to make to them so they would approve, as in fact they did, the extension of his casino license."
"Four days ago, policemen and prosecutors charged a licensed financial services operator who ran a money-laundering machine for Keith Schembri and other senior exponents of the ruling party. Journalists have documented his illicit activities since 2018. Though he is remanded in custody awaiting trial for industrial-scale money-laundering, Malta's financial regulator still lists him as 'fit and proper' to provide financial services and his office remains open for business.
"Also in the last few days, Malta's Commissioner for Standards in Public Life has reported to Malta's Parliament on ethical misconduct of a government minister but the Parliamentary Committee controlled by a majority of MPs from the ruling party refused to discuss the report."
The NGO emphasised the importance of the European Parliament's interest, leadership and presence here in Malta in the last 5 years to give courage to honest public officials, journalists and activists to step up and defy the code of silence and complicity.
"We would be dismayed to see the mafia's defence – that resistance to it and calls for legal consequence to criminal action is a cover for this country's perennial partisan and tribal rivalries – projected onto positions adopted by political groupings in the European Parliament. Impunity is not a harmless partisan rivalry. Impunity is the erosion of the rule of law and of democracy. And impunity is deadly for those who resist it."
"When Daphne Caruana Galizia was blown up in a car, the European Parliament saw that moment for what it was: a mafia act of terrorism. We implore you not to allow the distance of time to cause the heat of that fire to fade in your memory, to be replaced instead with the mafia's classic method of surviving: persuading you it does not even exist."