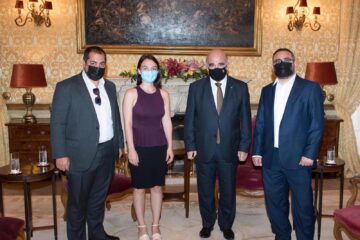 This one goes out to Matthew Xuereb, Kurt Sansone, and Neil Camilleri, three journalists sitting as a minority group in the "Committee of Experts" announced by the government yesterday "with the aim of analysing the journalism and media sector in Malta, underline areas which require development and make recommendations to the Prime Minister".
Let's call Xuereb, Sansone, and Camilleri the good guys. They've worked the beat for years. Some of them have faced more than their fair share of the typical pressures and threats that are habitually suffered by independent media players in the country. There's no doubt they can put the right views across.
The new Committee's chairman, Judge Michael Mallia, can be expected to make sure they have the space to speak. He presided over the Daphne Caruana Galizia inquiry, which turned out to be the only State institution to unambiguously document, acknowledge, and draw shattering conclusions from, the causes and the consequences of the killing of a journalist in Malta. He did an exemplary job so there's good reason to hope he'll continue in the same vein.
The rest of the Committee is considerably more complicated. Yesterday I wrote about the inclusion of Saviour Balzan and gave reasons, if anyone without Robert Abela's cynical sense of humour needed to be reminded of them, why the advice that can be expected from him on suppressing vexatious lawsuits and the abuse of libel laws by moneyed perjurers, and on protecting ethical journalism from the ravages of greed and commercial or partisan interests is in and of itself a threat to media freedom.
The Committee also includes lawyer Kevin Dingli, an unknown quantity as far as I'm concerned, but is presumably known to Matthew Xuereb and Kurt Sansone, respectively President and Secretary General of the Istitut tal-Ġurnalisti Maltin because Dingli presides on that organisation's "Press Ethics Commission". I'm not entirely sure what the Commission has done since Dingli's appointment and I'm not sure why especially he's considered a specialist in the subject. We can hope to find out during the Committee's work unless it's all done in secret. All I've managed to learn about Kevin Dingli is that he runs a law-firm which sells passports, which is nice.
What follows is not a comment based on remarks made by Dingli because I don't believe he's made any publicly. I am made nervous by remarks made by President George Vella last August where he appeared to argue for "a national regulatory structure (to enforce?) respect for ethics and standards in (journalism)". This sounds horribly like an official censoring authority controlled by the government set up to rule on disputes on who gets to exercise their fundamental right to free expression and how.
I could be my usual egocentric self and wonder aloud if I would outlive the existence of a national regulatory structure that gets to decide if what I do amounts to journalism and is eligible to exist. That egocentrism is perhaps only partly justified by the fact that I've heard journalists say I'm not one.
But I don't have to be so concerned with myself. A more poignant question would be if Daphne Caruana Galizia and her body of work would have survived unscathed the supervision of a national regulator. If I know George Vella's mind, and I don't suggest I do, not entirely anyway, I rather suspect that if he had to imagine a national regulatory authority that regulates journalists at the time when Daphne was still working it would have been an authority that would have stopped her.
If that were to be the legacy of the learning process since the killing of Daphne Caruana Galizia, the supreme irony would only be eclipsed by the cruelty of it all.
When President George Vella spoke about this "national regulatory structure" apparently to oversee journalists and journalism, Matthew Xuereb and Kurt Sansone were in the room. I should imagine the context of a conversation with a Head of State will have restrained them from pushing back on what after all are the musings of a man retired from politics and bereft of any authority, most of all moral. They'll need to be far less restrained if the issue comes up again. You've got your work cut out for you boys.
The matter will need to be discussed with two professors appointed to the Committee, Carmen Sammut and Saviour Formosa. I'm worried about them not because, like Kevin Dingli, I wonder what they think about media freedom. I'm concerned because I know what they think about media freedom. And it's not looking good.
More on that coming up.