Specialist industry journal GamingCompliance quoted "high-ranking Maltese sources" saying that all Italian online gambling licences in Malta will be investigated to root out connections with illegal betting shops in Italy.
Not a moment too soon.
This is welcome news for an industry tarnished by ineffective policing on the mafia who has been using Malta to clean its profits from drug trafficking, extortion and prostitution to use it on the bosses' lavish life of ease.
The recent arrest of Benedetto Bacchi, the "betting king", was the last in a series of episodes that has made this country look to the world like Swiss bankers vaulting bullion extracted from teeth of gas chamber victims.
I was called a traitor to my country for saying this much to the microphone of Italian TV a few weeks ago. But if truth is not told we persist in error.
We do not need this reputation of a safe harbour for pirates and fugitives. And the very few who are making money here on the back of the laundering of mafia blood money should, if they avoid the prison they deserve, start earning an honest living like the rest of us.
The report in full is below.
Not quite as explicit, but consistent in this direction is this interview given by MGA supremo Joseph Cuschieri who told another industry publication controls on Italian companies will be increased.
As GamblingCompliance observes Malta's reputation is "faltering". MGA's job was just to avoid this from happening. Repairing the harm already done will be harder and hopefully will not prove too little too late.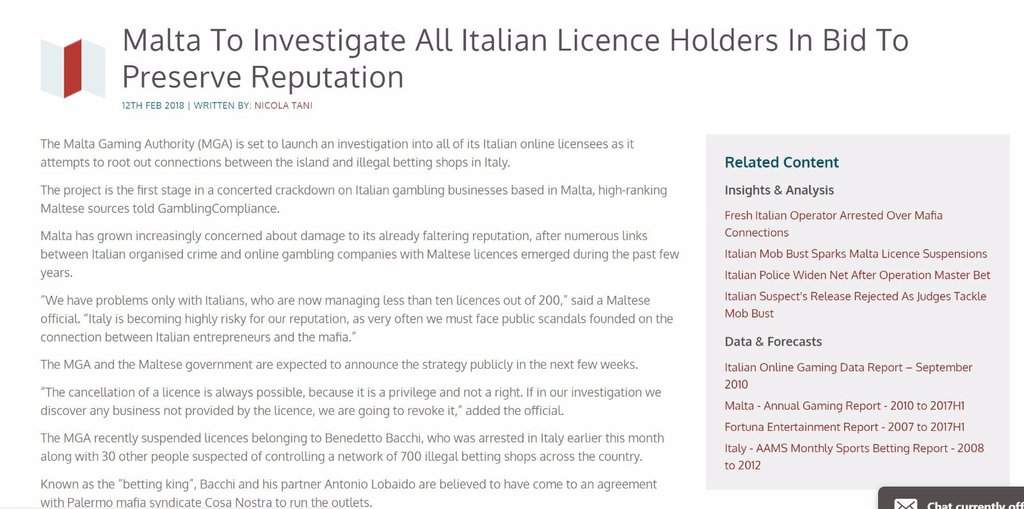 Malta To Investigate All Italian Licence Holders In Bid To Preserve Reputation
12TH FEB 2018 | WRITTEN BY: NICOLA TANI
The Malta Gaming Authority (MGA) is set to launch an investigation into all of its Italian online licensees as it attempts to root out connections between the island and illegal betting shops in Italy.
The project is the first stage in a concerted crackdown on Italian gambling businesses based in Malta, high-ranking Maltese sources told GamblingCompliance.
Malta has grown increasingly concerned about damage to its already faltering reputation, after numerous links between Italian organised crime and online gambling companies with Maltese licences emerged during the past few years.
"We have problems only with Italians, who are now managing less than ten licences out of 200," said a Maltese official. "Italy is becoming highly risky for our reputation, as very often we must face public scandals founded on the connection between Italian entrepreneurs and the mafia."
The MGA and the Maltese government are expected to announce the strategy publicly in the next few weeks.
"The cancellation of a licence is always possible, because it is a privilege and not a right. If in our investigation we discover any business not provided by the licence, we are going to revoke it," added the official.
The MGA recently suspended licences belonging to Benedetto Bacchi, who was arrested in Italy earlier this month along with 30 other people suspected of controlling a network of 700 illegal betting shops across the country.
Known as the "betting king", Bacchi and his partner Antonio Lobaido are believed to have come to an agreement with Palermo mafia syndicate Cosa Nostra to run the outlets.
The betting shops acted as data transmission centres, allowing players to connect via terminals to online gambling platforms operated by the Malta-based Phoenix International Ltd, which managed brands including B2875.com, Bsport24.com and B28sport.com.
Phoenix Ltd was founded following the dissolution of Betsolution4U, one of the two companies involved in the Italian police's "Gambling" crackdown in 2015.
Bacchi and many of his co-accused appeared in court last week to be formally charged with money laundering, mafia association, fraud and numerous other offences. Bacchi declined to speak during his hearing.
According to his arrest warrant, Bacchi paid money to lobbyists and politicians in 2016 in an attempt to extend the deadline for an Italian betting shop tax amnesty programme, designed to allow the country's many unlicensed betting outlets to avoid back taxes in return for an agreement to operate under a licence going forward.
Although a direct connection between Bacchi and any political figures has not been established, an attempted amendment to the amnesty was filed by several MPs in 2016 — Maria Spilabotte (Democratic Party), Paola Binetti and Bruno Mancuso (Area Civica) — but was rejected by the Italian parliament.
If approved, it would have allowed Phoenix to legalise 700 betting shop by paying a €3,000 one-shot fee, instead of the planned €10,000.
A prosecutor's notice alleges that the company's network was generating undeclared revenue of €1m per month, part of which was kicked back to Cosa Nostra members.
In the wake of these arrests, the MGA suspended Phoenix International's licence. The company was ordered to "indefinitely suspend all gaming operations, cease to register new players, suspend all transactions on all websites, including deposits and withdrawals, and submit all data and documentation requested by the authority".
The MGA also issued a warning to the public that any Phoenix-related sites claiming to be under a Maltese licence were now operating without the regulator's authorisation. The MGA has said it will not release any further information while investigations are ongoing.
Bacchi is the fourth mafia-connected operator with a base in Malta to be unmasked during the past two and half years.
Last November, Italian police uncovered a network of illegal gambling sites supplied by a Malta-based B2B operator Medialive Casinò.
The directors of the Malta-licensed live dealer service — Massimiliano Fullin and Fabio Veglianetti — were arrested as part of a Florentine police investigation, having been accused of running a multimillion euro network of gambling terminals throughout Italy.
In June last year, prosecutors and financial police detained Italian Francesco Martiradonna, who they believe to be the real owner of the Maltese gaming company CenturionBet, a company now suspended by the MGA.
An anti-mafia operation, codenamed "Jonny", claimed to have uncovered links between CenturionBet and the southern Italian 'Ndrangheta crime family.
Most famously, in July 2015, 30 people were arrested and goods worth €2bn were seized through "Operation Gambling".
The testimony in that case of Mario Gennaro, who turned against his mafia and industry associates, is believed to have been crucial in establishing links between Phoenix International and organised crime in Sicily.