Neville Gafà is pitying himself for having a rotten reputation of corruption, particularly for extorting money from immigrants seeking an entry visa.
He tweeted his anger at PN MP Claudette Buttigieg for retweeting someone who first tweeted Neville Gafà when quoting newspaper reports that a quarter of the American University's student body vanished after they got an entry visa thanks to intervention from the office of the prime minister.
"Identity Malta officials had originally been reluctant to issue visas to the students… reluctance subsided following the direct intervention of top AUM officials and officials from the Office of the Prime Minister"@neville_gafa #Visascam #maltahttps://t.co/5UOE8KN3TJ

— BugM (@bugdavem) February 11, 2018
@ButClaudette by means of this retweet, what sort of allegations are you doing towards me? pic.twitter.com/IBQgq5Nmj0

— Neville Gafa' (@neville_gafa) February 11, 2018
Just what does Neville Gafà expect?
Who are we supposed to think of when a newspaper reports intervention from OPM officials forcing Identity Malta to issue visas to people it otherwise would not have?
Are we supposed to tag the cabinet secretary in our tweets? Or the chief messenger?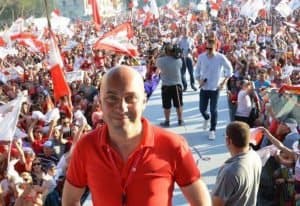 Neville Gafà's record takes us back to when he was accused of taking tens of thousands of euro in bribes in exchange for medical visas for Libyans. Someone blew the whistle on him when Gafà did not deliver on visas he allegedly already charged for. What are we supposed to think, even bearing in mind that he denies all charges, except that it is the protection of his bosses, Big Beasts Keith Schembri and Konrad Mizzi that keeps this gentleman on the streets?
He will continue to say the allegations were never proven and he was never convicted of the crimes alleged about him.
Al Capone was able to say the same, exactly as you would expect from a coward who worked for a crime syndicate that had his back, as subtle as a schoolyard bully.
Expect some fake profiles to pop up after this post goes on line all over Facebook trying to be all menacing and scary.
It is entirely reasonable to see Neville Gafà as a corrupt nobody. But twenty-four hours before Daphne Caruana Galizia was killed, Neville Gafà was stalking her as she went about her evil business shopping for garden plants on a sunny Sunday afternoon.
Yesterday he targeted Claudette Buttigieg after daring to retweet what must be obvious to Neville Gafà's mother. After what happened to Daphne Caruana Galizia when he picked on her, I suppose we're all supposed to quake in our shoes.
Fat chance.
Am I being bullied by another misogynistic man who has it super good under today's #Malta government? I have a right to retweet as I please and I will continue to do so. #MaltaDeservesBetter https://t.co/oed5WhuCvd

— Claudette Buttigieg (@ButClaudette) February 12, 2018