UK daily The Times has this morning reported that it "has seen evidence" linking Cambridge Analytica with Christian Kalin owner of Henley & Parterns in interference in elections in St Vincent and the Grenadines one of the countries where Henley and Partners run a passport-sales scheme like they do in Malta.
The Times reports that SCL (parent company of Cambridge Analytica "is facing questions over its relationship with Christian Kalin, a Swiss lawyer who runs Henley & Partners. He has set up a number of controversial "citizenship for investment" schemes that offer passports to the wealthy. The Times has seen evidence that Mr Kalin was involved in SCL's campaign for the New Democratic Party in 2010 in Saint Vincent and the Grenadines where he discussed potential investment opportunities with the party's leader, Arnhim Eustace, and gave instructions for one of his speeches."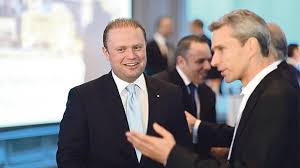 Christian Kalin is, with Ali Sadr, the only business person active in Malta known to pursue legal steps against Maltese journalists in foreign jurisdictions. Through leaks published by Daphne Caruana Galizia we know he is on first name basis with the prime minister and his chief of staff whom he addresses as "Keith and Joseph" even on written correspondence.
His Henley & Partners is believed to have secured for Ali Sadr, today in jail in the United States facing indictment for charges that could lend him several lifetimes in prison, two St Kitts and Nevis passports.
Joseph Muscat has attended several Henley and Partners events endorsing their due diligence exercises before facilitating the acquisition of  a passport from one of their vassal countries. Presumably their due diligence into Ali Sadr overlooked the several crimes he is now accused of committing by the United States.
Christian Kalin is also believed to be a friend of Ali Sadr. Daphne Caruana Galizia reported that Kalin and his wife even invited Ali Sadr and his wife to their 20thwedding anniversary party in Switzerland, "which is a good indicator of the nature of their relationship – not distant or merely professional at all".