Konrad Mizzi was formally informed five years ago today he would be a government minister with a desk at the Auberge de Castille. This had been part of the roadmap for some time and Konrad Mizzi knew the role he would play well. But a formal handshake with a prime minister in office is a significant event he will no doubt be marking privately.
It's a week of anniversaries.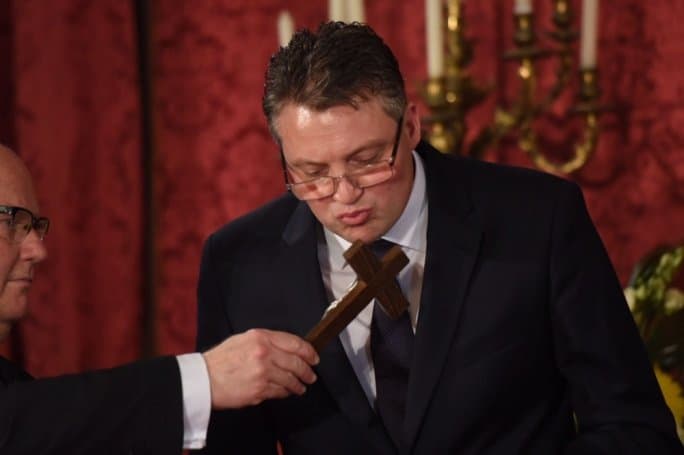 Tomorrow his daily Facebook promemoria will bring up a photo of his swearing in. Now a souvenir of a rite of passage, like his many graduations and his wedding.
The next day his Facebook anniversary tool will not bring up the real event of the 14th March, 2013. The plan had by now well and truly kicked in. The wheels were in motion. Supporters whom Konrad Mizzi had so cynically used to get to where he was would never know, he thought, and never understand if they ever did find out, just what he was up to.
For this week is the 5th anniversary of the call of the hunting horn. The search was on for hidden caves, pirate islands, secret coves and covert assets. The first calls to Panama were being made on behalf of Konrad Mizzi. And on behalf of his partners in this greatest crime perpetrated at the expense of the Maltese people: Keith Schembri and a master hidden under the dark cowl of the black habit of the high priest of corruption.
They would need off-shore companies that would be the anonymous legal entity fronted by people whose job is to hide the real beneficiaries of the secret deals. They would need trusts to create deeper layers that would distance them from the provenance of their moneys. They would need bank accounts. On that they underestimated how hard it would prove but perseverance paid off and they succeeded in setting up accounts in Dubai. Still there for all we know.
The thing is not long after that March of 5 years ago, this secret plan came to light. And for some time when it did we thought Konrad Mizzi would think himself unlucky. Of all the computer servers in all the law firms in all the banana republics of the world, the ICIJ would choose the Mossack Fonseca, Panama servers to hack and find him out. What are the odds of that happening?
Slim. And we expected Konrad Mizzi to be as surprised as a bullet hit mid-journey by another bullet. There were brief moments of fluster when the bluster and bluff of denials were silenced by documentary evidence.
But truth was not going to get into the plans of the master in the black habit.
So here is Konrad Mizzi, 5 years later: some of his dark secrets revealed, some unexpected bruises still raw. But Konrad Mizzi is celebrating this week. Unlike the killer who got away, Konrad Mizzi was found out. But he walks free immunised now by that weird double jeopardy rule of politics that protects a politician from being criticised for the same thing twice.
He has been absolved by re-election and here he is, five years after the heady days of that first swearing in, not having to worry about re-election.
Never mind tax or prison. He's living the dream.