Luzerner Zeitung reports on the connections in Switzerland of Ali Sadr now in a US jail indicted for multiple counts of fraud and sanctions laws breaches.
"Traces of Malta thriller in Zug and St Gallen" is the headline of the story that reports on the existence of Clarity Trade & Finance SA, based in the canton of Zug, named by the US Attorney as one of the Swiss companies involved in the transactions conducted by Ali Sadr for bank fraud and money laundering. The company, which was founded in March 2010, is in liquidation according to the commercial register of the canton of Zug, after the cantonal court of Zug had opened bankruptcy on 10 March 2016.
According to the Zug Commercial Register, Ali Sadr presided over two other companies in Zug, which are also in liquidation. Pilatus International Holding and Perse Swiss Finance & Asset Management. The companies were founded in 2012 and 2011, respectively.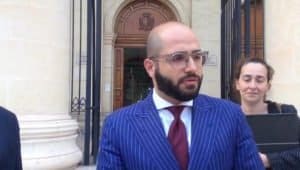 At the Pilatus International Holding, Ali Sadr served as Chairman until its dissolution in March 2017. At the end of 2014 he left Perse Swiss Finance, which was liquidated in March 2015. Ali Sadr was replaced until his liquidation by Hamidreza Ghanbari as Chairman of the Board, the CEO of Pilatus Bank in Malta.
For all three companies in Zug, Ali Sadr Hasheminejad introduced himself as a citizen of St. Kitts and Nevis, resident in Dubai.
His St Kitts and Nevis citizenship had been acquired through Henley and Partners.
The Luzerner Zeitung report included this Reuters photo by Darrin Zammit Lupi.