Tuesday's Labour Party mass meeting will be massive, maybe one of the largest political gatherings ever. The crowd is pumped up and tensions have not been so high in years, decades even. The Labour Party is pushing it as a call to arms. It's a do or die moment to support the great leader in a moment of peril. Everyone must be there to scream their support.
It reminds me of Alfred Sant calling a rally in Birgu when he had trouble as prime minister and needed the comfort of a cheering crowd when faced with the lonely isolation of a crisis he could not overcome from his desk.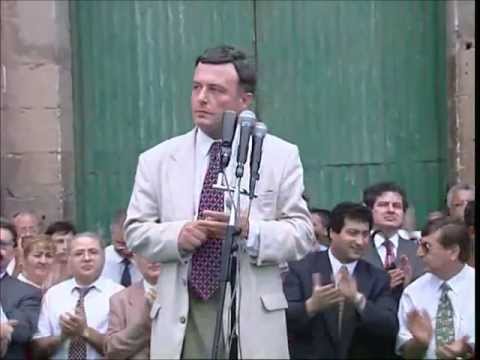 But there's more in common with that weird day when Alfred Sant's head exploded in a cloud of steam. Alfred Sant was not just looking for face time on TV that morning. He wanted to use the crowd he could organise to mobilise it against internal dissent within the Labour Party. His target was Dom Mintoff who on that day he branded a traitor. He must have known his rupture with Mintoff was beyond repair. But he certainly wanted to avoid anyone following the old man.
Joseph Muscat's tens of thousands of screamers this Tuesday are not a warning to scare off Nationalists, or journalists, or sources, or civil society activists, or the Caruana Galizias. Those screamers are meant to scare people within the Labour Party's ranks whose deeply buried sense of justice and priority could tempt them to do the right thing and challenge him.
Those tens of thousands shouting 'Joseph, Joseph' are the political dogs of war Joseph Muscat is sicking on any wide-eyed Trotskyite in the Labour Party who might thing it is the moral obligation of people in public life to ensure governments are not ruled by people seeking personal profit.
On Tuesday – and already in the process of drumming up for it, right now – any murmurs of disaffection with the lies and the deceit perpetrated by Konrad Mizzi and Keith Schembri and of course the protection they enjoy by Joseph Muscat, go quiet in fear.
Any murmurs of disaffection with the dissolute life, the unsavoury friendships and the painful bluster of Chris Cardona and of course the protection they enjoy by Joseph Muscat, go quiet in fear.
Tuesday is the internal battle within the soul of the Labour Party played out in front of our eyes where the sheer overwhelming domination of the Labour Party by Joseph Muscat and his extraordinary grip on power is re-emphasised for the benefit of those within the Party who might dare to speak up.
Tuesday he's telling them who's boss. He'll be more successful than Alfred Sant was that morning in Birgu.