The temptation is not to write about it again because it's been said before. The greater temptation is not to read about it again.
Rewind to pre-2013. Reading about Malta in the world news was rare but mostly fun. We rarely looked forward to the football reports on the international news because Malta was worth mentioning usually for the extent of its trouncing. But otherwise the talented opera singer, the well-organised summit, and all the rare times we hit the news were usually accompanied by largely positive coverage of a pretty little country that demands respect.
International news on Malta has now increased but it's mostly excrutiangly embarassing.
Of course this is Joseph Muscat's doing. But not just.
Forty-five thousand people took to the streets in Bratislava yesterday demanding that the government that replaced Robert Fico does not assume it's making a fresh start by virtue of being new. A journalist (and his girlfriend) have been killed and nothing after that can be 'business as usual'. Even a new prime minister should not retain a police chief who was in office when that journalist was killed. Even a new set of ministers cannot be trusted to supervise an investigations that may reach them or their predecessor friends.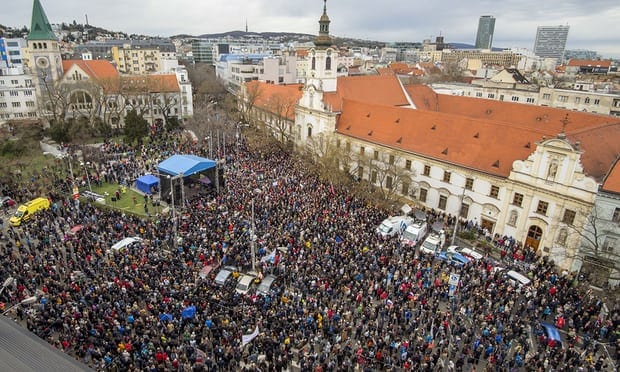 Slovaks continue to insist on an independent and international investigation into Jan Kuciak's killing and in the stories he was investigating. They continue to insist officials under whose watch he was killed assume responsibility and leave office. They continue to insist for a government they can trust.
The scheming strategists in Castille will look at that scene and congratulate themselves for walking unscathed away from the fire that consumed Daphne Caruana Galizia six months ago. They will congratulate themselves for refusing to feed the people's fury by offering even token resignations or scapegoating any juniors. They look at what is happening in Slovakia and congratulate themselves that they did not make the 'mistake' of acknowledging public anger.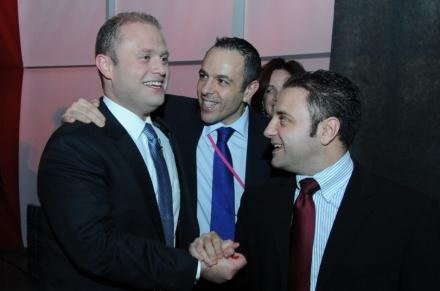 Now mobilising 45,000 is a logistical feat by any standard. But if proportions were to be applied to our own population it is equivalent to 3,700 people. No one tells the crowds on the streets of Bratislava that they are a puny, ragtag crowd of fetishists that need to get a life. No one taunts them they amount to less than the erbgħin elf of voting advantage the government party acquired in the preceding election.
No one does that because that is not what happens in a democracy.
In a democracy people in power carry the responsibility when their presence creates mistrust and when journalists are killed. And in a democracy people who do not carry their responsibility, they are reminded to do so.
6 months have passed; Nothing has changed. 16th April 2018 | Mass at 18.00 | Vigil at 19.00. Be there. Be the Change.Għaddew 6 xhur; Ma nbidel xejnIt-Tnejn, 16 t' April | Quddiesa fis-18.00 | Velja fis- 19.00Kun hemm. Kun il-bidla.#occupyjustice #DaphneCaruanaGalizia Civil Society Network Il-Kenniesa AwturiTimes of Malta Malta Independent MaltaToday Emanuel Delia TheShiftNews BBC News The Guardian la Repubblica FRANCE 24 English Franceinfo The New York Times

Geplaatst door Occupy Justice Malta op Dinsdag 3 april 2018