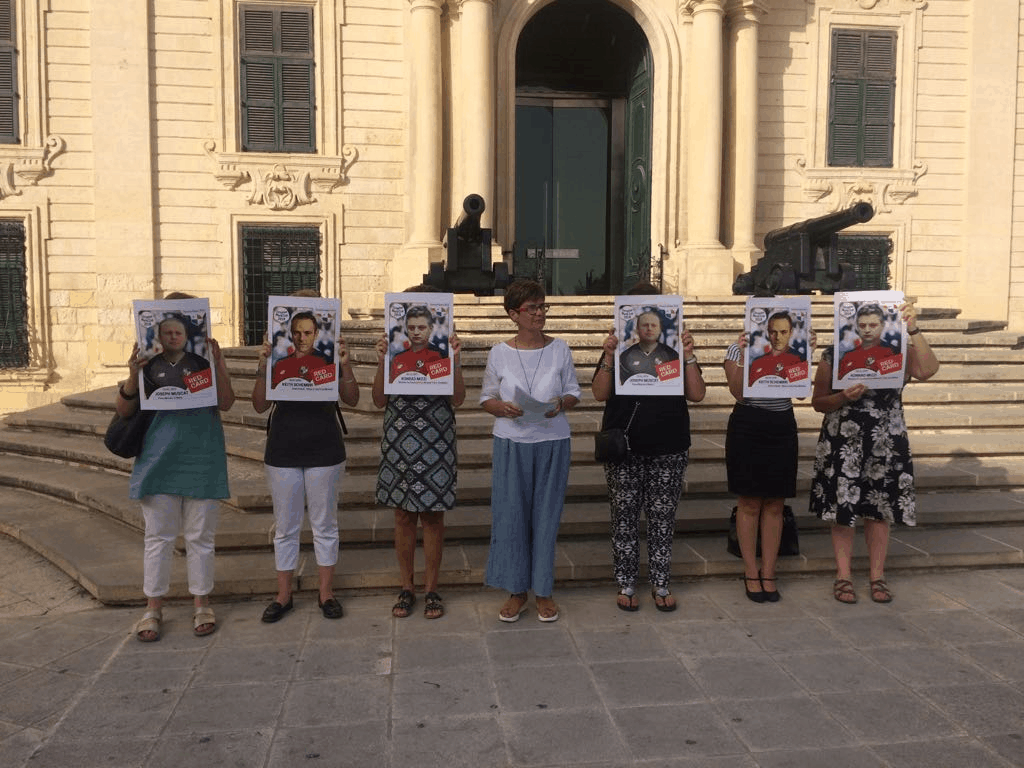 The following is the statement by #occupyjustice at their action at Castille today:
The World Cup of Corruption
The football World Cup may be over, but here in Malta the World Cup of Corruption is still ongoing.  We still have three key players who have been shown the red card over and over, yet they won't get off the pitch.
They are ruining the reputation of #Team Malta.
Today we are here on the steps of Castille to mark nine months since the assassination of the journalist Daphne Caruana Galizia.
We remind the Prime Minister that nine months on we still do not know who commissioned the killing.
We are still waiting for the Police to start interrogating politicians who have been linked to corrupt practices, politicians who Daphne wrote about.
Prime Minister: we now have enough documented evidence to know that your Chief of Staff Keith Schembri and your top Minister Konrad Mizzi have set up a money laundering structure in order to receive illicit kickbacks. And we also have enough evidence to know that you are using this institutional office to PROTECT them instead of FIRING them.
This week the European Banking Authority declared that the FIAU breached EU law on money laundering because of its inaction on Pilatus bank. The European Commission may now, on the basis of this, institute infringement procedures against Malta.
As Commissioner Jourová said, "these findings are very troubling".
#occupyjustice has given the three of you – Mizzi, Schembri and Muscat – the red card because you are spiralling Malta's reputation down the drain. Corruption is not only coming home, corruption is already here and festering. Get off our pitch before it's too late!!
We will keep on fighting to save our country from being hijacked by mafia crooks and we will not rest until justice is served.
We are determined to fight for what is right, for justice and for a fair and equal society. This is our nation, this is our home, and we are the people. We expect better, we deserve better, we demand better.