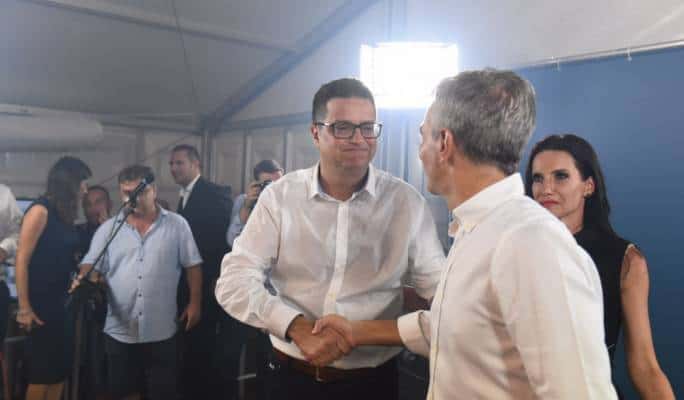 All those trolls writing for Adrian Delia over the last months warning critics they are bringing about a split of the party are seeing their prophecies fulfilled but not quite the way they expected them. It had to be Adrian Delia to do it after all. He has brought the divisions of the party to a point where it is now harder to imagine reconciliation than it is to foresee separation.
He certainly did not have to do this.
There's an old Klingon proverb: revenge is a dish best served cold. The schemer behind Adrian Delia had one prepared for Simon Busuttil. Tonight's 'unanimous' decision of the PN's administrative council to back Adrian Delia's call for Simon Busuttil's voluntary withdrawal echoed a similar motion less than a year ago.
It was a meeting of the administrative council when Simon Busuttil was still the leader, and the party was about to choose his successor. An independent committee had found grave issues with Adrian Delia's candidacy for party leadership, and the council unanimously asked Adrian Delia to voluntarily withdraw. Adrian Delia ignored that request.
No one remembers this more clearly than he does, so he can't personally have designed this scheme where he could expect the outcome not to go according to his plans. These schemes are drawn up by a ringmaster outside this cage who is relishing the internecine warfare within the PN and benefitting from it.
Adrian Delia left Simon Busuttil no choice but to defy him. But it's not just the two of them.
It's everyone else in the Parliamentary Group, in the Executive Committee, in the membership of the party and those who traditionally voted for it. Adrian Delia has promoted dissent into a proper bellicose front line. He has drawn a line and forced everyone to choose which side they are going to be on.
And what was his pretext? His pretext was a Magistrate could not reconcile evidence to justify the prosecution of the prime minister for the ownership of Egrant.
Because Simon Busuttil asked for explanations, he, according to Adrian Delia, must now 'suspend himself from the Parliamentary Group'.
Should Eddie Fenech Adami have quit when Lorry Sant was not prosecuted? Or should he have quit when the Laylay scandal of 1997 did not lead to prosecution after 1998? Should Lawrence Gonzi have resigned upon election in 2008 having believed Jeffrey Pullicino Orlando throughout that campaign?
Was there ever a time that Adrian Delia supported the Nationalist Party on anything?
He was nowhere to be seen anywhere between 1987 and 2017 so why does anyone take his word that he was not then as he is now an agent of the Labour Party?
Because he's not just propping up Joseph Muscat. On the back of the Egrant findings, we've had Chris Cardona on TV today hounding his critics like Joan of Arc. Konrad Mizzi told The Malta Independent the Egrant inquiry proved he had never done anything wrong when the inquiry had nothing to do with him. And Keith Schembri? He's laughing all the way to the bank.
And now the Mafia State has reached its zenith.
In this context must people who hold office on a PN list decide where they stand. Cautious ambiguity is no longer feasible. Hoping Adrian Delia turns out to be a good guy is now false. Waiting for Adrian Delia to perform badly in a phoney election and leave of his own accord is like timing one's flight with the smell of a pyroclastic cloud.
Simon Busuttil has stated he will continue his struggle for justice with or without Adrian Delia's backing. Where do the rest of them stand?