Sent in by Karen Calleja who was at yesterday's vigil: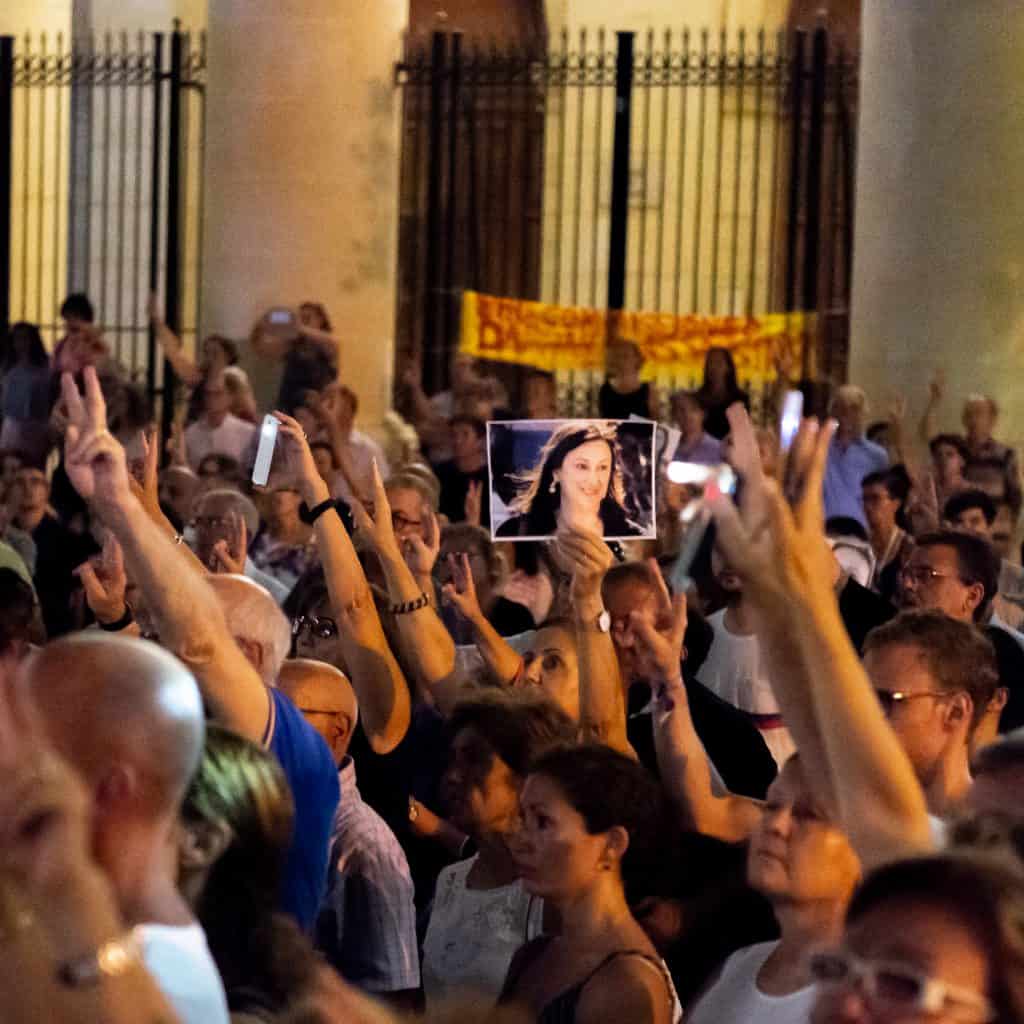 Many things have happened in the last 10 months, but there hasn't been a day when Daphne Caruana Galizia was not thought of, mentioned or remembered. I still visit her Running Commentary, to refresh my memory and to feel her presence. And I always end up saying, 'Again, she was right!'
The thing I appreciate most is that Daphne was always there, fighting against all odds, no matter what hurdles came in her way. She was adamant in fighting for what she believed in; resolute to uncover the corruption and the corrupt. Through her writing, she instilled in us the thirst for truth and for what is right, and to fight for it. Demand it.
The anger, grief, frustration, sadness and feelings of helplessness are still there. Sometimes we may feel alone in all this, or that we are few indeed. But we're not. Maybe not everyone can express him or herself as one wishes; maybe not everyone can attend the vigils or write on social media, for various reasons we can all understand. But there are many of us who want to fight the present situation and are doing so, each in his and her own way.
We shouldn't be doing all this. We shouldn't be fighting, yet again, for our democracy, for our freedom, for our safety or for our country. We should be living with our minds at rest; we should be living in a safe place, knowing that our children have a future to look forward to; we should be living on this tiny island comfortably, with no one sleeping on benches outside; with everyone having the financial means to enjoy life; where the environment around us is beautiful and looked after; where people in high positions thrive to make our country a haven.
But the reality is a far cry from all this. And that is why we need to make our voices heard and our presence felt. "Malta tagħna wkoll". Of course, it is. And it's because "Malta tagħna wkoll" that we cannot remain silent or indifferent to all that's around us. We cannot become accomplices in the destruction of our own country. Many people before us fought hard, tooth and nail to bring Malta to the top. We fought hard to make Malta the pride and joy of each and every one of us. And we were looked up to by other much bigger and powerful countries.
But now it's up to us again, civil society. We do not only owe it to the ones before us but also to the ones who will come after us.