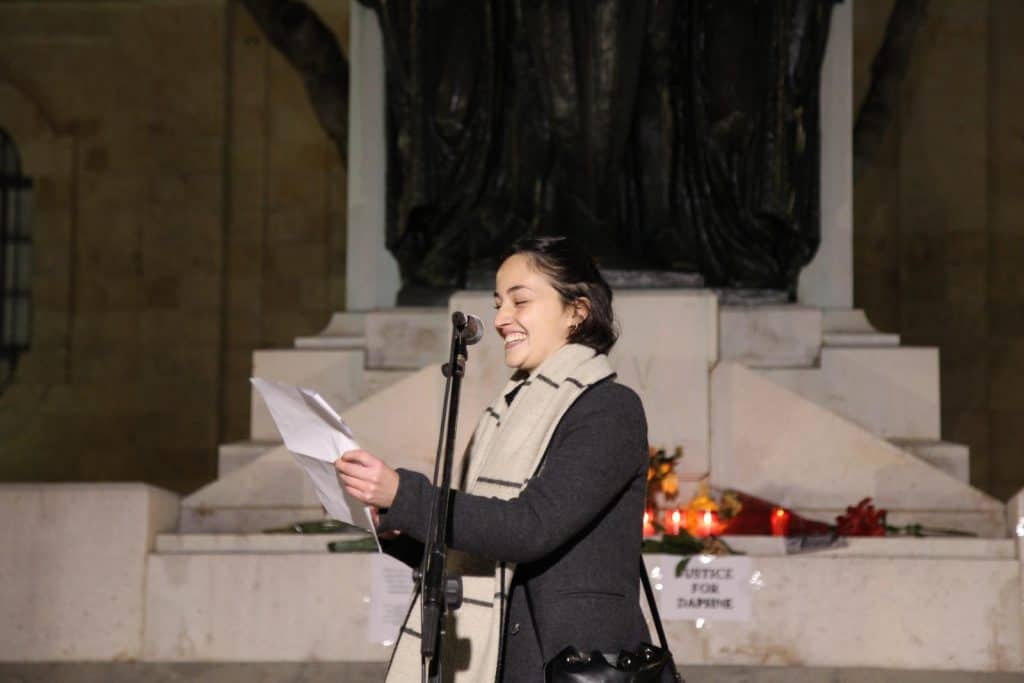 Today marks 14 months since the country lost its most prominent journalist. 14 months of anger and frustration, of protests and determination. But we are 14 months closer to justice for Daphne Caruana Galizia.
I would like to read a short passage taken from a piece titled 'Like a Nervous Pigeon, My Unsettled State of Mind' – written by Hrant Dink – a half Turkish/half Armenian investigative journalist. A journalist who, in many ways, reminds me a lot of Daphne.
"I am just like a pigeon
Obsessed just as much what goes on my left, right, back, front
My head is just as mobile… just as fast enough to turn right away
And here is the cost for you
What they call 'Life or Death'
What I have lived through has not been an easy process… And what we have lived through as a family
To stay and live in Turkey was necessary because we truly desired it and out of respect to the thousands of friends in Turkey who struggled for democracy and who supported us.
We are going to stay and we are going to resist."
A few days after Hrant Dink wrote this piece he was shot outside the building where he published his weekly newspaper. In 3 days' time, marks 11 years since Hrant Dink's assassination, and although 2 people were sentenced for pulling the trigger, his family continue battling in court and the people of Istanbul continue to take the streets for justice.
Hrant Dink is to Turkey, what Daphne is to Malta – human beings who gave up their life for the people's right to know, true heroes of press freedom, true defenders of human rights.
To Kenniesa, Daphne was a true inspiration. Her writing inspired us to incorporate fighting corruption into our daily lives and not just on an afternoon when we have nothing to do. When we originally formed our group, our aim was to support her lonely yet powerful voice against the corrupt people who continued to abuse their positions of power, not knowing that only 3 months later we would be campaigning for justice against those who chose to brutally silence her.
Our message today needs to be one of Courage and Unity in times of trouble.
We will bring Justice for Daphne and for the stories she exposed, but we must unite together as a nation. We must unite with those of different political views, or no views at all, we must unite with those who are not here today, we must listen to people and understand why they are not here today. As human beings, we are all capable of understanding that a journalist being blown up for speaking is beyond wrong and should never happen again. A public inquiry will ensure this will never happen again and most importantly we will determine whether Daphne's life could have been saved! It is in all our interest, and if our Prime Minister is delaying this much needed inquiry then we should all him asking ourselves WHY?! A public inquiry is separate from the ongoing trial in court, so why is Joseph Muscat delaying a public inquiry to what could be years! The people want a public inquiry and they want one now.
Joseph Muscat may not be present here with us, but let's send him a little nudge. I am asking everyone, right now, to take their phones out, let's all do our bit as a united front.; Let's tag Joseph Muscat in a post on Facebook right now, and tell him: For Daphne Caruana Galizia: We want a public inquiry and we want one now. We hope all those watching from home will join us in this campaign. We hope those who have never called for Justice for Daphne in the last 14 months, will join this campaign today.