The headline of today's Times of Malta screams the government spin that they're treating the murder of Lassana Cisse with the seriousness it deserves. They are but not for the reasons they profess. They are doing so because they realise they bear direct, political responsibility that in a functioning democracy would have had them kicked out of office by now.
Here's why.
Joseph Muscat's government, upon coming into office, changed the rules on promotions within the Army in order to ensure the rapid promotion of officials it could trust for partisan reasons. The most flagrant beneficiary of those changes was Deputy Commander Mark Mallia. See this report of the Ombudsman's report that specifically speaks of Mark Mallia's promotion that would not have been possible before the lowering of standards and changes of rules in 2013.
Deputy Commander Mark Mallia is directly responsible for the human resource function within the army. That, logically, includes recruitment.
In late 2016, in anticipation of the general election, the army made a call to recruit soldiers. One hundred and twelve soldiers were enlisted in May 2017 a few days before the general election. From the same call for applications made in 2016, another 72 soldiers were recruited in October 2017.
This ensured that anyone seeking 'favours' from the government in exchange of a vote was given a salary, a uniform and a weapon.
The two soldiers charged with the cold blooded murder of Lissana Cisse were recruited in this process.
Any investigation into potential State responsibility and its failure to protect the life of Lissana Cisse would ask if their recruitment in Malta's armed forces was compliant with its own rules.
The rules include whether the applicant is "of good moral character".
Note that the rules are considerably more stringent than requiring a clean police conduct. Indeed the call for applications for soldiers published in the government gazette says applicant authorise the army to look into their unpublished record with the police. They are also required to provide an attestation not only that they have never been convicted of a crime but there are no pending investigations against them.
One of the soldiers charged with the murder of Lassana Cisse has also been charged of having committed a crime after having been conditionally charged of another unspecified crime in the past. Home Minister Michael Farrugia says it "was not serious" but has not specified what the crime was.
Any investigation into potential State responsibility and its failure to protect the life of Lissana Cisse would ask if the soldiers declared his prior conviction in his attestation. Either way, when did the army become aware of that conviction and what further investigation did they conduct in order to ascertain he was "of good moral character"?
That investigation would likely find clear administrative failures in the filtering of recruits in the two 2017 intakes conducted, as has already been declared expressly by the Ombudsman in his damning report into the army, under manifest political intervention directly from the Prime Minister.
Michael Farrugia told Newsbook today that he would consider there has been political responsibility in this case if someone sent the two alleged assassins to kill Lassana Cisse. That's rubbish. If a politician was found to have sent a soldier to kill a man he would not be politically responsible: he would be criminally responsible. For murder.
Here there is political responsibility. Look at this famous photo of Joseph Muscat with his satellites sucking each other's dicks (metaphorically) over Christmas this year. They are the cronies he has installed in control of the country's administration to ensure his utter and complete grip on any means of authority in the country.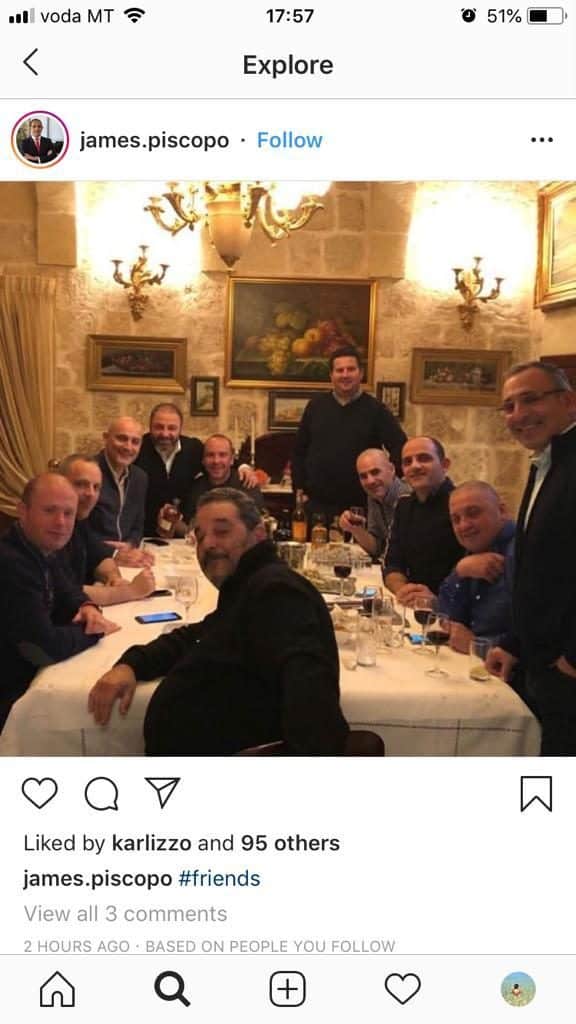 One of his guests is Deputy Commander Mark Mallia seated between the standing Edwar Zammit Lewis – presumably invited for his skill with gin cocktails – and James Piscopo mastermind of the 2013 election tactics and wielder of power in the public administration since.
The Times of Malta reported that the army sought a Presidential order to suspend the two persons charged with this murder. This is supposed to impress us.
It is of course utter bullshit. A mere few weeks ago Godwin Schembri was summarily dismissed – not suspended, dismissed – from the army because his mate shared a video of him in some banter about a stupid gate in the middle of nowhere set up for some stupendous cost by the incompetent officers rapidly promoted to supervise him.
A few weeks ago the Commander of the Army thought he had enough power to fire a soldier but now he thinks he needs to ask the President to suspend another. Why the change of heart?
Someone has looked deep into the dark recesses of the law to find a never before use process to rope in the President. Why?
To cover for the Prime Minister, that's why. To make it look that it's gone to a higher authority now when of course the President has again lent his illustrious hand to the survival tactics of a government poisoned by that toxic combination of incompetence and corruption.
No one is accusing the Prime Minister of sending two soldiers to kill a random man in Birżebbuġa. But he appointed an unqualified crony to recruit soldiers on the basis of the electoral interests of the Labour Party rather than the national interest of recruiting cadets of good moral character, thereby arming a pair of radicalised terrorists who used the airs, training, impunity and power given to them in a corrupt practice of electoral fraud to kill a random man in Birżebbuġa.
Of course he has political responsibility. And what's more he knows it.