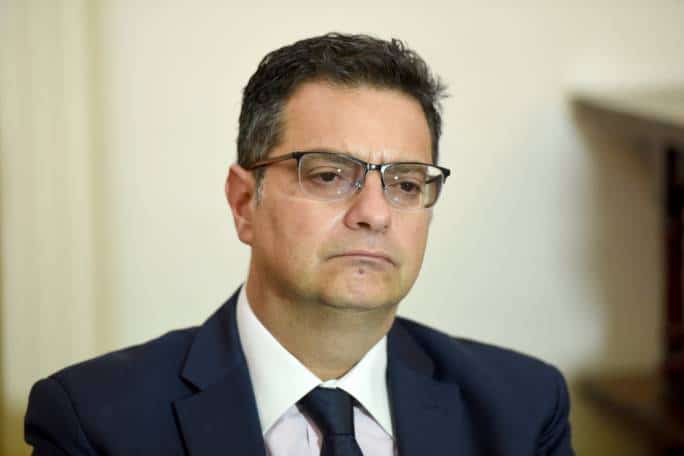 Participants in yesterday's meeting of the Executive Committee of the PN described an embattled Adrian Delia, under enormous pressure that is now reflected in a wrathful and uncontrolled behaviour in respect of his detractors.
Yesterday's Executive Committee meeting was called by its new President Alex Perici Calascione after a dispute arose on the text of a motion to be debated at the 27 July extraordinary General Council of the party.
That Council was summoned after a petition of some 200 members of the General Council was filed with the party administration with a motion demanding the resignation of Adrian Delia. The petition was collected after Adrian Delia repeatedly and publicly refused to call himself a confidence vote after the disastrous showing at the last European and local elections in May, in spite of the advice for him to do just that from one of his predecessors Lawrence Gonzi.
In spite of his repeated refusal to call a vote of confidence, Adrian Delia at yesterday's meeting insisted that he was calling the General Council meeting of 27 July and could, therefore, determine the question to be asked at that vote. He proposed for that council a question that would have asked Councillors to confirm Adrian Delia as party leader "in order to implement the necessary reforms".
The motion as presented by the party leader would have created a dilemma for voting Councillors as in refusing to confirm Adrian Delia as the leader they would also implicitly be rejecting the notion of "necessary reforms".
Adrian Delia was reminded that the party was obliged by statute to put the petition raised by Councillors to a vote in the General Council to which Adrian Delia replied that the party should then have three General Council meetings in succession to debate and vote separately on three slightly different questions on the same subject. The third Council would debate another petition believed to have been organised by the party leadership itself endorsing Adrian Delia and "condemning" his critics in the Parliamentary Group.
Participants in the Executive Committee meeting warned Adrian Delia his proposal would spell the doom of the PN as a viable political party.
People present described shouting, bullying and intimidation which was principally focused on former Executive Committee President Mark Anthony Sammut who was specifically targeted for persistent abuse by party leader Adrian Delia. At one point Adrian Delia was described as "cross-examining Mark Anthony Sammut as if he was some hostile witness in a courtroom trial". The abuse went on while Adrian Delia left his seat at the meeting for a cigarette break, bullying and mocking Mark Anthony Sammut even as he walked out of the room.
Adrian Delia was joined by party Secretary General Clyde Puli who threatened opponents of the question as drafted by Adrian Delia that "someone" might call a petition for the General Council to demand the resignations of PN MPs who did not support the party leader.
The tirade lasted some four and a half hours during which time a number of Executive Committee members left the meeting in disgust.
However, Ivan Bartolo who, with Mark Anthony Sammut, was one of the promoters of the petition calling for Adrian Delia's resignation, proposed a compromise according to which Adrian Delia would be allowed to put a version of his question to the General Council.
The compromise does away with the contradictory reference to "necessary reforms" and instead asks Councillors whether they want Adrian Delia to remain as party leader up to the next general elections.
This means the Council will now indeed vote on a confidence motion on Adrian Delia, something he categorically refused to countenance until the matter was forced upon him by the petition raised by Mark Anthony Sammut, Ivan Bartolo and others.
Councillors will be asked to vote "No" to confirm their view that Adrian Delia should immediately resign his party leadership.
The petitioners also won reassurances that they would be given the lists of voters eligible to vote which have been promised for today as well as an early voting opportunity which was a key demand of the petitioners in view of holiday commitments of several Councillors in a Council that has been called for a peak holiday season.