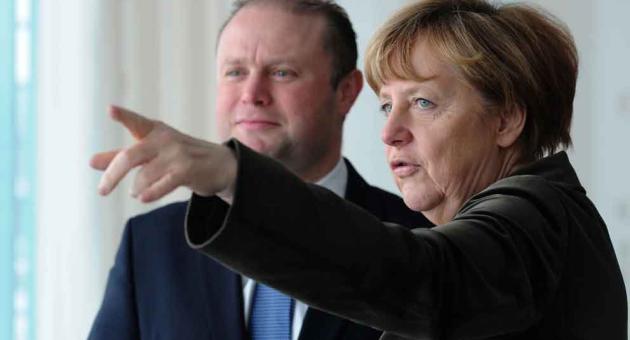 Coverage on the national broadcaster TVM and on Malta Today was pathetic because it was possibly the worst day ever to follow the line of the Labour Party's media on anything.
Labour had been getting ready for months to celebrate the transfiguration of the "kink" Joseph Muscat into the blinding light of European glory. In retrospect, it's strange that they thought Joseph Muscat would walk away with some great prize of a nomination to one of Europe's top 5 posts. Joseph Muscat only had two things going for him. One was that there were no obvious candidates. And the other that he's sat on the European Council for a while.
But a hubristic attitude is inevitable when you're used to getting your own way. Joseph Muscat fully expected that he would be crowned by mere entitlement. He announced his early departure from Malta, fired the gun on his succession, prepared everyone for the moment of glory.
And yesterday all One TV and its satellites could say he achieved was that he almost got it. Almost means nothing. There's no silver medal here. You're either pregnant or you aren't. You can't be almost pregnant. And you can't be almost the President of the European Council.
The official line is that he was on a list that did not make it in the end. According to Malta Today, the list Joseph Muscat was on did not find the support of Hungary and Poland among others which, if true, is deeply ironic because Joseph Muscat would have helped them find a way out of their rule of law problems with European institutions.
Another interesting thing in the back-story is the fact that ultimately the choice of who would get the top jobs needed Angela Merkel's blessing. If One TV's reporting is anywhere near accurate, one can surmise Angela Merkel vetoed any list Joseph Muscat would have been on. Take a minute to rest your back against the nearest wall while you have a well-deserved giggle.
Joseph Muscat's failure to climax yesterday is not the worst piece of news he got. It's not just that his record of protecting corruption and the inevitable suspicion that he is well and truly embroiled in it have not been cleansed by a fresh start in Brussels. It's also the fact that that piece of bad news has not been mitigated by, say, the promotion of Frans Timmermans to preside the European Commission. He no longer has a friend on the inside that will continue to behave as if the collapse of the rule of law of Malta was a matter of small importance.
Instead, the European Commission is now presided by a no-nonsense Merkelite and a woman, two enormous barriers to Joseph Muscat's slimy charm offensives that work so well with the Jean Claude Junckers of this world.
There's still a chance Joseph Muscat nominates himself to the European Commission. If he does he'll need to sit in front of the European Parliament to undergo scrutiny before anyone in the European Council has time to back his nomination. Given how well Joseph Muscat is regarded in the European Parliament that's not likely to be an easy ride. Scratch that. It will be carnage.
If that does not give him a way out, he'll need to stay here, lording it over the Labour Party and Malta, his aura of infallibility and his reputation of unstoppable destiny, now faded and tarnished.
People can now go back to those reports by the European Parliament, the UK House of Commons, the international press and the Council of Europe and realise they were not all plants of David Casa's capable lobbying. Joseph Muscat once reminded Ana Gomes and her delegation of Parliamentarians he's a prime minister and he need not be too bothered with the opinions of MEPs. In the thin heights he lives in, he needs only listen to heads of other governments.
Well, they told him yesterday that he should not mistake their polite and diplomatic laughter at his dad jokes in broken English for sympathy and admiration. They did not need to hear it from David Casa who has little access to them. They've figured out long ago that a crook has no place heading Europe.
Happy days … if you're not Joseph Muscat.