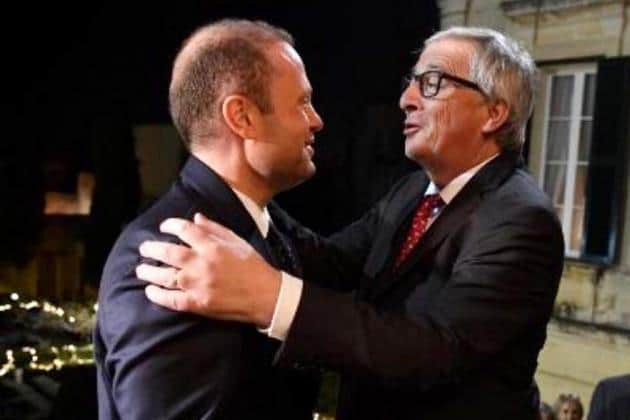 Jean Claude Juncker enjoyed his day in the sun yesterday. He is nearing his retirement and looks like he has as much appetite for battle as a lottery winner. Clearly Joseph Muscat's charms still work wonders on him and the easy ride our prime minister had with Juncker's Commission was perfectly represented in that embrace.
There was plenty material for One TV to represent The Great Leader as much loved and admired by the Europeans. Jean Claude Juncker was walking away with a medal but yesterday's event was primarily intended to decorate Joseph Muscat.
But they — One TV — couldn't resist lying. They didn't feel Jean Claude Juncker gave Joseph Muscat quite enough. And they worried that the thinly veiled nudge from the Commission President that Malta needed to do more to respect the rule of law and fight corruption might rain on the proceedings.
Read here the report in the print edition of this morning's Times of Malta, no doubt penned with great care given what One TV had been reporting yesterday:
"Mr Juncker said Malta has always shown EU values such as tolerance, openness and resilience. Similarly, other values that 'make us who we are', such as the fight against corruption, should be protected".
In the midst of praise, there was striking criticism. Jean Claude Juncker needed to say it. If he didn't, he'd be putting the European Commission in a bad place. Earlier in his visit Malta's government insulted him by seating him at a table with Keith Schembri. Everyone is smiling around that table but the diplomatic offence is unmistakable.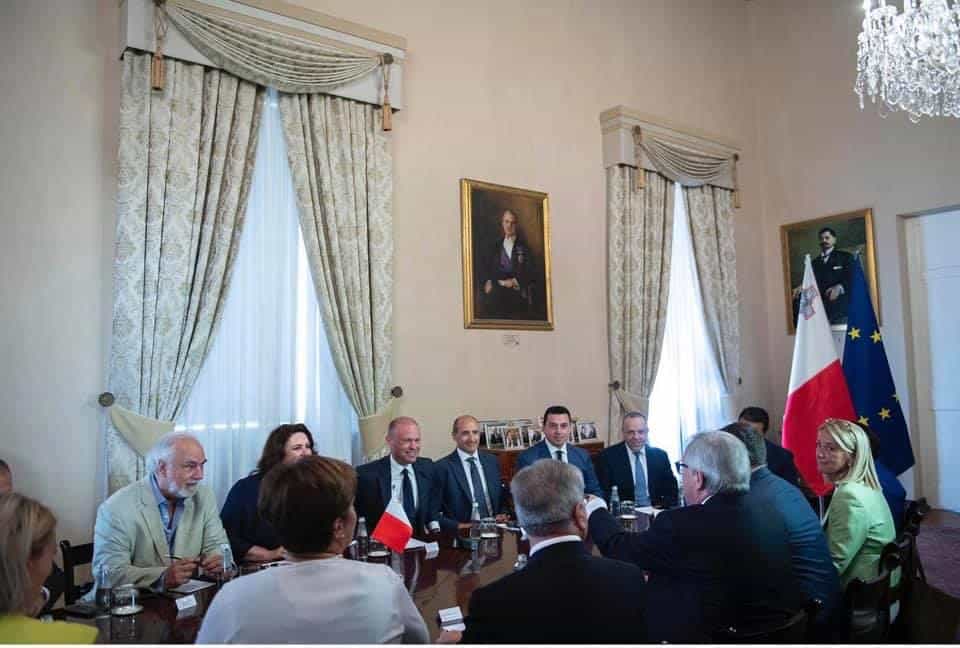 Keith Schembri was caught by the Panama Papers with a secret company in Panama. We later learned that his company was due to receive $5,000 a day from a company in Dubai we later learned is owned by Yorgen Fenech. The Panama company was set up by Brian Tonna. Brian Tonna was an accountant for Yorgen Fenech. He also selected a consortium led by Yorgen Fenech to supply energy to Malta in partnership with the Azerbaijan state.
And by the way Keith Schembri is the subject of an inquiry over allegations he took kickbacks from Malta selling passports. And those kickbacks were deposited at Pilatus Bank shut down by the European Central Bank for money laundering. It was laundering money for the Azerbaijan regime.
And there he was sitting at the table with the European Commission.
After that One TV wanted Jean Claude Juncker to say, and they put that in quotes, "Malta tirrispetta s-saltna tad-dritt u soda kontra l-korruzzjoni" (Malta respects the rule of law and is strong against corruption).
He said nothing of the sort. Quite the opposite he reminded Malta that's what it should be doing. And the only reason he would have said that is that Malta isn't.
Does any of this matter? Is it news that the Labour Party TV station happily lies to its viewers and misrepresents important speeches by political figures? Perhaps not.
But perhaps it reveals some nervousness on the part of Labour — the party and, more seriously, the government. This was a farewell to Jean Claude Juncker. It was the last chapter of a phase where Joseph Muscat's problems could be solved by clinking glasses and a bear hug.
Joseph Muscat could shy away from the grim and piercing look of Angela Merkel and take comfort in the bosom of his tumbler buddies. But even he must be asking, what will it be like after November?