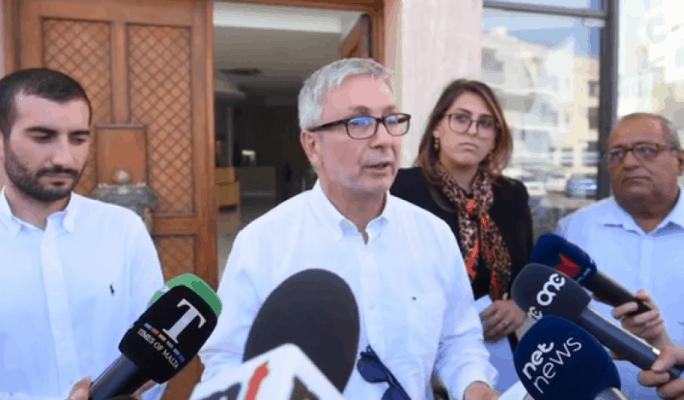 Promoters of a confidence motion in Adrian Delia have openly complained PN Secretary General Clyde Puli is betraying instructions of the Executive Committee on the terms of a general council called for 27 July.
The Council was convened after more than 150 petitioners asked for a General Council meeting to be held. The party administration however said that less than 150 valid signatures could be found in the petition as it had struck out anyone on the list who had not yet paid their membership for 2019.
Speaking to this website one of the promoters said such a policy would be entirely absurd as it would require all party members to be suspended every New Year's Day until they show up with their fee payment which is usually settled at some point during the year when a collector from the local village party committee shows up at their house to collect the fees.
It is also useful to remember that if such a rule were indeed to exist, Adrian Delia would have been ineligible to vote let alone contest the election that saw him made leader as on the date of the call for the ballot he was two years behind on payments of his membership fees.
The controversy over whether the General Council should be convened in any case appeared to have been resolved at a recent Executive Committee meeting were leader Adrian Delia was reported to have insisted the meeting to discuss the Council's confidence in him is convened.
The promoters of the petition, that include former Executive Committee President Mark Anthony Sammut and former PN candidate Ivan Bartolo, complained in a letter to incumbent Executive Committee President Alex Perici Calascione who recently replaced Sammut that the motion for the Council's consideration has been reworded beyond recognition.
It appears the Council, technically now summoned by the party leader on an agenda determined by him, will no longer vote on whether Adrian Delia enjoys its confidence. It is unclear what the original wording of the motion of confidence is being replaced with.
That, however, does not seem to matter, as the promoters alleged today that the composition of the General Council has also been manipulated by changes to members' voting rights introduced after the petition to call the Council was filed. Allegedly this was done to replace Councillors whose voting intentions were presumed to be unfavourable to Adrian Delia are replaced by voters likelier to support him in a confidence vote.
Promoters Mark Anthony Sammut and Ivan Bartolo said they were made aware of the shifted goalposts in a meeting yesterday with the party's electoral commission which is formally led by Francis Zammit Dimech. However also present at the meeting was the party's Secretary General Clyde Puli.
The promoters' complaint starkly illustrates the current state of the PN which is as far from the ambition of an environment of serene dialogue Louis Galea described in an interview on timesofmalta.com this morning as could possibly be.
It is clear that in spite of Adrian Delia paying lip service to a process of verification of confidence which has been thrust upon him against his will, he is doing everything he can to avoid a formal vote that will establish with certainty whether the highest organ of the party has confidence in his leadership.
Just in case his effort to resist a vote fail, once again allegations of voting and eligibility manipulation arise. These have already emerged in the very election that saw Adrian Delia returned as party leader and in more recent ballots since including the vote in the Executive Committee on who to co-opt when replacing resigning MP David Stellini.
In all these cases Adrian Delia's advisers were charged, without providing any satisfactory response, of fixing votes.
It is hard to imagine how anyone can find an outcome of a fixed ballot as a basis for reconciliation and party renewal.