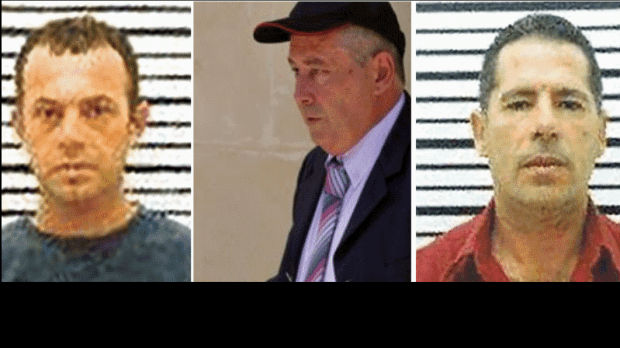 George Degiorgio, Alfred Degiorgio and Vincent Muscat have been indicted for voluntary homicide in the case of Daphne Caruana Galizia that was assassinated by a car bomb 21 months ago today, at 3 pm of Monday 16 October 2017.
The three men are also charged with causing an explosion that brought about the death of a person.
Other charges in the bill of indictment are illegal possession of explosives, association to commit a crime and promotion of and participation in an organisation to commit criminal acts.
The indictment signed by Deputy Attorney General Philip Galea Farrugia and lawyer Nadia Attard from the AG's office recalls how Daphne Caruana Galizia, described as a known journalist, said goodbye to her son Matthew and told him she would be going to the bank. She left her house a few minutes before 3 pm of 16 October 2017 and drove her rented Peugeot 108 not knowing that merely seconds later her life would be terminated in the most cowardly and violent manner.
When she drove out of the lane leading to her resident onto Triq il-Bidnija a large bomb placed under the driver's seat of the car was detonated by SMS.
The explosion killed Daphne Caruana Galizia throwing parts of her body out of the car and burning the rest of her in the metal skeleton that was all that was left of her car on the side of the road.
The indictment says that police investigations revealed this barbaric act was prepared and carefully executed by George Degiorgio, his brother Alfred and Vincent Muscat.
They had been preparing for this for months ahead. They acquired explosives, mobile phones, sim cards and they had been scouting the location in Bidnija since August 2017.
The day before she died, Matthew borrowed his mother's car as he had done on other occasions. He was back home at 6.30pm and parked his mother's leased car just outside their residence.
This was the opportunity the alleged assassins had been waiting for and that night they approached the car, opened it and placed under the seat a powerful bomb combining high explosives and a GSM module for remote detonation. The sim card in the module was activated at 1.41am of the 16 October 2017.
That morning George Degiorgio went out to sea on his brother Alfred's Cabin Cruiser. He stayed close to the coast to stay within cell range to be within reach of his spotters telling him Daphne Caruana Galizia had left her house.
Alfred Degiorgio spotted Daphne Caruana Galizia leaving her home and phoned his brother George letting him know. Alfred Degiorgio used a burner phone to make the call. George Degiorgio had with him his registered phone and two other burners intended for this crime, one to communicate with his accomplices and one to detonate the bomb.
When George Degiorgio got his brother's call he used one of his burners to type in the code '#rel1=on' which he sent to the detonator in Daphne Caruana Galizia's car. Upon receiving the code at 14:58:55, the GSM module in the car detonated the bomb which killed Daphne Caruana Galizia.
Europol's analysis shows the bomb had between three and four hundred grams of TNT which demonstrates a manifest intent to kill the victim.
Prosecutors will now have to set a date for the trial.