Screenshots of Whatsapp conversations managed by Adrian Delia henchman Julian Micallef have emerged that appear to show he instructed volunteers to follow PN MPs and to take photographs of private meetings they held.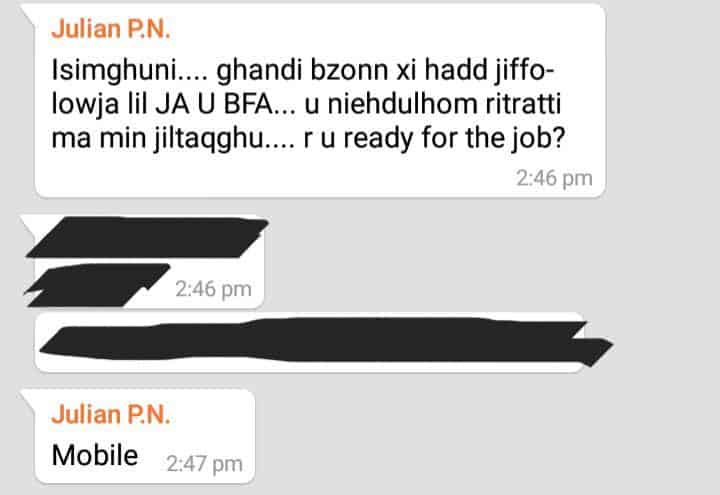 The screenshots that have been verified as authentic by multiple witnesses refer to "JA" (Jason Azzopardi) and "BFA" (Beppe Fenech Adami). Julian Micallef appears to be calling people receiving his message to volunteer "to follow" the two MPs and to take photos of them to identify people they meet.
In another exchange that the screen shots appear to date to January 2019, Julian Micallef appears to be rallying a group of people to meet in Valletta "on the 16th".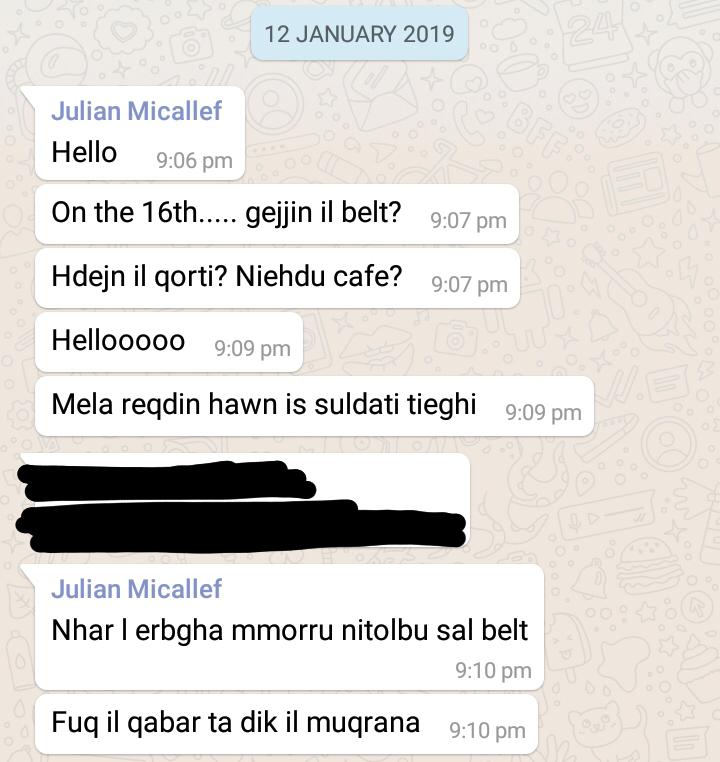 The 16th of every month is the day activists gather in Valletta to renew their protest demanding truth and justice for Daphne Caruana Galizia. The messages from Julian Micallef, having exhorted receivers to meet him for a coffee "close to the court" on the 16th, go on to suggest "to go pray on the tomb of that cuckold" using the feminine Maltese "muqrana".
He then urges the receivers of the message to proceed to "chase BFA", apparently referring to Beppe Fenech Adami. "Hu kollox," the text says in caps, which loosely translates as "he is the main troublemaker".
In another screenshot Julian Micallef appears to suggest "Carol" (probably referring to PN MP Karol Aquilina) met "RCC" (probably referring to former ambassador Richard Cachia Caruana) at Palazzo Parisio. He appears to lament not having "fucken photos" of the occurrence.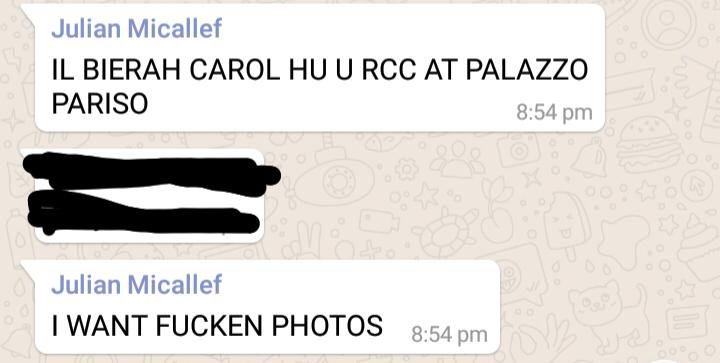 These leaks are emerging in the wake of a signed declaration by a former Adrian Delia canvasser who stated that Julian Micallef instructed him to follow and take pictures of Adrian Delia's estranged wife Nickie Vella de Fremeaux.
They appear to indicate the setting up of a spy network working for Adrian Delia's closest henchman and persecuting people perceived as threats to Adrian Delia.