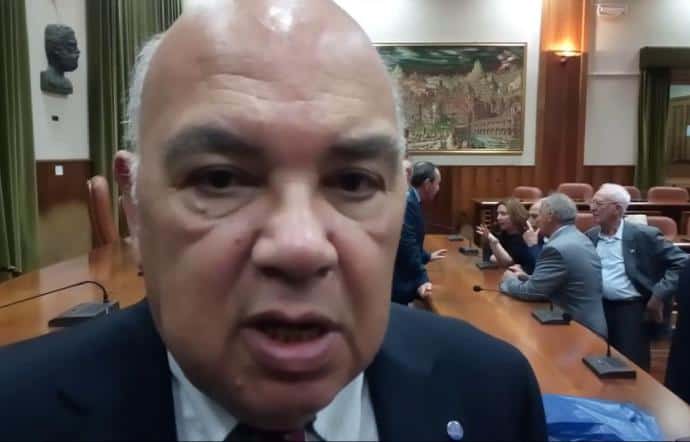 Several Sicilian town councils are expressing misgivings and regret about the expenses they have made in hosting Ray Bondin believing he was either Malta's Ambassador to UNESCO or an official from the UN organisation itself.
Over several years Ray Bondin has 'advised' Sicilian town councils in their applications to UNESCO to have their towns or archaeological remains within their borders recognised by the UN body as world heritage sites.
This website reported a few days ago that Sicilian media reported Ray Bondin 'misrepresented' himself as a UN ambassador.
In the comments underneath that post a commenter with the handle "Out of the past" and bearing a picture of Ray Bondin commented as follows:
"You accuse me without asking my opinion. I have been respected as a world heritage expert since 1987. My personal work as expert has nothing to do with my Malta responsibilities. In Sicily I do state that I am an ex Ambassador to UNESCO but do not in any way exploit my positions of today. I would have expected you to check with me rather than throw mud."
Comments in a similar vein were made by a commenter with the handle 'Ray Bondin' in the comments board of La Sicilia that in broken Italian threatened the newspaper with defamation action in court.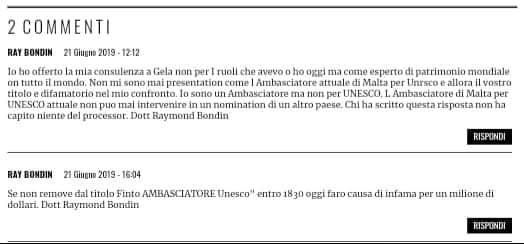 In these comments under his name in La Sicilia, Ray Bondin says "I never introduced myself as the present Maltese Ambassador to UNESCO".
However, it appears that Ray Bondin is not entirely truthful when he claims that "in Sicily I do state that I am an ex Ambassador to UNESCO" or that "I never introduced myself as the present Maltese Ambassador to UNESCO".
Documentary evidence at least shows he was present when he was introduced as "UNESCO Ambassador" and did not correct that impression.
Here he is being interviewed in 2016 by Partanna Today, a culture not for profit media service, on the sidelines of a conference on an archaeological park at Baglio Florio.
Go to 05:21 to watch Ray Bondin listening as he is introduced as "Malta's UNESCO Ambassador". The interview was conducted in 2016. He hadn't been Malta's ambassador to UNESCO for over three years at the time.
On this website, he is introduced as "UNESCO Commissioner" a title Ray Bondin is never known to have held and likely does not even exist. He is one of two star-speakers at an August 2015 conference to discuss culture and law in Val di Noto. The conference is organised by NGO Il Parlamento della Legalita Internazionale, a Sicilian anti-mafia organisation.
The title "UNESCO Commissioner" features as recently as last month, in a June 2018 online news report that says that Ray Bondin would be visiting Palazzolo for the feast of St Paul. The news features on a local Palazzolo website. This description of Ray Bondin appeared online on 28 June 2018, a week after Ray Bondin is believed to have threatened La Sicilia with legal action for saying he misrepresented himself as some form of UNESCO official.
This is a 2014 interview in the Corriere di Ragusa where Ray Bondin is headlined as "UNESCO Ambassador":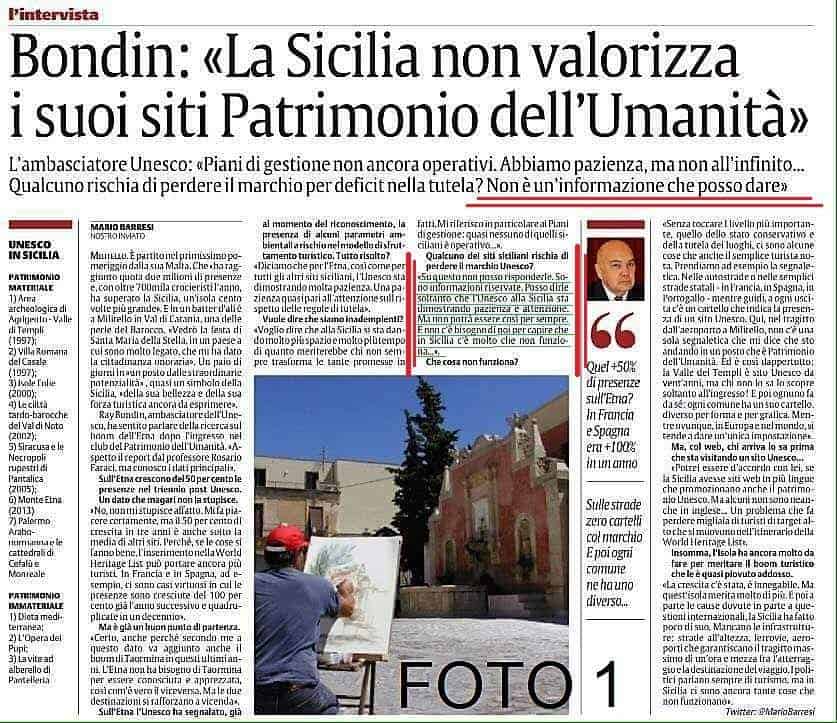 And these are other newspaper reports on Sicilian newspapers where Ray Bondin is interviewed and identified as "the ambassador from UNESCO":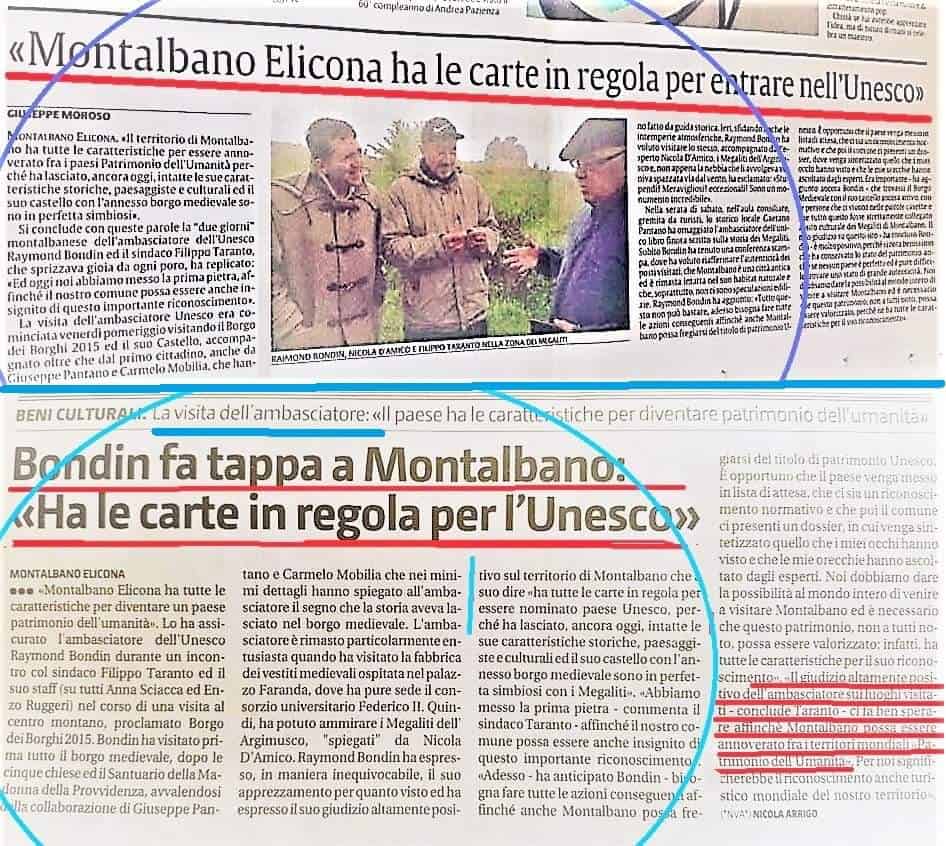 In this 2017 image, Ray Bondin is seen being introduced before delivering a talk on Caltabellotta's hopes of being recognised as a world heritage site. He is introduced as "UNESCO Ambassador". Someone present at the event told this website Ray Bondin did not correct this title at the time: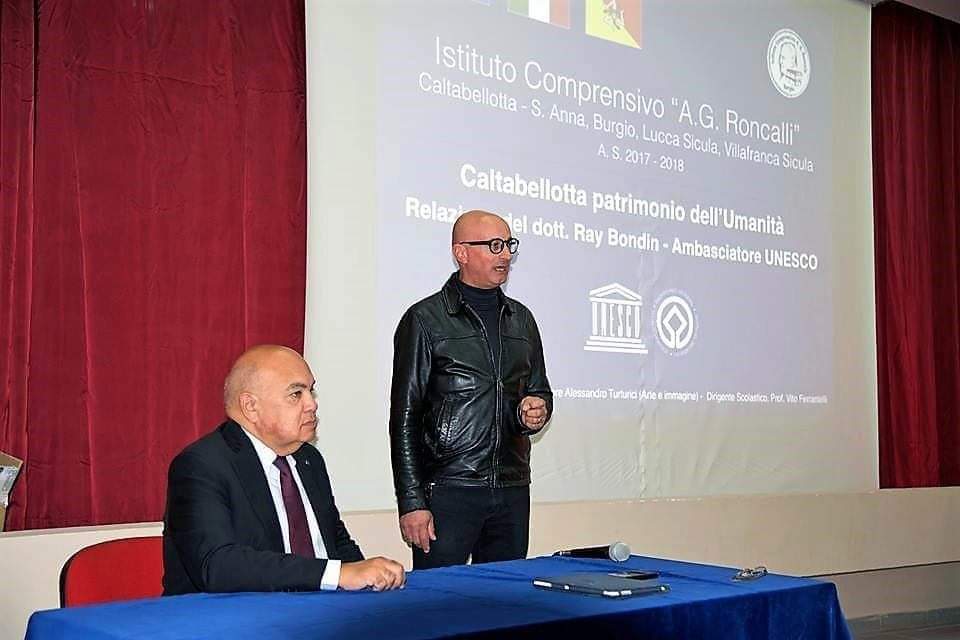 But it looks like persistent news report in the Sicilian media are now outing Ray Bondin for good.
The Italian news agency ANSA on 20 June carried a brief report saying that the Rotary Club, the Archeoclub, the Museums Society and archaeologist Rosalba Panvini, that introduced Ray Bondin to the authorities in Gela, regretted the "misunderstanding" about Ray Bondin's real status and said they would in future invite the real Maltese Ambassador to UNESCO who is someone else. The ANSA post was carried by several Sicilian news organisations including this report in Caltanissetta news service Il Fatto Nisseno.
The Corriere di Sciacca reported doubts in Gela about Ray Bondin's status and real usefulness in their effort to have historical walls recognised as a world heritage site.
Ray Bondin is indeed a Maltese Ambassador, but he is accredited to Bulgaria as a "non-resident ambassador".