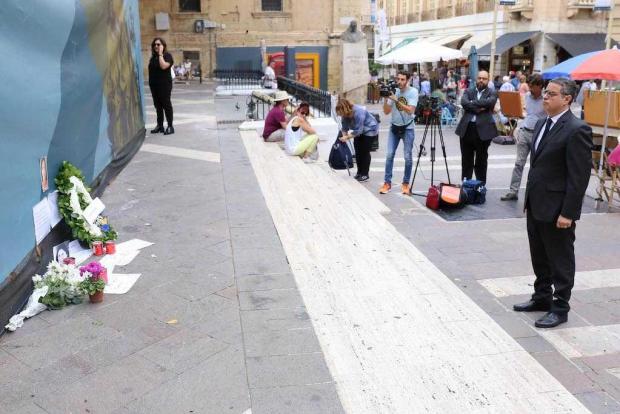 This morning Adrian Delia woke up to a new dawn as a PN leader with what he might call a fresh mandate. As with everything he's said and done since he stepped into our public life, his oeuvre today shows he doesn't have the first idea what that means.
Consider this brief quote from his back page article on Times of Malta today: "It took months for government, through a lot of pressure from the Nationalist Party, to finally agree (or so we hope) on a public inquiry into the assassination of journalist Daphne Caruana Galizia."
Adrian Delia, you're a proper arse.
Adrian Delia does not distinguish between himself and the Nationalist Party, at least not since he became its leader, if not since he made a speech we never heard of before this week when he was 16 that Eddie Fenech Adami, we are asked to believe, did not even yawn once while patiently listening to.
So when he speaks of "pressure from the Nationalist Party" he's not talking about the constant campaigning of Jason Azzopardi, Beppe Fenech Adami, Karol Aquilina and others he cast as "rebels" he is prepared to "forgive" were they to prostate themselves at his feet.
He is surely not talking about the indefatigable Simon Busuttil, whom he fired from the shadow cabinet a year ago, sought his resignation from the party altogether and, according to Joseph Muscat's narrative right up to yesterday which Adrian Delia never even had the decency to contradict, he sought to "defeat" at Saturday's ballot.
By "pressure from the Nationalist Party", Adrian Delia wants to claim credit for himself. What pressure? Does he mean that time he heard on the car radio that Daphne Caruana Galizia was killed so he got his driver to take him back to party headquarters so that he could publicly faint? Or was it that time a week later when Joseph Muscat refused a motion to debate the killing of a journalist instead of the day's regular agenda and he sheepishly stood down and bowed to the prime minister's diktat?
Or was it that one and only time he showed up at the protest memorial in Valletta a year after she was killed to lay a wreath and then spent two weeks complaining someone ripped off the ribbon that said "il-Kap tal-Oppożizzjoni" leaving there the flowers he presumably placed there out of respect but removing the self-serving egomaniacal token of labelling it with his own name?
Otherwise he's done fuck all.
Except of course undermine the people who actually did put pressure on the government to open an inquiry into the killing of Daphne Caruana Galizia. He ignored international NGOs. He undermined activists using his own TV station to spread fear and slander about them. He ignored the family of the victim. On Daphne Caruana Galizia he spoke dismissively, disrespectfully and disturbingly aggressively.
Occupy Justice actually took form the night he failed to put pressure on government to even discuss the matter of a journalist having been killed a week before in Parliament. But his Net TV and his il-Mument said they conspired with Castille to "introduce abortion", misrepresenting activists wielding blunt knives and rusty spoons lustily murdering unborn children like latter-day Herods.
One major reason the government has felt enabled to ignore calls for a public inquiry into the killing of Daphne Caruana Galizia is precisely the failure of the Nationalist Party, or rather what Adrian Delia believes to be the Nationalist Party, to call for it and to put pressure for it to be done.
But this is all criticism that would have come, and did come before Saturday's vote.
This morning he started squandering whatever mandate he believes he obtained. Louis Galea told Times of Malta this morning Adrian Delia must now "walk the talk". Bloody good start of it he did.
Whilst shuffling his offensive, messianic, delusional pledge to 'forgive' those who sinned against him, he gave out what some have flatteringly described as 'the right signals'. That's when he said he would listen to the third of his own party councillors who voted to send him packing.
And this morning he's rubbing his Pyrrhic victory into their faces, a bit like Joseph Muscat gleefully did yesterday when he celebrated "Simon Busuttil losing" a race he did not participate in.
Does Adrian Delia think that Saturday's vote is going to get anyone to forget the fact that he has abdicated the PN's role of campaigning for truth and justice just when it was needed to do so most since Raymond Caruana's funeral?
And does he think that anyone of those rightfully angry people, disappointed in how their party chose a leader who clearly has no idea what his job really is, would appreciate being presented with such an insulting lie?
Tim Diacono gave some reasons why he thinks Adrian Delia was confirmed Saturday. I will not dispute them, especially since like Noel Grima and James Debono elsewhere one of the reasons he was confirmed, according to them, is that last week I reported Adrian Delia's wife filed in court to complain he wasn't paying their mortgage even as he lied to her saying that he was. That, apparently, is a good reason for Councillors to back him.
But I have one other "reason" in mind. Tim Diacono says Adrian Delia is charming.
As charming as Hannibal Lecter serving liver with a side of fava beans and a nice Chianti.
Louis Galea is right. For this to work Adrian Delia must walk the talk. He'll walk as far a polycephalous centipede with heads, or arses, at either end.