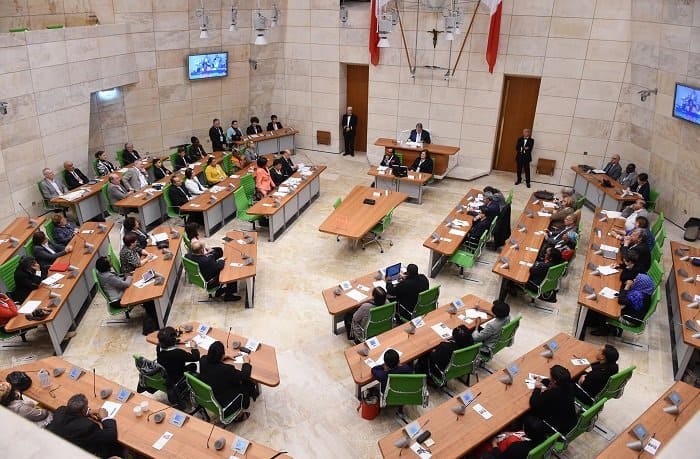 A good thing happened in parliament yesterday. But it's my job to point out what should have happened differently, what should have been better. I'm not here to applaud. Politicians have enough servile apologists without needing me.
A resolution was moved jointly by the prime minister and the leader of opposition declaring that both sides of the house agreed Judge Mark Chetcuti should replace Judge Joseph Azzopardi as chief justice after the latter's retirement next week. Mark Chetcuti is a good choice. I would be surprised if I heard any complaints about him.
The prime minister did not legally need to ask parliament for this resolution. The constitution gives him unhindered discretion on the choice which he then has the power to impose on the president who would have to swear-in the prime minister's choice.
The government sent out a signal: that though the constitution still gave the prime minister unfettered powers in this matter, Robert Abela was not using them and was instead seeking a process within which to frame his decision. The process he chose (fixing a deal with the parliamentary opposition) is debatable and I will debate it below. But the fact that he submitted himself to a process is commendable.
As was the opposition's behaviour in not using this as some opportunity for cheap political football giving credence to the notion that when it matters consensus across the aisle is possible. You would think that's the least you can expect. But it's enough to say that the Karmenu Mifsud Bonnici and Alfred Sant opposition years were an almost total freeze on cross-party consensus no matter the importance of the question at hand.
The resolution had a sting in its tail. The two movers – Robert Abela and Adrian Delia – announced in the text that they had reached an agreement on how members of the judiciary would be appointed in the future. That's it. They didn't say what the agreement was, they didn't say they would publish a draft for consultation, they didn't even say who they consulted before they fixed it. All they said was that this pregnancy we never knew about has come to term and the baby is born in secret.
What's more this agreement with which we have no way of knowing if we can agree is already sealed by a parliamentary resolution that has approved it without seeing it.
This is nuts. Parliamentarians yesterday effectively approved a very important constitutional amendment on blind trust, qualified only (and providentially) by the approval of the Venice Commission. Most of them do not even have a clue of the bare bones of the changes, never mind the details therein where the devil lies.
Now consider that these changes to the constitution are being forced on us by circumstances that have amply demonstrated that the constitution we have – in this respect – is undemocratic. That is how the Venice Commission put it. It remains to be seen whether the European Court of Justice would declare this part of the constitution as in breach of the EU treaty. It remains to be seen, but the fact that the government has changed tack and went to parliament to approve unseen changes suggests the government is no longer as confident as it once was that there is no issue of non-conformity with the treaty.
Look, I appreciate the fact that Joseph Azzopardi's retirement is next week and a decision on appointing a chief justice needed to be taken. I also appreciate the present circumstances are not exactly easy.
But let's take note of two things here.
First, the Venice Commission report came out in December 2018. That's when our system of appointing judges was indicted (along with a hell of a lot else) for being undemocratic. On the matter of appointing judges there are two levels to this. The first level is that our laws predate our independence meaning they are liable to abuse which is a fact that is as old as the laws themselves. The second level is that Joseph Muscat abused those laws barefacedly and continued to do so with the contentious appointments of April 2019.
Second, Joseph Azzopardi's date of retirement was determined the day he was born and has not been precipitated either by the Venice Commission or by Repubblika's court case or by the coronavirus.
There is a wider dimension to this. The government rushed to undertake to change the constitution on the manner of appointing judges for two reasons. One: judges – not just the chief among them – retire and need replacing and the pending court case in Luxembourg risks creating a serious problem with that succession plan. And two: the government is hoping to make the ECJ judgement redundant by anticipating the requirements of that decision avoiding both the loss of face after all the fuss they made and judicial Armageddon – as Jason Azzopardi once rather melodramatically put not inaccurately – described a scenario where judges currently in office are removed and their decisions potentially nullified.
But there are equally undemocratic, redundant, retrograde provisions in the constitution that need revision but are not perched under the guillotine of a European court decision. That's because the issues are not necessarily or not as explicitly subject to EU law.
We need changes to the electoral law, to the broadcasting authority, to the role of parliament, to the enforceability of the principles of the constitution, to the public service commission, to the attorney general (because the changes the government has already introduced are cosmetic and ineffective) and other key aspects of the constitution that are desperate for updating.
Yesterday's parliamentary resolution sent out two terrifying signals.
Firstly, that the government will only move to resolve on constitutional changes if it absolutely must. No doubt Robert Abela and Adrian Delia are congratulating themselves now for agreeing not to resort to powers their predecessors as prime minister had in respect of appointing judges. But they're only doing this because they had to. There's a raft of other powers that need re-examining and they're not likely to be as enthusiastic.
Secondly that when changes are made they are going to be fixed in a smoke-filled room in the narrow club of parliamentary party leaders and their lawyers.
This is something Repubblika has been campaigning against since its inception in January 2019. And that argument is based on the Venice Commission's pertinent observation that Maltese civil society, such as it is, is left out of decision making altogether here. Constitutional changes need to be discussed in an open forum. Every single citizen is by definition an interested party and should have the opportunity to weigh in.
No doubt that ultimately parliament is the body that changes laws, including the constitution. But even accepting that as the be all and end all, yesterday's motion was scandalous for it secured parliamentary approval without involving the chamber in any debate, let alone consideration of the details.
Consider then how there has been absolutely no national debate to speak of about the changes the government will now be implementing aided and abetted by the opposition.
And consider what other changes they might make and what changes they might avoid making for fear of impacting their perpetual influence if they leave out completely the input of civil society and the citizenry at large.
I was in the room when President George Vella assured a delegation of Repubblika that under his watch constitutional changes would not be made by secret consensus between the two parliamentary parties but that there would be broad and inclusive consultation. He spoke in a manner that implied that if government forced him to sign constitutional laws on which there hasn't been adequate consultation he would prefer to resign.
Issa naraw.