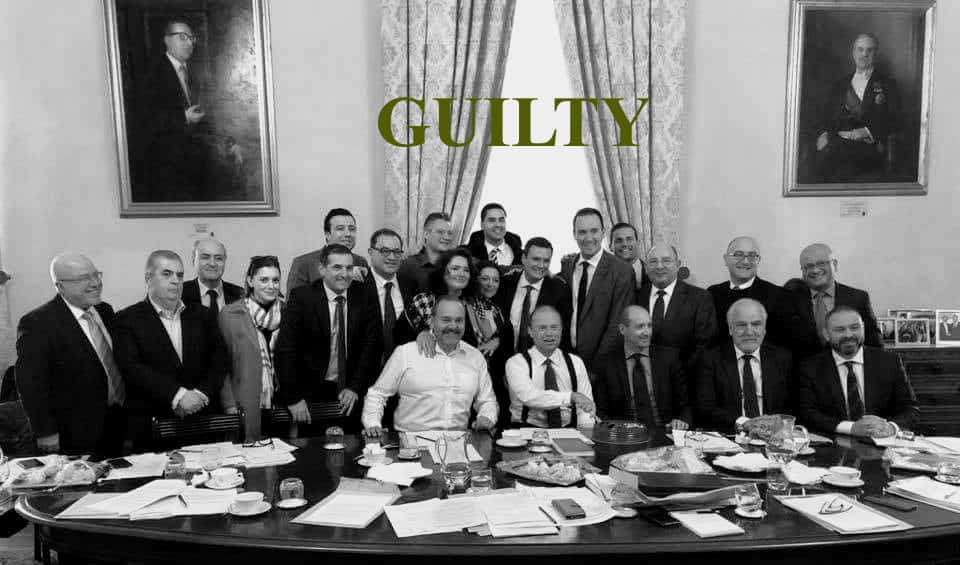 The state should shoulder responsibility for the assassination. It created an atmosphere of impunity, generated from the highest echelons of the administration in Castille, the tentacles of which then spread to other institutions, such as the police and regulatory authorities, leading to a collapse of the rule of law.

– The Daphne Caruana Galizia Public Inquiry.
It took the Caruana Galizia family more than two years to get Joseph Muscat to appoint an independent inquiry. Three days after the execution in October 2017 four United Nations experts called for a "prompt, thorough and independent public inquiry." They were Agnes Calamari, Special Rapporteur on extrajudicial, summary or arbitrary executions, Michel Forst, Special Rapporteur on the situation of human rights defenders, Juan Pablo Bohoslavsky, Independent Expert on the effects of foreign debt and human rights, and David Kaye, Special Rapporteur on the promotion and protection of the right to freedom of opinion and expression.
Arguing that a magisterial inquiry was already ongoing Joseph Muscat refused to set up a public inquiry. Grave concerns were raised by numerous international bodies, including the Council of Europe and the European Parliament and finally, following the lengthy campaign by the journalist's family and strong international pressure, a public inquiry into the circumstances of Daphne Caruana Galizia's murder was started in December 2019. Joseph Muscat resigned a month later.
On Thursday, the government published the 437-page report which singled out former prime minister Joseph Muscat for his actions to enable a culture of impunity and found his entire cabinet collectively responsible for their inaction in the lead up to the assassination. The inquiry concluded that there was an orchestrated plan to neutralise the investigative journalism carried out by Caruana Galizia.
"A climate in which, those who wished to and managed to eliminate her found the perfect occasion to do so. Whoever planned and carried out the assassination did so in the knowledge they would be protected by those who had an interest in silencing the journalist."
"This was done to first and foremost limit the damage to those in power, as well as limit the damage of those seeking to advance projects for their own personal gain. This plan could only succeed because it was centrally organised by the prime minister's office, and it led to Caruana Galizia's 'total isolation', at a time when she was also in the crosshairs of then opposition leader Adrian Delia. This isolation, coupled with the culture of impunity and the "inactivity" of institutions, created a climate of risk for the journalist.
Daphne Caruana Galizia was politically irrelevant because she fell out with both governing and opposition parties, and that's when she was killed.

– Joseph Muscat.
Joseph Muscat "created an atmosphere of impunity, generated by the highest echelons at the heart of Castille and which, like an octopus, spread to other entities, regulators and the Police, leading to the collapse of rule of law."
Malta was being tarnished from Bidnija.

– Joseph Muscat in May 2017.
When she went out in public, people who did not even know her, spat at her, followed her, photographed her, and hurled insults and abuse at her. Once, when she was at a feast celebration in a nearby village, the former Żurrieq mayor Ignatius Farrugia mobilised a mob who started chasing her shouting 'tagħna lkoll'. She had to take refuge in a monastery, with the pack pounded on the heavy wooden doors. All over the island, there were people who hated her but had never ever read a word she had written. They were following instructions and they simply knew her as 'is-saħħara tal-Bidnija.'
At my signal, unleash hell.

– Joseph Muscat's favourite movie quote (from Gladiator).
Mark Anthony Sammut Sassi, giving evidence at the Inquiry recalled that once he was talking to his father Frans Sammut, an author who used to work for the PL and was not sympathetic towards Daphne Caruana Galizia. His father told him that he was approached by Joseph Muscat to contribute to a blog intended to put Daphne Caruana Galizia in a bad light.  Frans Sammut refused because "it went against his personal identity."  Corrupt Joseph Muscat found someone else, a certain Glenn Bedingfield who was employed at the OPM and paid through taxpayers' money to spew hatred and publish photographs of where Daphne was spotted.
In the months before her execution, Joseph Muscat and his Cabinet had sought to smother her with libel lawsuits. People in his office used their work computers to post cruel gossip about her, accompanied by unflattering photographs. There was little serious effort to refute Daphne's reports, but just to disdain her as an elitist, partisan fraud.
The greatest difficulties I encounter come from the fact that they have made me into what in effect is a national scapegoat.

– Daphne Caruana Galizia.
After her demise, PL supporters, including a police officer, posted memes with images of champagne flutes and witches burning at the stake and made explosion sounds when they saw Daphne's family in public. That was the level of hatred that Joseph Muscat had managed to infuse in his followers.
The inquiry report continues: "It can never be acceptable for entities of the state to involve themselves or promote such happenings. The state has an obligation to defend in every possible way the lives of journalists, the fundamental right to free speech, even when a journalist expresses tough opinions against the government of the day. It slammed the "lethargic inactivity" of the institutions over their failure to investigate serious allegations of criminal wrongdoing, including by those in government, as being "inexplicable and condemnable."
I paid the ultimate political price for my mistakes and those of others.

– Joseph Muscat.
The shamed most corrupt person in the world Joseph Muscat took to Facebook with his reaction. He wrote that "I paid the ultimate political price for my mistakes and those of others. I took the decision to get another mandate where the electorate judged me even on how I managed the situation." A blatant lie. He went to the polls so that the plot to assassinate the journalist would have been secured by another Labour government. Melvyn Theuma testified in Court under oath that once the 2017 election was announced he received a call from Yorgen Fenech to stop any actions. On the morrow of the Labour victory, Yorgen called Theuma to "go ahead." After his resignation due to pressure from the civil society, Robert Abela who succeeded him as the prime minister paid him €120,000 for his political travails.
Our country's reputation is in tatters. It is in tatters because some refused to see the writing on the wall. Others refused to accept reality when this was staring them in the face. And others chose to look the other way because they were making hay while the sun was shining only on their pockets. All of this happened because when faced with life-changing choices, the dice fell on the side of what is popular rather than what is right.

– Lawrence Gonzi.
Parliament discussed the report on Friday. For Robert Abela, cold as ice, it is business as usual. During his weak speech trying to impress and convince people that he is responsible only for what happened after January 2020. He is not credible when behind him in Parliament one could see Rosianne Cutajar who just the day before was protected by Parliament. He cannot be credible when next to him he has Carmelo Abela accused of having taken part in the HSBC bank heist in 2010. He is not credible when a few weeks back Malta was greylisted by the FATF and red-listed by the United Kingdom.
During his speech, he never, even once, mentioned Joseph Muscat. Neither did he mention the cabinet during Muscat's tenure. He couldn't because he was part of it. Robert Abela was lying because through 'continuity' nothing has really changed since he took over from Joseph Muscat. Robert Abela marks January 2020 as the day of redemption. He is lying. His is a continuity of his predecessor's vile actions.
Let me remind him what he said during a debate in Parliament in May 2018, "The family of Daphne Caruana Galizia is more interested in their 'repugnance' for the country than finding those who are criminally responsible for the assassination of the journalist. He claimed that 'Caruana Galizia's family and Jason Azzopardi, who is appearing as parte civile on behalf of the family in the case, are using their closeness and access to the investigation to further their own political agendas.'"
So there you go. For Heaven's sake stop acting like a vestal virgin. You are an integral part of corrupt Labour.
But Daphne Caruana Galizia will be remembered as a Maltese hero, while Joseph Muscat will go down in history as the most corrupt politician Malta ever had.  His goons will go down in history as a money-grabbing, corrupt den of thieves. Nobody can change that, not even Robert Abela.