I'm half way through a short trip to the European Parliament in Strasbourg as a guest of the President of the European Parliament Antonio Tajani who asked a number of journalists from Malta to be present when the building's main press hall is renamed Salle Daphne CARUANA GALIZIA in the presence of her family.
Yesterday I visited the venue and I was moved by the sense of appropriateness and decorum to mark the occasion. It is so unbelievably strange that we get the goosebumps of patriotic fervour when some teen ranks 19th in the Eurovision song contest or the national football team gets trounced by less goals than you can count on a hand. But the fact that press conferences in Europe's highest elected body will all be convened in a hall named for one of our own passes with what ranges between indifference and mockery.
This other chapter in the personal drama for the Caruana Galizia family brings to the fore again the contrast between the esteem and the high regard Daphne's memory and her sacrifice are held outside our country and the inexplicable controversy within it.
Of course more is happening today.
The European Parliament is debating rule of law in Malta and I have spoken to many MEPs yesterday who are looking forward to speak at the debate. Labour usually ignores these bash-fests but the movements I observe suggest they are intent on scuppering this one.
The first effort was to arm-twist the Socialist group in the European Parliament to present an alternative motion to the one being tabled by the wide coalition of Greens, Liberals, Leftists and the Popular Party that admonishes Malta in no uncertain terms and lists specific actions expected of the authorities in Malta and the European Commission for the country to get back on the fundamental democratic tracks expected of an EU Member State.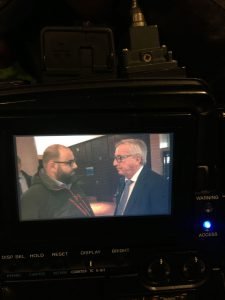 The rare cross party support is indicative of the fact that beyond the last few of his own former associates, support for Joseph Muscat has shrunk. I door-stepped Jean-Claude Juncker yesterday and he was unwilling to express any support for his erstwhile friend. He told me he told Joseph Muscat "several times" about his concerns on rule of law in Malta which he said saddened him.
The Socialist group is tabling an alternative, watered-down motion. But even though Alfred Sant and his assistants would have wanted a motion full of praise for Joseph Muscat's genius, their Socialist colleagues would have none of it. For an alternative motion to even materialise Alfred Sant and his assistants had to agree to sign a draft motion that on its own, if approved, would still be a damn hard bashing on Joseph Muscat's government.
Alfred Sant, Miriam Dalli and Marlene Mizzi head a short list of a rump group of the Socialist party signing a motion that says the European Parliament is "concerned about the involvement of politicians in the Panama Papers scandal". In a democracy, Joseph Muscat would not survive a motion presented by his own MEPs expressing concern on the persistent political survival of his Chief of Staff and his Tourism Minister, both personally named in the "Panama Papers scandal" who he defended and re-appointed even as the story was broken by Daphne, confirmed by the ICIJ leaks and heavily criticised by the PANA Committee.
Joseph Muscat is not happy with Alfred Sant and the other two subscribing to this motion. He is trying to cling to the twig of tu quoque retorts he can hardly believe himself. That's how the call for resignation of Francis Zammit Dimech came about. Unlike Konrad Mizzi and Keith Schembri and as is alleged by an eye-witness Joseph Muscat himself, Francis Zammit Dimech did not set up companies for himself (or for others even) in Panama or any off-shore jurisdiction. A firm he shared offices with was in the business of opening off-shore accounts for clients.
The Socialists's watered-down, spare-wheel motion is even more critical of Malta than that. It explicitly interprets the assassination of Daphne Caruana Galizia not as an ordinary crime, as Labour would want us to believe, but a matter of "genuine concern, particularly given that it constitutes a direct threat to freedom of expression".
In spite of the fact Alfred Sant signed this draft motion he is here subscribing to the opposite of what he stated a few days ago on Facebook that freedom of expression in Malta is under no threat and indeed he exhorted masses of Joseph Muscat's supporters to take to the streets and prove it.
The Socialist draft motion proceeds to bash other Labour policies. It asks the Parliament to remind Malta that it has "frequently expressed concerns" about Malta selling passports and "invites the Maltese Government to be transparent with all relevant EU institutions on all matters arising from the aforementioned concerns, in an impartial, evidence-based and cooperative way" which logically means Alfred Sant, Miriam Dalli and Marlene Mizzi, and the other signatories of the draft motion do not think they have been so far.
Of course they don't think so. The PANA committee screamed blue murder for the contempt it was held in by Keith Schembri, the second most powerful man in Malta's public administration. I spoke to PANA committee members yesterday and they explicitly told me they will refuse to visit Malta until such time as Joseph Muscat's government sends the documentation they have been asking for and undertakes to send the witnesses they have been summoning and getting no response from in spite of their public office.
Another illogical twist in the spin Labour is starting to prepare is the idea that PN MEPs have withheld criticism of Victor Orban's Hungarian government that is at least just as guilty of suppressing rule of law as Joseph Muscat's.
. @PNmalta MEP's vote against rule of law mission to Hungary while incessantly plotting against #Malta. #ruleofPN. https://t.co/Yw9tPKpVzV
— Kurt Farrugia (@KurtFarrugia) November 11, 2017
Quite apart from the fact that this is factually not true as the below clip from an EP speech by Roberta Metsola as she faced Victor Orban in the chamber and told him that she did not care he belonged to her party he was crossing the line of European values, Labour is, in throwing this retort, accepting it is deserving of the criticism that it has driven rule of law in Malta to the ground.
"I believe in a Europe of values and I will always defend our shared principles whenever and wherever they are under threat – whether it is corruption by the Government in #Malta, #Romania or the situation in Hungary.That is why I am in politics. Our values are not up for negotiation. Not now. Not ever." – Speaking in the European Parliament today during a debate on #Hungary

Geplaatst door Roberta Metsola op Woensdag 26 april 2017
But I expect Labour to considerably increase its efforts to deflect attention from the bashing it is getting today (whether the EPP-Liberals-Greens-Leftists motion is approved or even the Socialist motion is approved).
The first card is using its monopoly on power in Malta to set the conditions for its dissembling methods. The debate is not being transmitted on TVM in spite of the fact that this must be the matter of public interest to trump any other. The Broadcasting Authority, whose constitutional role is to ensure public access to matters of national importance will not intervene.
The debate will be broadcast on NET TV but that button does not work on the remote controls of the great majority of the country who will assume even a live feed from the European Parliament is propaganda serving the PN and therefore not worth looking at. Remember these are the same majority who accepted Labour's dogma to the point of celebrating Daphne's death in spite of having never actually read anything she said.
In this field of absence of information, Alfred Sant and his assistants will then seek to take the stage. They will embarrass themselves in front of their colleagues here in Strasbourg, even from their own party. They will exercise the same class of bad taste that is celebrated in Malta in that macho mainstream pseudo-counter-culture sort of way.
But the audience they are concerned about is not here in Strasbourg. It's in Malta where people were fed stories last week that said the PANA Committee said Malta is a great, compliant, no-problem zone.
They will today give similar 1984 headlines to Maltese audiences. The debate in the European Parliament ends around 4.30pm which gives Labour the time before the news cycle at 8pm closes, to spin this to oblivion. Whatever the casualties along the way.
Even as it is crushed by this autocratic, morally ambivalent, brutal dishonesty, truth must be told.