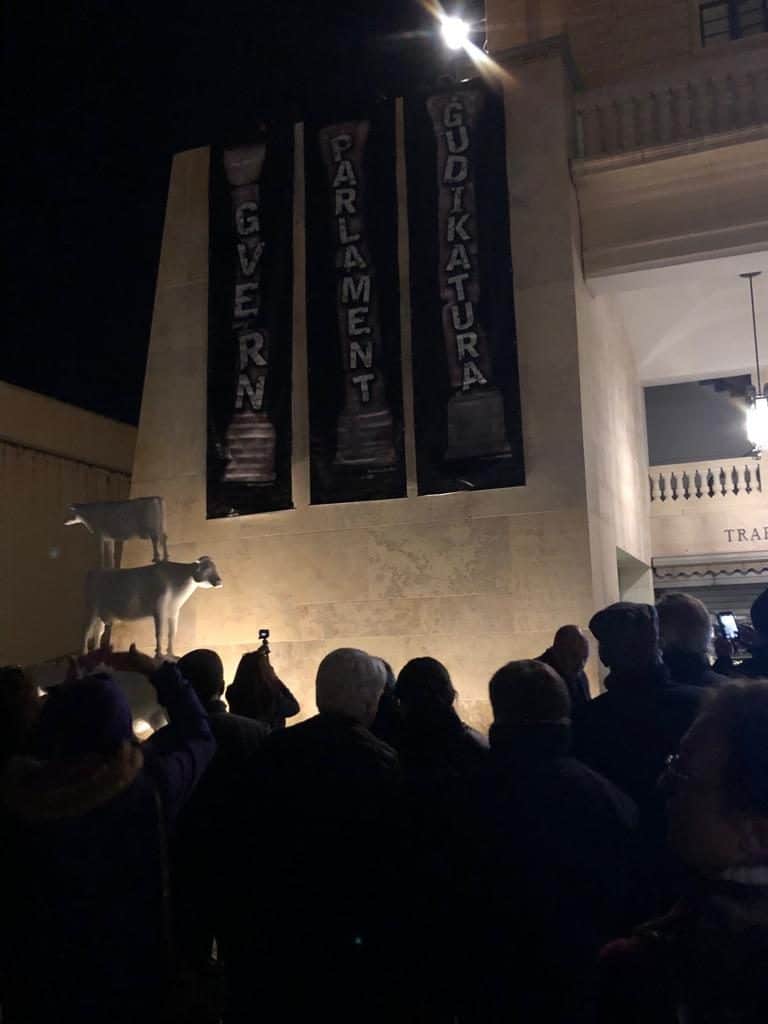 This statement was issued by Occupy Justice this evening:
Three huge banners depicting Three Crumbling Pillars of Democracy were unfurled opposite the building of the Maltese parliament this evening in Valletta by #occupyjustice activists to mark 15 months since the assassination of the journalist Daphne Caruana Galizia.
The banners showed three collapsing columns symbolising the executive (the government); the legislature (parliament) and the judiciary (Law courts).
"With each day that passes, we look around us and we see that the very foundations of our democracy are being heavily eroded by corruption and the deep-set culture of impunity", said #occupyjustice, a group of activists led by women.
"The government is disgusting in its active support of corrupt practice. We recoil when we see the Prime Minister PROTECT the two crooks by his side – his Chief of Staff Keith Schembri and his top Minister Konrad Mizzi – both of whom have set up a money laundering structure in order to receive illicit kickbacks."
"Parliament, instead of doing its duty to uphold the rights of freedom of speech, is revelling in the bullying tactics of the government MPs and an ineffective navel-gazing opposition, with both sides trying to pathetically shut up anyone who questions this rotten modus operandi."
"And the Law Courts have let the Maltese nation down when Judge Giovanni Grixti surreally declared that he could never consider the Panama Papers as legal grounds for an inquiry to investigate Minister Konrad Mizzi and the Prime Minister's Chief of Staff Keith Schembri, because the Panama Papers were obtained by international journalists by hacking."
It is very clear that this country is not functioning as it should, and that the erosion of democracy is happening right under their watch," #occupyjustice said.
"The truth is that fifteen months on we still do not know who commissioned the killing of Daphne Caruana Galizia, and there is not even a semblance of a search for an answer. Nothing will blind us to the erosion of democracy, of the judiciary and of the government in this country. No attack will make us stop our quest for truth, justice and freedom. We shall not rest until justice is served."
"We are determined to fight for what is right, for justice and for a fair and equal society. This is our nation, this is our home, and we are the people. We expect better, we deserve better, we demand better."