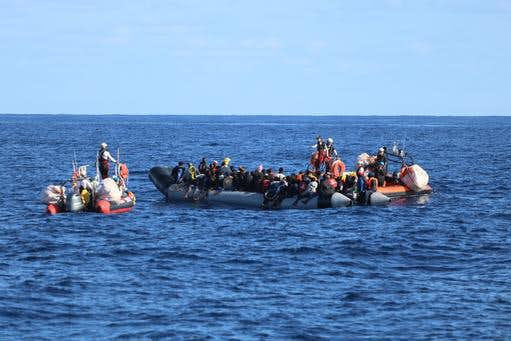 Italian NGO Mediterranea this morning wrote to Malta's government saying it has been carefully following the case of a wooden boat in distress with approximately 90 people on board, reported to all concerned authorities by the organization Alarm Phone – Watch The Med in position 34° 37′ N – 12° 27′ E at 22:35 CEST yesterday.
Mediterranea says it is informed that RCC Malta has formally taken over the coordination of the rescue operations of this case, whose last known position (35° 00′ N – 12° 29′ E around 03:30 CEST) is actually in the SAR area of Maltese jurisdiction, and that you have sent three commercial vessels on the scene.
In view of the recent cases in the last two weeks, one of which resulted in the illegal push-back of the shipwrecked people to a port in Libya, country from which they were fleeing, the NGO Mediterranea demanded from Malta's government information on its intentions to take to safeguard the lives of these 90 people at sea, rescuing and recovering them, and disembarking them in a safe European port and an appropriate Place of Safety in accordance with international law.
Mediterranea warned the government against taking steps, such as ordering their transfer to a country at war, which may constitute serious violations of maritime and international law, in particular Article 33 of the Geneva Convention on the refugee status, and articles 2 and 3 of the European Convention on Human Rights, and that the repeated result of these violations  can constitute a crime against humanity.
Mediterranea say they are looking forward to the immediate response of Malta's government.