The comments around Graffiti's action at the Planning Authority this week are so loaded with irony that the young guys who took that action must feel perfectly entitled to feel pride for what they did.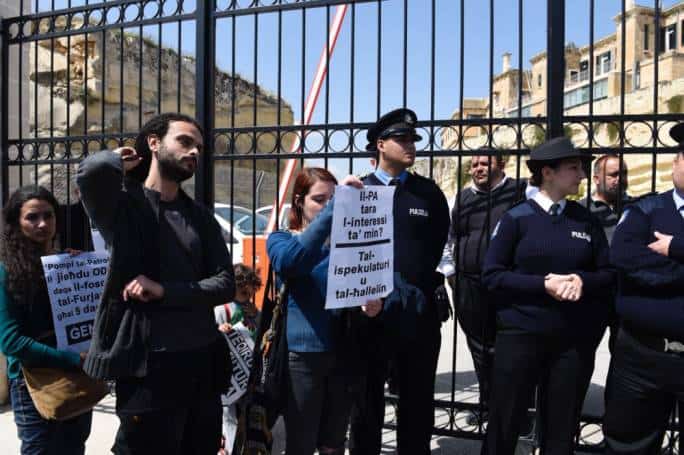 One remark was classic MDA. Developers speak like Frankenstein's monster in the Boris Karloff classics: why don't people realise he's so nice even as he accidentally drowns little girls in ponds? MDA does not drown girls in ponds but their lumbering weight, the suffocating dust that flies about in the wake of their leaden footsteps, and the dark shadow cast by their vertical cities are really incongruous with its pathetic complaint this week that the planning board should not be subjected to undue pressure.
We know how power works in this country and we especially know how under Labour the relationship between concrete money and political influence has been made into the most successful arranged marriage since the Prince kissed Sleeping Beauty. Joseph Muscat calls it being "business friendly" which is newspeak for selling public policy to the highest bidder. And Sandro Chetcuti asks the PN "why can't you be more like Labour?"
That is the undue pressure on our planners. And the undue pressure on our entire political reality.
I happened to be in the room one night several years ago when someone's idea of a petrol station, a sprawl that would look overdone next to a Texan freeway, was concreted over the valley in the shadow of Mdina. Lawrence Gonzi, then prime minister, was appalled. He was reminded that permits had been granted after due process and there was nothing anyone could do about that petrol station anymore. He agreed. But he said there was no reason why the mistake should be repeated again and instructed a policy review to prevent the countryside being covered by cement so cars could be refuelled.
This bit of common sense must have pushed all those petrol station tycoons, our own little ten-gallon hat Texans, to creak their boots and shake their stirrups straight into the arms of the Labour Party. No undue pressure there of course.
One other remark I read was by someone who wittily pointed out that petrol stations in our countryside are being permitted within walking distance from each other. Exquisite. Petrol stations will be so frequent in this country you won't even need a car to visit one.
Incidentally have people been having problems refuelling their cars before their tanks ran out here? Can anyone report that sense of Canadian malaise of fearing your car will run out of gas 90 kilometres from the next service station? Do we have issues with unbearably long queues at petrol stations that are too few and too far in between?
What's all this demand for new petrol stations coming from? Simple. It is that old philosophy of make hay while the sun shines, or in this case build petrol stations while the state fails to regulate the sector properly to prepare for a future when the gate to further exploitation will be shut after there is no more countryside to exploit.
We'll all have an infinite supply of fuel to drive our cars nowhere in particular.
Someone indeed asked a pretty logical question as I saw it when I first read it: has anyone figured out if there's enough business for all these new petrol stations sprouting up where prickly pears used to grow? Someone else retorted with some neocon dogma that the government should allow business to decide what risks it is willing to take.
If the consequences of excess and bad investment were reserved to the investor, I frankly would not care all that much. But who's left with the cement when the investor realises they over-estimated the enthusiasm for a spot of road-side pit stopping? We all are.
That is what planners are for: to plan; to estimate requirements and, within the limits of economic and environmental sustainability, create the parameters of sensible investment.
Those planners at the PA this week were doing nothing of the sort. They were representing all of us as we submit ourselves to the sodomy perpetrated by the greedy who insist no one else should interfere as they have their way with us. That motley crew of decent communists had the decency to say the whole thing was painful and largely unpleasant to everyone except the fuel dispensers.
The fuel mongers get away with this because they have a "business friendly" government who sides with those who pay up and because the rest of us, with the exception of gutsy activists like Graffiti, choose to suffer in silence or pretend that what is happening is actually good wholesome fun.