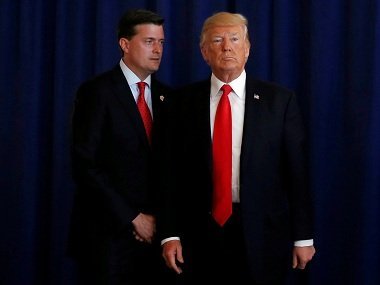 Donald Trump's White House is not a model of civic virtue and accountable public administration.
You'll be forgiven if you've forgotten this episode from almost a year ago. It's one of so many.
David Sorensen resigned his job as a speechwriter at the White House after his wife alleged he was violent and emotionally abusive towards her. That was just days after Rob Porter who also worked at the White House resigned because two ex-wives of his alleged he had physically abused them.
Both David Sorensen and Rob Porter vehemently denied ever hurting anyone. Mr Sorensen's resignation statement said he had "never committed violence of any kind against any woman in my entire life" and that instead it was he who had been physically abused.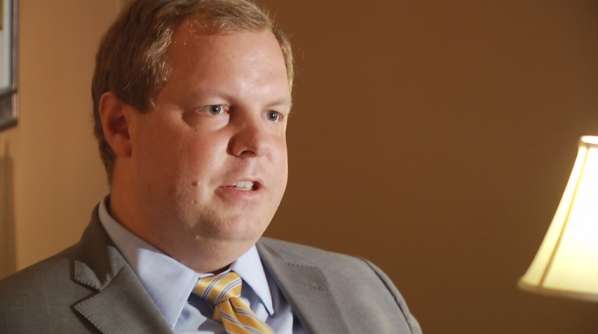 In this BBC report from the time he is quoted saying he intended to take legal action but said he quit because he "didn't want the White House to have to deal with this distraction".
David Sorensen and Rob Porter resigned less than 48 hours after the allegations about them emerged publicly. The stories came out in coverage by US network CBS that revealed internal White House communications between Rob Porter and the in-house attorney at the White House about "lies" his ex-wives were saying about him.
A furore erupted in Washington because Mr Sorensen's and Mr Porter's boss, Donald Trump's then Chief of Staff John Kelly, appeared to have known for some time about these allegations. The allegations rose while investigators were doing background checks on the officials involved before they got their White House security clearance.
Their clearance was held up for a while after these women in David Sorensen's and Rob Porter's personal past told investigators there had been violence in their past.
Rob Porter told John Kelly his ex-wives were lying about him.
John Kelly was reported to have offered to resign after taking too long to fire them. He later denied this.
A White House spokesman assured the public the President of the United States "was not aware of any security issues (with David Sorensen and Rob Porter) and was disheartened and saddened by the accusations".
Donald Trump's White House accepted David Sorensen's resignation within hours of the news breaking. But Mr Trump himself did not bring himself to publicly criticise the alleged abuser.
From the BBC report at the time: Speaking in the Oval Office Mr Trump said: "We found out about it recently and I was surprised by it, but we certainly wish him well and it's a tough time for him."
But Mr Trump did not refer to Mr Porter's accusers.
His comments sparked criticism from Democrats, with former Vice-President Joe Biden saying Mr Trump had downplayed the allegations against Mr Porter.
"That's like saying: 'That axe murderer out there, he's a great painter'", Mr Biden said.
I wish to underline just a number of facts:
The resignations followed allegations, denied by the alleged perpetrators and not yet subject to a judicial process.
In one of the cases the allegations were never subject to a prior police report.
All the allegations referred to occurrences in the past.
The grounds for resignation were not presumption of guilt. On the contrary their employer expressed sympathy at "a tough time" for the men.
One of those resigning, while denying what he was accused of, said that what he was personally facing could not be a distraction from his job and therefore he had to leave.
The press and the political community expressed outrage that resignations had taken as long as they did to occur and only happened after the public became aware of it through journalism.