In the first week of April, my beloved Nanna Georgia turned 100. We had planned a big party because Nanna is a huge party animal and loves nothing more than to be surrounded by family on any given day, let alone on such a milestone birthday. But then Covid-19 hit and understandably so, the party was put on hold to, God willing, a later date.
Nanna was unfazed, she takes things in her stride and kept telling us 'Kollox jgħaddi'. Instead we did all we could to mark it in special ways. I arranged with journalist friends to cover her birthday. See here and here.
They had much to cover. Her idol Simon Busuttil, who was supposed to be the guest of honour at the birthday bash, sent her taped greetings from Brussels instead; a good friend who sings in the papal choir sang her Happy Birthday all the way from Rome and Archbishop Scicluna tweeted his birthday greetings.
My aunt Gina had planned to stand outside her window at Residenza Sant'Anna with a huge banner made by Uncle Joe and cake for everyone. For the past 2 years Nanna Georgia has been living, because she wants to, in the home for the elderly located in the grounds of the Gozo General Hospital. She loves it there; she's quite the queen bee, and the carers love her to bits. She lights up when she sees them and is always ready to chat with us on Messenger whenever the occasion arises. We are greatly indebted to them. They are carers who live up to the name.
I swear, we were more disappointed than Nanna about the thwarted festivities. But Nanna is Nanna. She knows how to make the best of any situation and if the extraordinary Covid-19 measures meant more attention coming her way, then she was all for it. On her birthday and the following day, I made multiple appeals on Facebook, even in Gozo groups, so that Nanna is shown all the birthday stories and wishes made by so many people all over Facebook and Twitter. Nanna is quite popular among my Facebook friends because until Covid-19 hit, I used to post many photos of her and many, many selfies. She loves them and she loves seeing all the likes and comments pile up under every selfie. The last selfie was taken in February.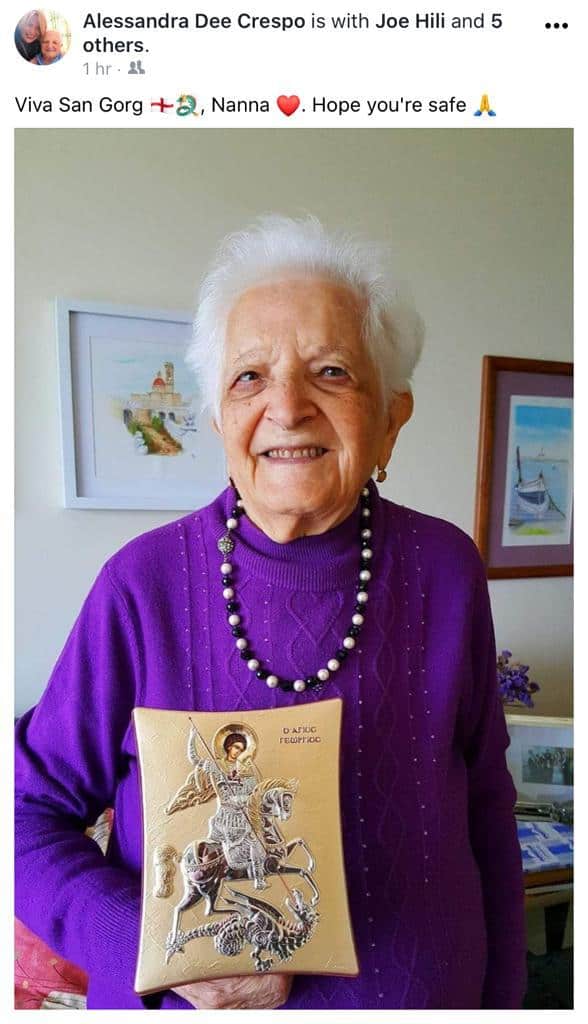 But then the day got dark. Someone got in touch with me on her birthday to tell me that after having seen all my appeals on Facebook, this person felt duty-bound to tell me that even though the Minister for Gozo, Clint Camilleri had announced (with as much fanfare as his wooden persona could muster) that our relatives would be moved to another location, the move had yet to happen. This caller told me that this bumbling procrastination is putting the vulnerable residents at risk and no matter how many times this is pointed out to management, the move kept being pushed back knowing full well that at every moment of the day that their elderly charges remain in the Residence, their well-being was being put at risk. The caller told me to look at the article in The Shift News that had just been published. My heart sank. But then I became very angry as my followers on Facebook and Twitter could see with my posts on this gross negligence.
In fact, the first Covid-19 case in the ward was announced soon after and the patient was then quickly declared dead from the disease. The circumstances surrounding this case are still murky. Before all this blew up, most Gozitans had observed that whereas Prof Charmaine Gauci, our able and hardworking Superintendent of Public Health who was usually very forthcoming with details on cases up and down the country, she was reticent about cases in Gozo. We then also observed that the same attitude was adopted with cases related to Karin Grech Hospital, which like the Gozo General Hospital, belongs to Steward Health Care. What gives? I tweeted to Clint Camilleri that evening and told him that if anything happens to my Nanna due to negligence, I would hold him personally responsible.
My Nanna and her friends and fellow residents together with their dedicated carers were finally moved to Downton Hotel five days after Easter, nearly three weeks after the Emperor of Gozo had announced the move and nine days after Malta's first Covid-19 death, a 92-year-old resident of Residenza Sant'Anna. Tgħaġġlux ta.
We thought we had heard the last of it. But then it started to get even murkier. Because nothing this government does comes from the goodness of their heart. According to reports, the government is paying the Downtown Hotel in Gozo more than 100 euro daily per room.
The contract which runs for a year, and which was signed without going to tender means that the hotel stands to rake in 1.6 million. Kerching! But there's more. Why this generosity? From our own taxes?
Because the government is always very generous with our money with cronies for Downtown Hotel is part of the portfolio owned by Joseph Portelli, the Gozitan property supremo (some call him supremo, I prefer another moniker which will not look amiss in a Martin Scorsese movie, but I digress) behind many dubious property deals on the island. True to form, the Gozo Minister 'strenuously defended the deal'. Of course, he did.
No move is easy for the elderly who have been used to their surroundings, and I tried to dismiss my uneasiness, trying to convince myself that this is for their own good, and maybe just maybe, for once, the government really has the best interest of our relatives at heart. But we are dealing with a soulless government, whose conscience has long been replaced by bags of money, made to the detriment of all.
I read this morning's report in The Times with mounting alarm.
The fear for the safety of my Nanna and her fellow residents that gnawed at my heart on her birthday, is back with a vengeance. No matter how excited my Nanna might have felt about the move, because she thrives on adventure, the conditions described in the article are heart stopping. This is not the way to treat our elders. The only consolation is that I am sure that our relatives' carers are as worried as we are by these conditions. How tragic to die of trauma because your government prefers to make a man's cushy life even cushier instead of seeing that our elders are safeguarded and protected with the conditions they were used to. What's that expression? Oh yes, corruption kills.
But life is cheap in our country. The only thing that is not cheap is the tsunami of money flowing in the coffers of the already rich. Ain't it so, Dr Fearne? You keep telling us that you want 'a stream and not a tsunami of Covid-19 cases.' Good. But why are you treating our elderly like collateral damage?
It is said that a country's civilisation is measured on how it treats its most vulnerable. Judging from the reports on how this government is treating our elderly relatives in Gozo, the measure is pretty low, if not non-existent.
We are hoping that when all this is over, we will throw our diva her much-deserved 100th birthday party. We are also hoping to mark this centenary with the selfies that she loves so much. Hang in there, Nanna Giorgia. May Saint George whose liturgical feast we are celebrating today, watch over you.
I am counting on my birthday selfie with Nanna Georgia, Minister. If it does not happen, it's on you Clint Camilleri. I'm watching.