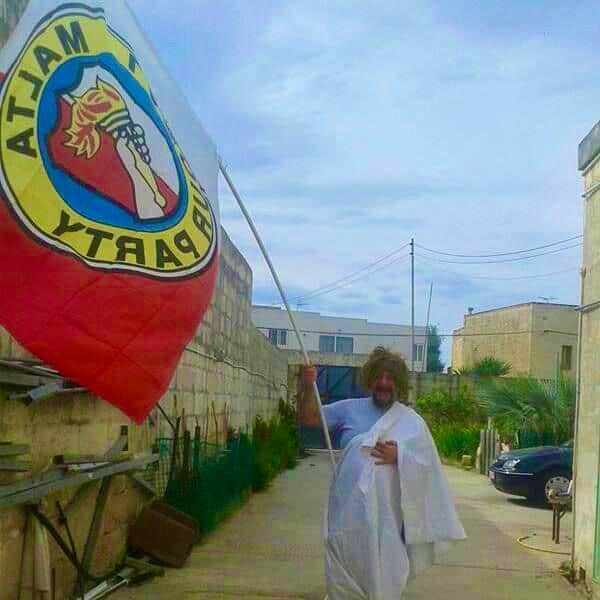 Someone told me after I wrote this other piece earlier that I'm a closet believer and I'll be coming out at some point. Maybe Easter is a good day to think about a conscience-free resurrection.
The first thing Jesus did when he walked out of his barely used tomb was shoot some birds for fun. He then went on Facebook and sent a picture of a bunny rabbit to his friends and family as there will be no eat-as-much-as-you-can buffet at the Excelsior this year. At least that was a good excuse to sleep in and if nothing good can be English, there's always one exception: a fry-up for a late breakfast.
It's all a bit frustrating this stay indoors business. The sea is cold but the beach is gleaming and the birds that survived the morning barrage soon start chirping again.
Jesus thinks of the beach and of the birds but what he does not think about on Easter morning is the boatloads of migrants bobbing on still water, burning in the sun, the adults holding their children from drinking sea water, the calmer ones restraining the frantic, the panicking and the crying. He would not be thinking of the suicides who jump to swim to their watery grave.
If some annoying tree-hugging vegan with unwashed hair laments the fate of the migrants Jesus would have a ready answer: "Surely you're not saying we have the resources to save the poor from their lot? There will be poor always, pathetically struggling. Look at the good things you've got."
He would be saying that he had to postpone his Easter driving trip to Tuscany because of the virus, why can't migrants stay a bit longer on their slave camps in Libya before choosing this inconvenient time to travel? Surely anyone so unreasonable does not deserve to be saved from drowning or from a slow death from thirst.
But Jesus is an altruist. He would be blessing all the heroes of this anti-virus war: the doctors and the nurses, the selfless governors toiling day and night and the soldiers protecting us in times of risk.
Jesus would agree our ports are unsafe. He wouldn't quibble about the legal meaning of that term. Jesus never approved of scribes. The law intends 'unsafe' to mean war-torn or so grossly damaged by some disaster that it is better for people on a stranded boat out at sea to try their luck staying out there than it is to sail towards a dangerous harbour. But Jesus never took to the intentions of old laws. 'Unsafe' is what the government wants it to mean so the black sods can fend for themselves.
In that context Jesus knows that God always sides with the good guys in a war and this is a war. He understands that sometimes you need to pull over tables like he did outside his father's temple a couple of days before he was killed. Jesus would support then the Maltese army for breaking the motor on a boat carrying 70 people and leaving the passengers for dead out at sea.
That is understandable behaviour. The alternative is letting those 70 use their motor to puff puff their way towards the unsafe harbour of Valletta. There they would be swabbed for coronavirus and isolated in quarantine. Jesus thinks that's an unreasonable effort considering the buffet at the Excelsior is cancelled.
Jesus is pleased with the unity of the country in a time of crisis. It is soothing that the political opposition does not criticise the government for leaving people out at sea. Jesus also thinks those pesky Samaritans on NGO boats surfing the high seas looking for rickety boats on an ocean-scape that the fleets of countries ignore are in fact profiteers, human traffickers and criminals. They deserve to have the boats they use to look for migrants out at sea taken away from them and sunk.
Jesus keeps transforming the complex laws of Moses, the kosher labyrinth of human rights principles, the stuffy entanglements of international law into simple maxims we can all understand. 'Verily, verily I say unto you,' he says. 'Love thyself as though there were no other. This is the first and great commandment. And the second is like unto it. Labour knows best.'
It may be true that San Pawl Nazzjonalist. But Jesus is definitely Labour.
The distilled commandments are a practical guideline for moral dilemmas in time of crisis. Never run into a burning house to save someone because there may be risk to yourself. And if a Labour prime minister does not run into a burning house to save someone, then that must be the correct behaviour.
Now that we got that sorted out, have yourself a blessed conscience-free Easter. Worry only about the important things. Make sure you forward that bunny rabbit picture to at least 12 of your Facebook Messenger friends and do it within 5 minutes for an extra special miracle that no doubt you deserve. Jesus is watching.