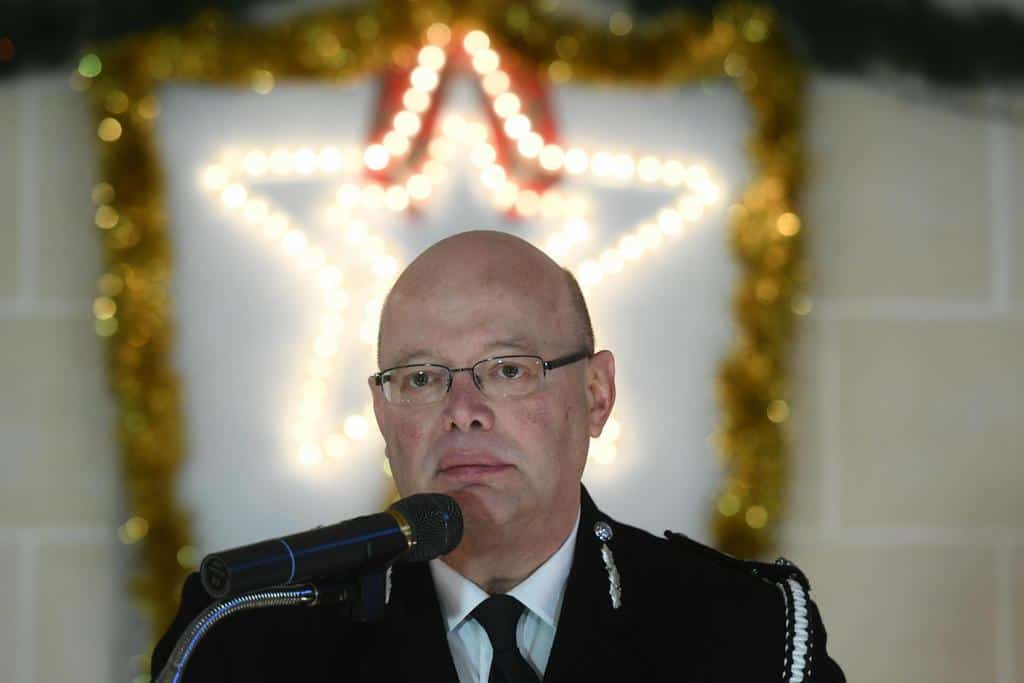 Yesterday's The Malta Independent had the right headline. "The knives are out: How police chief appointment risks turning into a farce."
The process isn't inspiring confidence, is it? And this country desperately needs an improved and strong police department. Edward Zammit Lewis seems to think that Malta's reputation in the eyes of the rest of the world is going to improve because of some badly written letters and ineffectual legislation. Robert Abela seems to think that penning migrants on coastal cruisers anchored 13 miles beyond our shores instead of letting them drown should do the trick.
When in reality the only thing that can start improving our image is if we put handcuffs on the wrists of the crooks who have put us in the situation we are in, charge them with crimes everyone understood they committed months and years ago and serve them the punishment they deserve.
Since Keith Schembri is not going to arrest himself any time soon, we're going to need policemen with the inclination to bite that particularly chewy bullet. No one's getting too excited.
In order for the police department to confront organised crime, the first requirement it would need to satisfy is to be organised itself. There needs to be cohesion, some esprit de corps, some shared objective and a sense of mission. The police department could not be further from this right now.
There's an upstairs-downstairs civil war going on. Junior traffic policemen are suspended for cheating on their overtime claims, a charge they do not appear to deny. That does not mean they're going quietly into the night. They're applying what we can now call the Joseph Muscat defence, accusing their accusers of some equivalency.
The counter-charge raging over this weekend was about senior police officers sitting through a law degree during their working hours. According to one of the scheme's beneficiaries – lawyer and candidate to the top job at the police Mary Muscat – this was the department's policy about 18 years ago. So, she could not be said to have been skiving when her employer was actually sponsoring her to do just what she's being accused of.
Mary Muscat may or may not be right that the accusation of "skiving" was meant to undermine her candidature. This scattergun approach of mutual recriminations may just as well be addressed to people who sat for law courses since the policy of allowing them to do so while they're being paid was rescinded.
As the suspended motorcycle officers try to save their skin in frantic panic they may be dragging down their accusers with them. There could be some collateral damage along the way as well. The Malta Independent's commentary from yesterday is concerned with what the newspaper fears may be entirely baseless accusations against candidates to the top police job that could have the effect of tarnishing perfectly innocent people.
The fact is the damage could very well spill beyond the police department. Anonymous letters, rumours and what One TV passes for journalism are looking to spin relationships, real or imagined, between police officers and people they are supposed to have done favours to.
There are many people in and out of the police force that would benefit from this false equivalence.
Consider how Assistant Commissioner Ian Abdilla is credited with the impunity enjoyed by Keith Schembri and others. Since he cannot possibly dispel that rumour it would benefit him greatly to see other police officers tarnished by equivalent accusations of favouritism and inappropriate loyalties. If everyone looks dirty, no one looks dirtier than the rest.
Remember where we're starting from: a police department headed by Lawrence Cutajar who held secret meetings with an associate of the self-confessed middleman in the murder of Daphne Caruana Galizia; his deputy, Silvio Valletta, travelled with and was best buddies with Yorgen Fenech, the man the police accuse of masterminding that murder.
Those two have left. Ian Abdilla is still there. Witnesses took turns to explain to the inquiry investigating the murder of Daphne Caruana Galizia that files on cases against politicians involved in crimes were blocked for months at his desk. There they still languish.
We have then a demoralised police force where the bosses for years have given the worst sort of example taking the side of criminals against justice rather than the other way around. In the face of major corruption, junior officers feel entitled to their petty corruption such as an over-inflated overtime claim. "Tiegħi qed tara?" They feel even more cheated when people they perceive as corrupt clamp down on their little extra money on the side.
We also have a police force led by people who have ranked party loyalty over public service. That tribalism splits the department asunder. It creates mutual mistrust, suspicion and provides tinted glasses to lady justice who is supposed to be blind.
That brought things to a point when not belonging to either tribe risks becoming a very dangerous affair if one find themselves on the wrong side of some senior police officers.
It is bad enough that one of the candidates for the top post in the police force has to answer accusations of head-butting a woman in an argument. Mario Tonna's callous claim that his victim's bruises should not bruise his chances of becoming the chief law enforcer in the land reflects mostly on him. It is hardly surprising that someone who thinks they have the right to physically assault a woman he has an argument with would think they have the right to be police chief. But his callousness also bleeds onto the entire process.
Perhaps it helps someone like Angelo Gafà to have Mario Tonna in the race. People are likely to be more immediately concerned with woman-battering than the implications of a poor prosecution of someone he was supposed to seek the conviction of but was eventually a guest of a party at their home. Angelo Gafà can ramble away with an explanation like this he gave to Lovin Malta while people's attention span is distracted by the next head butt. Like that, anything goes, even partying with people you inexplicably allowed off the hook.
The real need we have as a country is for a police chief that can inspire the entire force to get serious about fighting organised crime, to apply the full force of the law to get to the bottom of corruption and to rub out the impunity these corrupt criminal politicians still enjoy.
What chances do we have of getting that? Understand the process first. A shortlist will be drawn up by the Public Service Commission, a committee of appointees of Robert Abela. Then Robert Abela gets to make the final choice. And if Robert Abela regrets his choice over the next 12 months he can cancel the whole process and force a fresh start. Who's the client then? Clearly Robert Abela who even has a 12-month returns policy on his purchase, no questions asked.
What chances are there that Robert Abela's choice will take action that will cause Robert Abela political problems? Would the arrest of Joseph Muscat or someone Joseph Muscat has protected for so many years be a political problem for Robert Abela? You bet.
It's indeed a farce. But not a funny one.