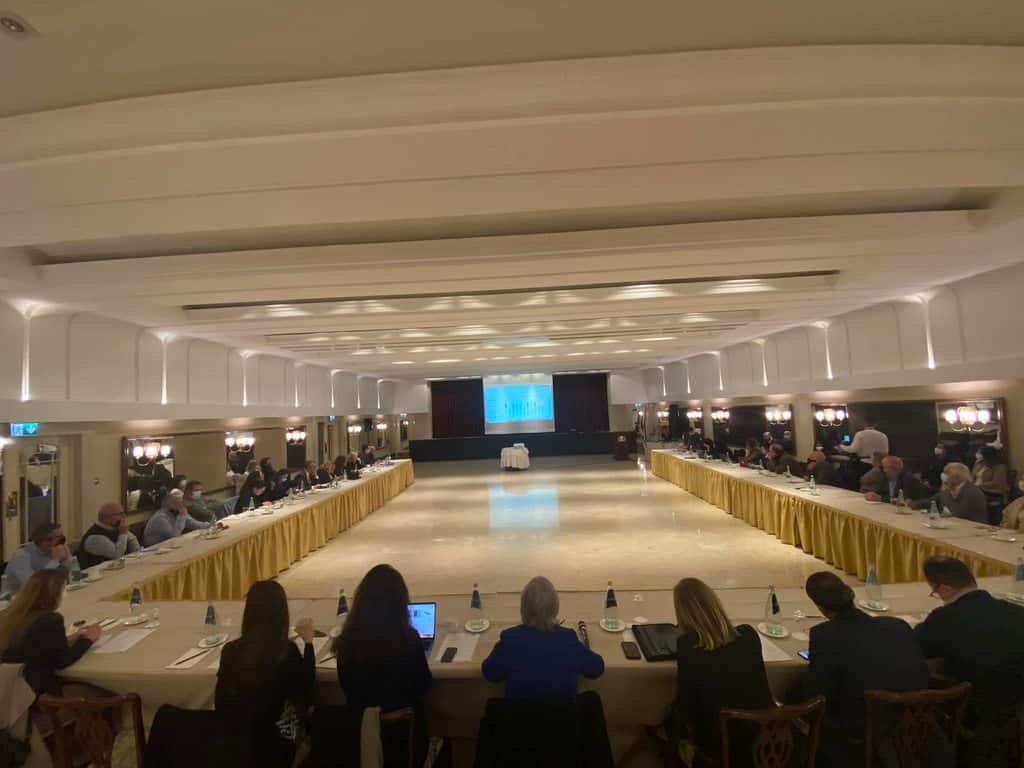 NGOs Repubblika, The Daphne Caruana Galizia Foundation, SOS Malta, and PEN Malta have published recommendations on securing press freedom and enhancing the protection of journalists on the back of conclusions by the Daphne Caruana Galizia Public Inquiry drawn up by a three-judge panel last year.
The recommendations were sent today to Judge Michael Mallia who presided over the original inquiry and who is now chairing a government-appointed group of experts on the subject.
The NGOs' recommendations were drawn up following a public conference last week that brought together journalists, activists, and interested members of the public to debate media freedom in Malta.
Recommendations cover several aspects including Constitutional and legal reforms and initiatives such as the empowerment of a body that represents journalists, the regulation of government spending in the media, transparency of media ownerships, psychological support for journalists, and strong laws that protect journalists from strategic lawsuits.
The NGOs also recommend changes to the Freedom of Information and Whistle-blower Protection laws and the ending of smear campaigns against journalists. Other recommendations cover media literacy education, professional development for journalists, and training for police.
Scroll down for the recommendations in full.
This is a video recording of the conference last week.
Recommendations
The following recommendations by civil society groups Repubblika, The Daphne Caruana Galizia Foundation, SOS Malta, and PEN Malta include the proposals made at the public conference on freedom of speech and the protection of journalists on Thursday, February 24.
The process of reform, including the operation and deliberations of the Committee of Experts, should be transparent and involve meaningful consultation with civil society and with relevant organisations including the OSCE, the Council of Europe, the European Commission, and international freedom of expression and press freedom organisations.
The Committee of Experts must not concern itself with regulating journalism, the organisation of journalists, or the ethics of journalism. These concerns are the domain of the media sector itself and should be addressed through self-regulation.
The technical assistance of enabling expert organisations such as the Council of Europe, the OSCE, and press freedom and free expression iNGOs should be welcomed in the reform process, including by the Committee of Experts ("the Committee") to ensure that the Committee's proposals to the Maltese government meet international standards.
The Public Inquiry report includes recommendations to address impunity. These must be fully implemented to ensure an enabling environment for press freedom and the protection of journalists are created and are effective.
All deliberations on and steps taken towards the implementation of the recommendations of the public inquiry must be founded on the principle that media freedom is the fourth pillar of democracy.
The objective of reforms should be the creation of an enabling environment for journalism, as this is fundamental to the protection of public interest media and journalists.
Reform proposals should be aimed at enabling (not regulating) journalism and journalists. The test that the Committee must apply to every proposal under consideration is whether it will enable or regulate journalists and journalism. In the latter case, the proposal should be rejected.
Malta's Constitution must formally recognise, define, and defend freedom of expression, and must explicitly recognise media freedom as the fourth pillar of democracy.
The Constitution must include clear and strong recognition of press freedom rights that have been recognised by the European Court of Human Rights. These include, but not only, decisions concerning the protection of sources, timely and effective access to information, protection of journalists, and recognition of journalism for its function as a public watchdog.
The Constitution must also recognise State obligations towards the press.
Legal reform must be complemented by non-legislative measures to protect freedom of speech and to ensure a cultural shift in Maltese society leading to recognition of the essential role of public interest journalism in a democracy.
Journalists must be enabled to form a strong organisational body that represents them. Formal recognition of an organisation of journalists is required for it to take a fully effective and proactive role on issues concerning public interest journalism and, by extension, Malta's democracy. The representative organisation needs to have effective powers and be properly resourced. In its current state, the Istitut tal-Ġurnalisti Maltin (IĠM) does not meet these requirements.
Consider the creation of a fully autonomous consultative council of journalists and other media actors, chaired by an ombudsman, to mediate interests with political stakeholders.
Government spending in the media must be regulated to ensure fair distribution and full transparency of that spending. The Committee should demand transparency in the use of public funds in the media and determine guidelines for State entities on marketing and advertising in media.
Media ownership should be transparent and assured through self-regulation by the media sector.
Systems of psychological support for journalists need to be instituted. These are necessary due to the chilling effect of SLAPPs and intimidatory actions against journalists.
Anti-SLAPP legislation needs to tackle both domestic SLAPP cases and address the execution in Malta of foreign SLAPP cases.

In domestic cases, anti-SLAPP legislation needs to focus on neutralising the chilling effect by allowing early dismissal of the claim, introducing a strong public interest defence, and introducing the imposition of the payment of damages and/or penalties by the claimant to the defendant for lawsuits which are abusive, frivolous or vexatious.
There should be a new defence plea added to the current defences against a libel suit, in the form of a preliminary plea, where a journalist (or other public watchdog) can plead that a libel suit is frivolous and vexatious and constitutes a SLAPP action enabling the court to dismiss the case on the basis of criteria such as:

if the applicant is a big business or politician and the respondent is an independent journalist;
if it appears prima facie that the claim is frivolous and vexatious;
if the applicant had other (less extreme and more accessible) remedies available to them;
if the journalist is not in his home jurisdiction.

Execution of foreign SLAPP cases should be halted on the basis of Malta's public policy, providing for early dismissal of such a claim, introducing a strong public interest defence, and the award of damages to the defendant and/or payment of penalties by the party seeking the execution of judgments delivered by foreign courts and identified as SLAPP suits by the Maltese court.
Common measures: When applicants file a libel case or file for the execution of a foreign libel case, they should deposit double the cost as security.
The execution of foreign libel judgments which are not recognised by the Maltese courts as SLAPP suits should, as a consequence of the amendment to Malta's public policy, only lead to an award of damages against a Maltese-owned, controlled, and registered media that does not exceed the amount of compensation that is possible under Maltese law for libel/defamation.

To bring about a change in mindset on access to information, the state's obligation to provide timely access to information needs to be recognised in the Constitution and the relevant ordinary legislation must be reviewed and brought in line. The Constitution, ordinary laws, and practices, need to respect the right to know by recognising the right to information and the work of journalists rather than obstructing them (and others) from receiving timely information.
The Freedom of Information Act must ensure that access to information remains the rule while exceptions are restrictively applied. Information must be provided in a timely manner, with the process of objection and appeal to be terminated within a prescribed time that meets the requirements of public interest reporting.
The protection of sources must be secured through strong formal recognition in the Constitution and in the Media and Defamation Act. The Committee of Experts should consider establishing guidelines and training for State entities such as the police on how to deal with journalists and the assessment and rejection of requests from third parties made to the police to identify and prosecute journalistic sources.
The Whistleblower Act must be amended to facilitate the effective use of whistleblowing channels to minimise the risks to persons acting in the public interest and consequently minimising the risks to journalistic sources.
The state's obligation to provide access to information should be formally recognised. This would enable journalists and media houses to file an application in the Constitutional court when FOI requests are not met fully and in a timely manner through the exhaustion of domestic remedies.
Digital access to information should be facilitated, not restricted. To this end the Committee of Experts should establish guidelines for State entities on providing digital access to information thereby restoring, for example, full digital access to all public court judgements as well as full digital access to the Registry of Companies' documentation, even of companies that have been struck off.
The notarial archives, the land registry, and the registry for public deeds should be freely and openly accessible.
In the interests of transparency and accountability, the Prime Minister should hold regular press conferences that are open to all journalists. Questions from journalists should be addressed directly and informatively.
Those who harm journalists in their line of duty or by reason of them being journalists must be penalised.
Harassment, threats, and vilification of a journalist and obstruction of a journalist's work must all be penalised to a higher degree than currently possible under the Criminal Code.
Psychological and physical harm to journalists must both be recognised as criminal offences. Where these offences are already recognised in general, these should carry a higher penalty when committed against journalists.
In the interests of openness and transparency and better access to information the Committee of Experts should recommend that a discussion should be started between the authorities, media houses, and journalists, on the possibility of enabling video and photojournalists to report from court, recording and photographing court proceedings, subject to predetermined and published guidelines negotiated with journalists.
Provide access to journalists to State administered entities and places such as prisons and detention centres, subject to predetermined and published guidelines that uphold the principles of transparency and accountability.
End political rhetoric and smear campaigns against journalists. Possible measures to achieve this objective include:

the introduction of a breach of ethics in the MPs' code of conduct for misconduct towards journalists and other media actors the disallowing of parliamentary speech to attack journalists and other media actors,
the introduction of suitable facilities in parliament for journalists, and
the drafting of guidelines for all MPs, and for cabinet members, to facilitate openness to scrutiny and accountability.

Media literacy must be part of the mandatory school curriculum, and that part of the curriculum must be developed by experts independently of the Government. Actions to raise media literacy among the wider public are also needed.
Sufficient resources to facilitate professional development of journalists in best practices should be made available to media houses, freelancers, and the organisation representing journalists, according to predetermined and transparent criteria designed to ensure fair and equitable distribution and to ensure that training is delivered by entities that are independent of the state and political parties.
Launch an action plan to develop resources of support for journalists and their employers as are needed to ensure personal safety and security. The plan should involve, on the one hand, media employers, editors and journalists, and, on the other hand, police officers and security experts.
A protocol must be established for the police to be followed when receiving and dealing with reports of harm from journalists and with requests for protection.
Train police officers tasked with dealing with offences against or with providing protection to journalists and media workers, and police officers dealing with journalists and media workers, to international standards of best practice. Training programmes should be organised in consultation with a formally recognised organisation representing journalists and media workers.
The State has a duty to identify whether a journalist is at risk of harm and to take all necessary measures to protect that journalist from harm. Such measures must not jeopardise or be an obstacle to the journalist's work.
The assessment of harm or risk of harm to journalists should be a systemic practice of policing and law enforcement, and should take account of all information that is known to the relevant authority, may become known to that authority, or ought to be known to them. Risk assessment should be pre-emptive and not rely on journalist's reporting such risks to the police.
Systemic practices should be instituted to ensure that all information that becomes known to state agencies that indicates risk to a journalist or journalists should be immediately reported to authorities tasked with taking pre-emptive action.
As a minimum measure, the Police should appoint a lead officer in charge of investigating crimes against journalists and appoint a journalist safety liaison officer responsible for receiving notice of risks or the commission of an offence from journalists.
A publicly-financed emergency safety fund for journalists should be established and accessed by journalists directly or by their employers, for the purpose of securing emergency protection measures. The fund should be operated by an independent entity such as the organisation representing journalists. Such measures should complement, not substitute, those systemic measures that should be instituted by the state as a matter of course.