Daphne Caruana Galizia will be honored posthumously with the 2017 Tully Award for Free Speech, presented by the Newhouse School's Tully Center for Free Speech at Syracuse University.
The Tully Center for Free Speech is located at the Samuel Irving Newhouse School of Public Communications at Syracuse University in Syracuse, New York was started in 2006 with a bequest from Joan A. Tully, a 1969 graduate of the school, and a fully engaged advocate of free speech, free expression, freedom of information and a strong Fourth Estate.
The Tully Center educates students and the public about the important value of free speech through education, resources and research. As part of her bequest, Joan Tully asked that an award be given to honor a journalist who has shown courage in facing a free speech threat.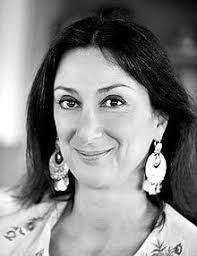 Daphne Caruana Galizia's husband, Peter, and their three sons, Matthew, Andrew and Paul, will attend the award ceremony on campus April 3 to accept the award and discuss her life, work and legacy.
For the Tully Award, a panel of outside nominators submitted the names of several journalists and a panel of Newhouse faculty, students and Tully Center staff selected Daphne Caruana Galizia from the pool of international journalists who have faced significant threats to their work, including libel lawsuits, imprisonment and harassment.
"It will be our privilege to honor Daphne's life and legacy with her family," says Roy Gutterman, Tully Center director. "Daphne gave her life to telling the truth and exposing corruption. The world, our students and our university community can learn a lot about her sacrifice."