So Chris Cardona's secretary regrets suing Daphne Caruana Galizia for libel and filing to have her bank accounts frozen in the process because she said he was with his boss at a brothel in Germany while they were supposed to be on duty.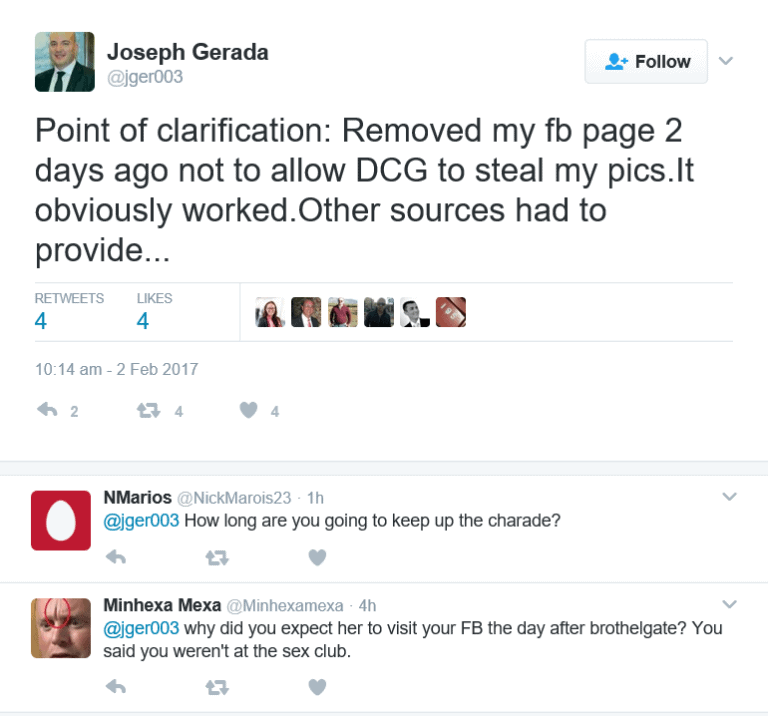 When his expression of regret emerged in court, his lawyer, Pawlu Lia concerned with the interests of the Labour Party at least as much as he is concerned with the interests of his client, tried to spin around Joe Gerada's contrition and pin it on Peter Caruana Galizia.
Below is the Caruana Galizia family's response to that bit of trapeze art. What's significant is the challenge the family makes. If you want to prove your innocence, the family tells Joe Gerada, publish the phone operator's data showing where you were at the time you were alleged, and you deny, being in a brothel.
After all it is not just this law suit that is challenging Joe Gerada to do this.
Joe Gerada's former wife asked the court in their separation proceedings to hold exactly the same phone location evidence that the libel court in the suit brought against Daphne Caruana Galizia should eventually be looking at. She too wants to know what her ex was up to that cold January night.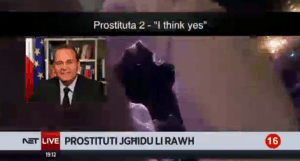 All of this proves nothing either way. Except perhaps that innocence should be relatively easy to prove, certainly harder than it is to prove guilt. If Joe Gerada (and his boss) were not at a brothel that night their phone records should show they were somewhere else.
Having said that all this, I should warn against a simplistic yes/no expectation from these phone records. After all they can only provide certainty if the phones were on at the time and if calls or messages were made. Even if they have, the evidence needs to include a confirmation of the geographical area covered by whichever tower handled the calls on the phones.
The court processes have their own rules and time drags there like the crawl of a tired sloth. Out here we observe the behaviour of the actors and try to interpret what they must be thinking.
What's Joe Gerada thinking tonight?
Statement by the Caruana Galizia family:
With reference to the various media reports relating to the vexatious libel suits filed by Minister Christian Cardona and his policy aide Joseph Gerada against Daphne Caruana Galizia, her husband and sons as heirs restate their position that they do not on any condition wish the cases to be withdrawn.
The facts are as follows.
Today's hearing in the cases filed by Cardona and Gerada, scheduled for 10:00am, was called at 9:25am when the respondents had not yet arrived in the courtroom. In their absence, the applicants' and the respondents' lawyers agreed to adjourn the cases.
The applicants' lawyer Paul Lia is quoted in the media as saying that "everyone wants to prove their innocence, but Gerada no longer has an interest." If the applicants Cardona and Gerada are innocent, as they claim, they can prove this immediately by publishing their mobile phone location data showing their precise location on the day and at the time they say they were not at the FKK Acapulco brothel in Velbert. This is in line with the family's position, based on the clear and overwhelming public interest, that the cases should proceed and that the mobile phone location file data currently held in the magistrate's court files should be presented as evidence in open court.
Cardona and Gerada have so far not cleared their names and have avoided the simple expedient of publishing their mobile phone location data to corroborate their version of events.
It is important to underline that Cardona and Gerada are public officials and it is their duty to behave ethically and correctly at all times. Furthermore, on filing the application for the issuance of precautionary garnishee orders in February 2017 Cardona and Gerada made a false declaration under oath. Perjury is a criminal offence which, in the case of the applicants, would result in both being stripped of their warrants to practise law.
The onus is on them to prove that their behaviour was ethical and correct at the time of their official visit to Germany as representatives of the EU Council Presidency, when filing their cases against Daphne Caruana Galizia, and in the manner and motives with which they handle their cases now.