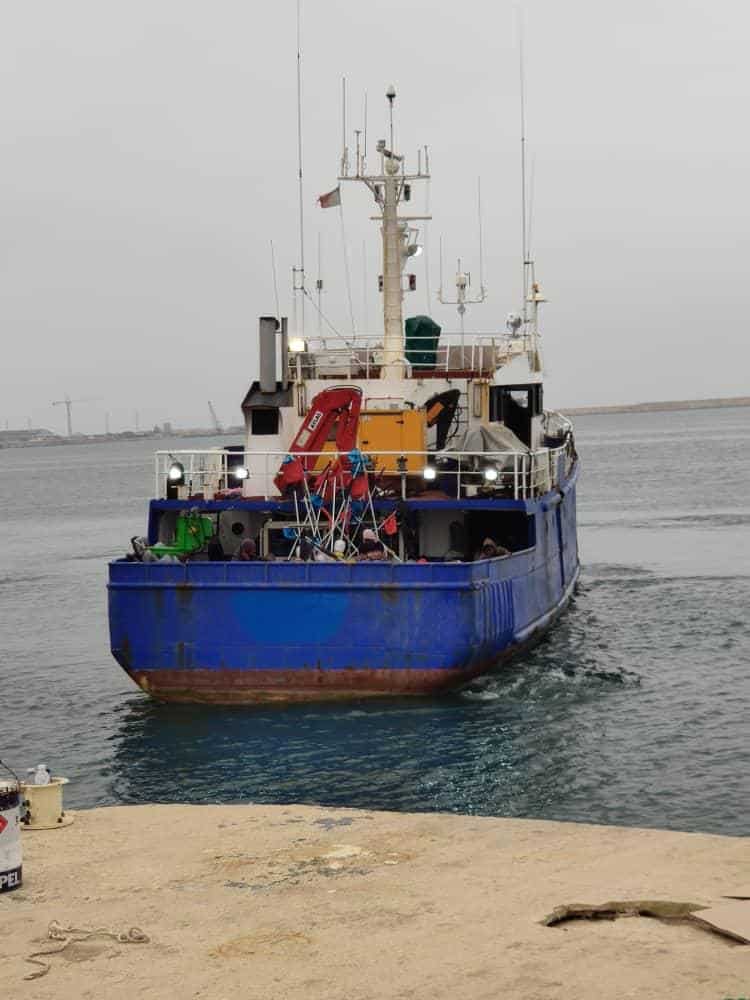 The Maltese-owned but Libyan-flagged Mae Yemenja left Malta's Grand Harbour yesterday evening around the same time that a Maltese plane flew over the estimated location of a dinghy with around 60 migrants aboard in the Malta search and rescue area.
NGO Alarm Phone this morning raised the alert about the boat saying the AFM control room was not picking up the phone when Alarm Phone tried to brief them on the boat's location.
But flight monitoring by specialist journalist Sergio Scanura shows that the AFM have likely known for some time about this boat having flown over the area it is believed the migrants' boat was in late yesterday afternoon.
Today in area
? thread

2020-04-28
1718z ⏱️ 19:18 CEST

?️ Frontex ?? #DA62 G-WKTI by DEA Ltd ?? #OSPREY3 is landing in Malta/Luqa after a second mission over Libyan SRR, eastern Tripoli.

1620z ?orbiting ? 74 nm N Khoms (33 58N 014 04E)#migrants #Libya #migranti #Libia https://t.co/9gQeFtyz8w pic.twitter.com/Ku8if4gPdz

— Sergio Scandura (@scandura) April 29, 2020
Around the same time as these overflights, the Mae Yemenja sailed out of Grand Harbour and turned south in the direction of the migrants' boat.
I just tracked tonight for a 'plot' this weird 'private' vessel, used for pushback to #Libya: is the same that returned a group of suvivors to #Tripoli a couple of weeks ago.#DarAlSalam ?? aka #MaeYemenja ?? Gisis IMO ⚓️?, UN International Maritime Organization: unknown flag. https://t.co/Pc5ZrJfPrn pic.twitter.com/spux2uQgua

— Sergio Scandura (@scandura) April 29, 2020
The fact that the Mae Yemenja was inside Grand Harbour to begin with is strange. On Thursday 16 April, the Mae Yemenja was in Tripoli unloading a boatload of survivors from a rescue it conducted out at sea the night before.
After that rescue the boat sailed northwards spending some time midway between Malta and Libya.
Yesterday it popped up inside Grand Harbour berthed in Marsa, near the old power station.
Malta's harbour has been declared unsafe and no exception is known to have been made in the days and hours since the Mae Yemenja was last seen in Tripoli. How did it make its way back into Grand Harbour? Who let a Libyan-flagged ship sail into our 'unsafe' harbour? And why?
And where did the crew serve their quarantine? It's definitely less than 14 days since they sailed in.
On line shipping monitors spotted the Mae Yemenja (transmitting by its other name Dar al Salam 1) sail out of the harbour and turn south around 7pm yesterday.
The Maltese authorities are well within their rights to dispatch any vessel (including a privately-owned boat) to assist vessels in distress in Malta's search and rescue area of responsibility. If the Mae Yemenja is on the way to the migrants dinghy to provide them with assistance, that in itself is perfectly in order.
But of course we cannot ignore the fact that just last week the Mae Yemenja was the boat that pushed back migrants rescued, late, in Malta's search and rescue area.
The boat is in the middle of allegations of severe gravity ranging from turning off its location transponder (which it is obliged to keep on), to providing assistance in an illegal push back operation allegedly in breach of the fundamental human rights of the passengers it carried.
Those allegations are the subject of an ongoing criminal inquiry. And yet it does not appear that the boat and its on board transmitting device have been held as evidence as part of that investigation.
This is like the police allowing a get-away car used in a bank robbery back in general use, including driving up to other banks.
Was the inquiring magistrate informed that the most important piece of material evidence in his investigation was right within his jurisdiction down by the water a few hundred metres from his court room? Did the police make the magistrate aware the boat was getting ready to make a repeat run?