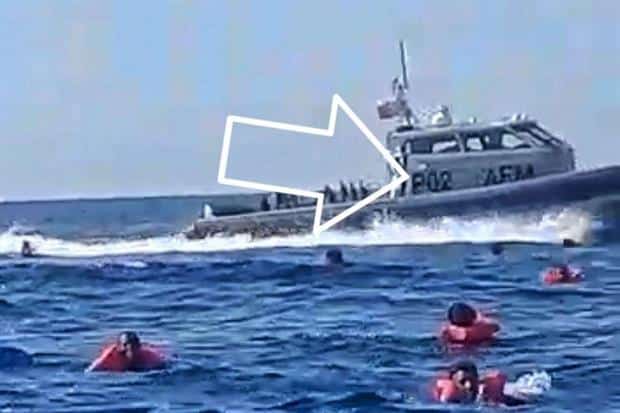 The Italian Minister of Foreign Affairs Luigi di Maio confirmed to the Italian Parliament reports appearing days ago on Avvenire and The Guardian that included photos and videos showing the Maltese army pushing migrants out of Maltese territorial waters within sight of Malta's coastline.
In his statement to the Italian Parliament, Luigi di Maio said that Italy has repeatedly reminded the Maltese authorities through formal communication that cases like these must be avoided. "We have pleaded with the Maltese government that they should cooperate in a coherent fashion to reach the shared objective of managing well migration in the central Mediterranean fulfilling past joint obligations," said the Italian Foreign Minister.
"The Italian authorities did not know about what happened within Malta's search and rescue area. Frontex first spotted the boat in trouble in Libya's search and rescue zone, close to the border with Malta's area of responsibility. Next time we hear of it was after almost three days, when the dinghy was spotted in the Italian area of responsibility. When they spotted it our Coast Guard escorted the migrants to Pozzallo harbour. When they disembarked the migrants were processed under sanitary rules and public order requirements. No news on this dinghy was shared with us neither by the Maltese nor by the Libyan authorities. They did not even ask us for any cooperation in the rescue."
"The behaviour of Malta's authorities in this occasion is unfortunately consistent with their usual attitude. Malta's authorities have frequently fallen short of their obligations under internal conventions on rescue at sea. Their interpretation of the principles of international law is very limited. Italy has always expressed disagreement with this attitude directly with Malta and in the European context."
Minister Luigi di Maio reminded Italian MPs that Malta is the only country not to have signed the 2004 amendments to the Hamburg Convention on Rescue at Sea. These amendments provide a procedure for the disembarkation of people rescued from drowning.
"Malta feels it is entitled to hold back on rescues when they occur close to its harbours," the Italian Foreign Minister said.
The Minister said "Malta stiffened its position on rescues at sea beyond the Covid-19 health emergency". Luigi fi Maio added that "Robert Abela's new government complains about a lack of help from EU partners and declares he is not willing to allow future disembarkations without an agreement on burden sharing."
Luigi di Maio said Italy has consistently argued that there needs to be coherent and coordinated cooperation between Italy and Malta and with the European Union.