A series of people are showing up at the police's economic crimes office for what is reportedly a last session of interrogations before they're arraigned in court with charges of money laundering and related crimes.
I do not have visibility of the charges but it appears by all accounts, including the account of the chief culprit Keith Schembri, that the charges are related to illicit payments made by Keith Schembri to Allied Newspaper's former Managing Director Adrian Hillman in the background of a contract the newspaper company awarded to Keith Schembri's paper company when the newspaper bought a printing press from him.
The police came into this after a magisterial inquiry was launched by order of then magistrate Aaron Bugeja in 2017. The order came after Simon Busuttil filed with Aaron Bugeja a mountain of evidence of wrongdoing.
While you wait for clarity about the charges and the consequences, here's some background reading.
We have been talking about the people involved for some time. The following cases involve the same people that are being interrogated by the police today but they are not necessarily related to the specific case they're being charged with. Consider this a refresher course on their character.
Consider Matthew Pace. He is one of those famously celebrating Labour's 2013 uncorking champagne at Jeffrey Pullicino Orlando's house. He's the guy squatting holding up the flag.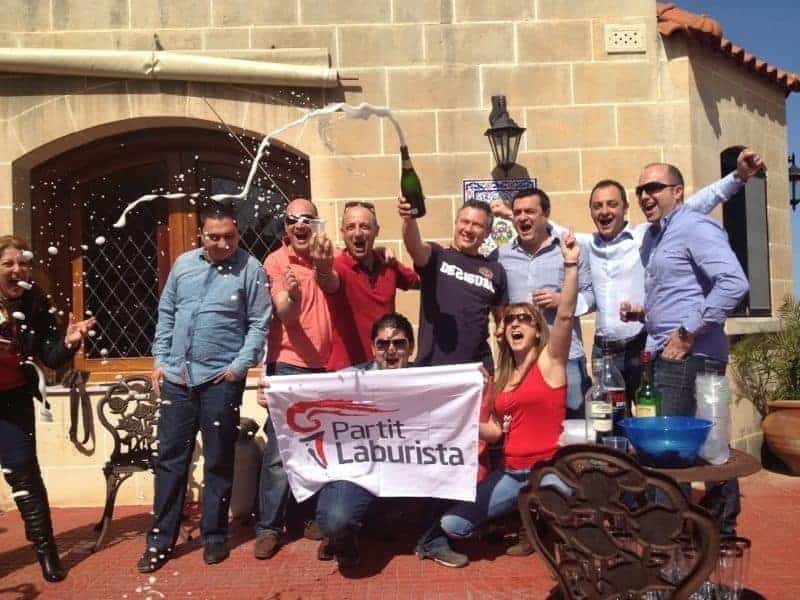 In June 2018 this website reported about Matthew Pace's MFSP, since rebranded as Zenith.
By 2 April 2013 Matthew Pace was appointed to the board of the then MEPA even though just four years before he was an insurance salesman at Global Capital.
With three partners he set up MFSP. In Keith Schembri he found the right friend and a special kind of client though of course the arrangement was reciprocal.
Matthew Pace not only handled the investment portfolio for Keith Schembri but also the funds for other tagħnalkollers like Robert Musumeci, Malcolm Scerri and Deo Scerri, then BOV supremo.
Even as he accepted and cleared inexplicable deposits made by Keith Schembri, and therefore fully aware that Keith Schembri was depositing money he should not have, Matthew Pace repeated the 'where's the proof' mantra that Labour produced every time its leadership was caught in manifest wrongdoing, particularly Keith Schembri's wrongdoing. The 'proof', as its turning out, was in the possession of the person rhetorically asking for it.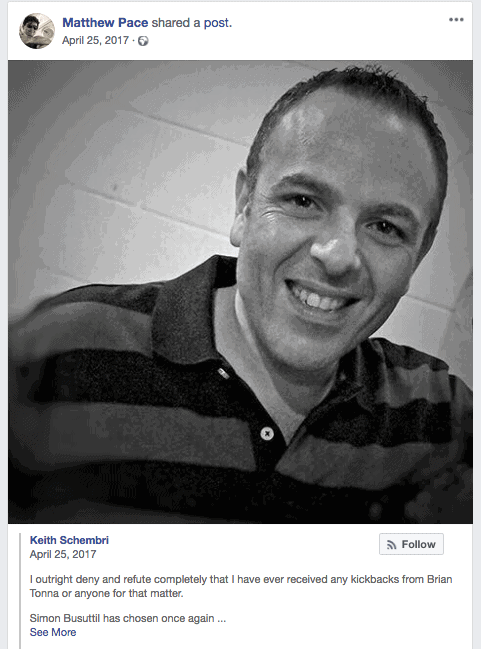 Matthew Pace wasn't just rewarded  with prestige. He was also rewarded with opportunity. That's what passes for meritocracy in this country.
MEPA was a nice place to be when he also co-owned a real estate franchise if of course you are prepared, as Matthew Pace and his Labour family was, to ignore basic conflict of interest rules.
Together with Michael Bonello (not the former Central Bank governor) and Neil Carter, Matthew Pace owned the Swieqi Alliance, a franchise of Remax Properties that negotiates real estate for rent and purchase.
He participated as a regulator in the permitting of the DB project in St George's Bay even as the agency he part-owned was selling apartments in the tower yet to be built.
You won't see Adrian Hillman visiting the police today but that's because he's abroad right now. You've heard of Adrian Hillman. He resigned his Allied Newspaper job in disgrace but two weeks after Daphne was killed we learnt he was appointed to the American University of Malta. He was also earmarked to run the gaming authority. Yorgen Fenech would have liked that. As it turned out, that did not happen.
There's Malcolm Scerri who fronted for Keith Schembri in the latter's private businesses while Keith Schembri protected his personal interests from the most public office imaginable: the office of the prime minister's chief of staff.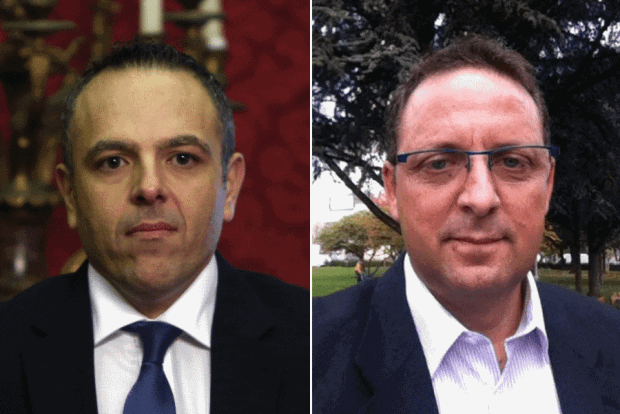 In May 2018 this website reported that a company owned by the prime minister's chief of staff Keith Schembri was awarded two huge plots of land in the Bulebel Industrial Estate days before his boss, prime minister Joseph Muscat called a general election in 2017.
One of the two plots was assigned to Kasco Limited for 65 years for a yearly rent of €33,470. It measures 2,475 square metres and the contract requires Kasco to use it specifically for "processing and customisation of paper, paper products and inks", Kasco's core business.
However the contract, seen by this website, allows Kasco Limited to pass the site on to Kasco Recycling Limited to operate from this site for the purposes of "recycling of plastic, Tetrapak waste" and other materials.
In a response to Jacob Borg of Times of Malta in February 2018, Keith Schembri "played down links with a new business venture that stands to gain from a new government push towards plastic bottle recycling".
The Times of Malta investigation had found that Norwegian company Tomra that manufactures plastic bottle recycling machines repeatedly referred people interested in acquiring this equipment to Malcolm Scerri, Keith Schembri's partner in their recycling business and front man on companies owned by Keith Schembri.
You saw Brian Tonna and Karl Cini this morning. They set up the Panama structures for Keith Schembri and Konrad Mizzi and Karl Cini has been fingered as a suspect in fraudulent documents seen by the Egrant inquiry. Brian Tonna continues to claim he, not Michelle Muscat, owns Egrant, but his credibility, such as it is, is expected to take another hit today.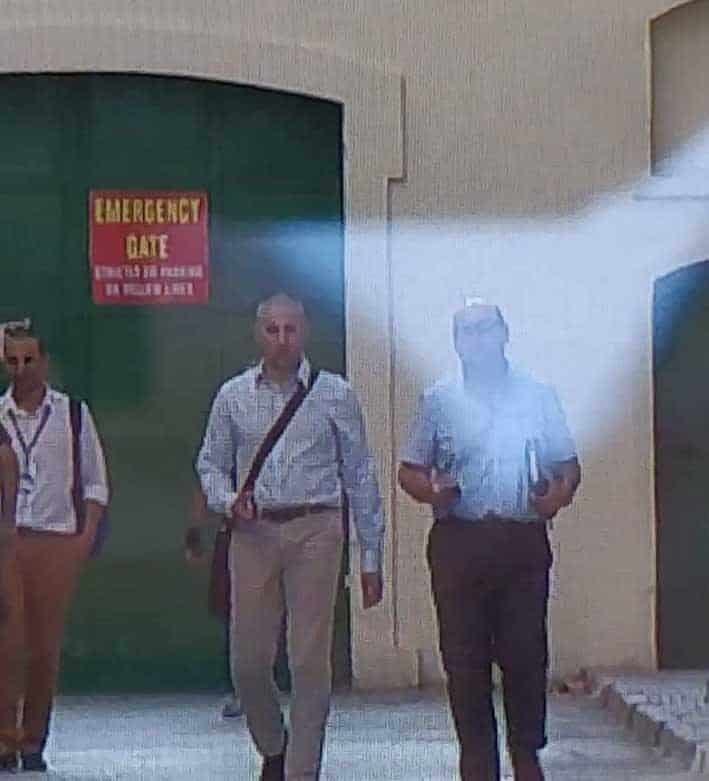 Keith Schembri's list of scandals may be fresher in your memory than these 'B' class crooks. He owned a Panama company due to receive money from Yorgen Fenech. He awarded his company public land on the eve of an election. He received money from unexplained sources right after a trip to Azerbaijan and got Matthew Pace to pass it through the system for him. He accepted €100,000 from Brian Tonna at a secret Pilatus Bank account. According to him a magistrate found those had not been kickbacks from passports sold to Russian oligarchs. Right.
A witness for the prosecution says he tipped off Yorgen Fenech before the Degiorgios were arrested which suggests he knew the details of the plot to kill Daphne before anyone else did. He denies writing a letter to Yorgen Fenech on instructions to pin Daphne's murder on Chris Cardona, but no better candidate for the letter's authorship has been found.
He was arrested in relation to the case hours after he resigned from his position as prime minister's chief of staff. His phone vanished in that short period of time.
Why do you need to remember all this? Because today is not a day when justice is served. If Keith Schembri and his accomplices are properly held to account for all we know about what they've done what you're seeing today should be a regular occurrence for years to come.
As if that changes anything, Keith Schembri made a fuss this week arguing that the charges he is expecting to face relate to events that happened before he came to government in 2013.
There's one important inference that comes from that fact. When you see Keith Schembri arraigned with the rest of the gang that's what you see, a gang. A criminal gang that was in business before the people of Malta chose them to run the country for them. A criminal gang getting ready to take over the country and profit from public office. A criminal gang that is intuitively corrupt and that honed in its skills at financial crime in time for the biggest heist of their life.
So this is a good place for the police to start.