Sent in by someone known to me.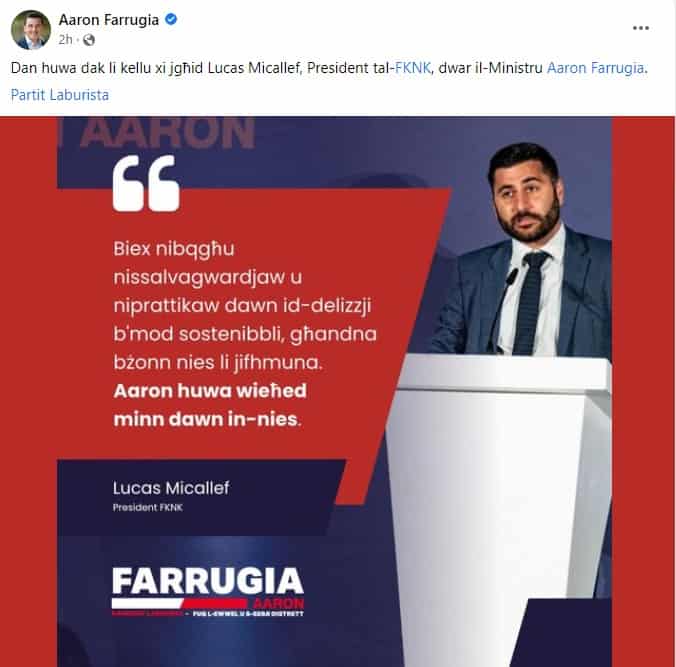 What people suspect all along, is usually true. Il-qasba ma ċċaqċaqx għalxejn, as we say. Many have long suspected that the most useless Environment Minister Malta ever had, was on the side of hunters. We know it officially now as he has been endorsed by none other than the 'new' president of the Hunters' federation Lucas Micallef.
Lucas Micallef is another labour die hard. He appears to be soft spoken. He is the 'new' face of hunters. The branding is just like Labour's. More about image than substance.
Aaron Farrugia is the Minister who promised that the area near Ta' Fra Ben would be declared a no hunting zone after a public outcry when flamingos were shot there last year. It is still a hunting zone and will probably now remain so.
The hunting issue has been a very sensitive one. The Gonzi administration had fought the case in the European Court and won the right to allow a limited spring hunting season. When the turtle dove was declared vulnerable, the government had no option but to close the spring hunting season or risk another case before the European Court.
Hunters are however a very gullible bunch. They tend to believe those who shout and holler more than those who try to work with policy. They seem to like to be taken for a ride.
Hunting Minister Clint Camilleri has been touring places in Malta and Gozo promising hunters that he will fight so that hunters would have the right to hunt turtle doves again in spring. He speaks of 'il-gemiema' to even make himself more credible.
Like the hunters' association, he is just taking hunters for a ride. It is pointless promising spring hunting for turtle dove if the species remains vulnerable.
The European law on hunting is very clear. For one to be able to hunt in spring, there must be no alternative solution. Maltese hunters have been arguing they want to shoot turtle doves in spring because migration in September is insignificant. But hunters have boasted that last September's hunting season closed early because the quota allocated for Maltese hunters was reached 19 days before the season ended. Hunters shot all the birds they were permitted to shoot in the first 11 days of the season. The season for turtle doves was closed on paper. So, there is no way any government can justify a spring hunting season this year.
Clint il-Bediq recently spoke, and his video was shared by hunters on social media, but has since been pulled off from most sites, that he had written to the Ornis Committee chair to see whether the Committee, where the government has an absolute majority, can recommend to government whether it can open the spring hunting season.
He is just dangling a carrot in front of hunters' gun sights. If the spring hunting season for turtle dove is opened, it is most certain that the matter will go to the European Courts again. And Malta has little chance of winning such a case and it may lead to the closure of even the quail shooting season, which as everyone knows, is just a smoke screen for hunters to be able to shoot turtle doves illegally.
Government has recently stealthily changed hunting laws again, making second time offenders pay only €250 for using electronic callers, the commonest form of infringement n hunting laws. Government is simply making it easier for hunters to break the law.
This is the strategy that Labour has been employing all along. Encouraging law breakers because they think that that is what people want. Law abiding hunters surely must know that this is not in their best interests.
Hunters who want to shoot themselves in the foot, have only one choice. Vote Labour.