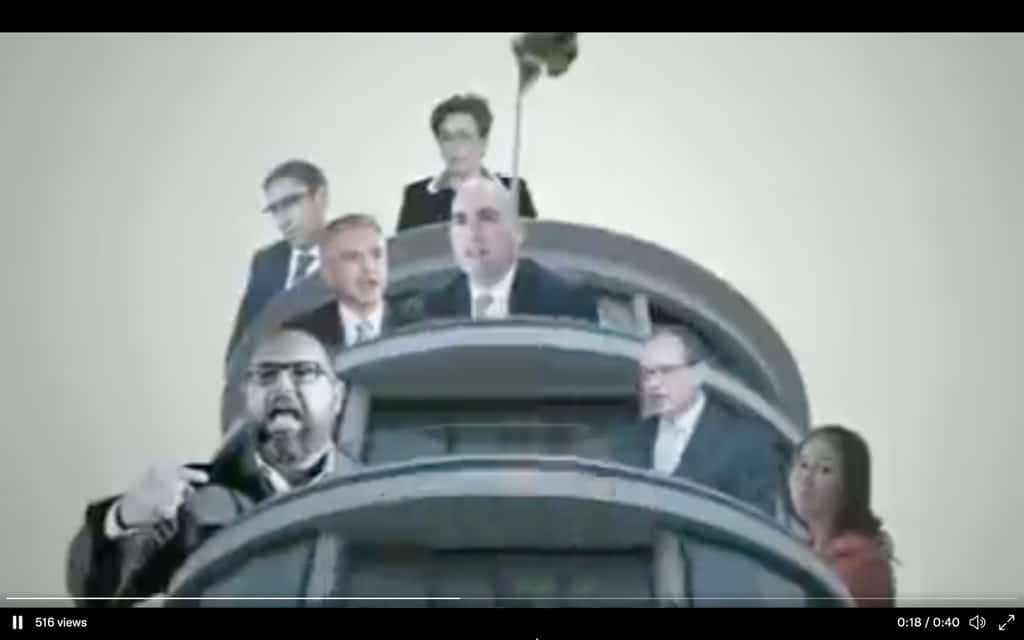 After days of dodging reporters, the prime minister took the time to answer reporter's questions today. I was about to say that was a good thing. But that's what prime ministers should be doing, especially in an election campaign they are contesting. So, saying he did a good thing to answer journalist's questions is like praising someone for seeing through their morning ablutions.
The subject of the press conference was some self-congratulation because the FATF said they would fly into the country to check out if Malta has made enough progress to be taken off the grey list. He had the good sense to be cautious with his optimism. Again, the inappropriate adjective 'good'. Robert Abela expects thanks that we may eventually find a way out of the mess he (and his predecessor) threw us in. Praise for morning toilet all over again.
A colleague asked Robert Abela about the billboard from the Labour Party's campaign that carried a photo of me alongside PN politicians, much in the style of the Labour Party billboard that had Daphne lined up against PN politicians some, that are so inclined, love to hate.
I noticed this morning as I drove past that the billboard had changed. It may have been scheduled for replacement last night, or maybe they reacted quietly to the statements issued by the Istitut tal-Ġurnalisti Maltin, several of my colleagues in the industry, PEN Malta, Repubblika, #occupyjustice, and internationally by the International Press Institute, Reporters Without Borders, Scottish PEN, and Article 19. That's after the Media Freedom Rapid Response Monitor logged the billboard as yet another threat to media freedom recorded in this country.
Perhaps, Labour's campaign office ignored all those people but could not ignore John Sweeney who took time out of reporting from Kyiv a brutal invasion ordered by Vladimir Putin to comment about the state of press freedom in Malta. That one is hard to ignore.
TO MALTA FROM KYIV: Stop demonising @Manwel_Delia, an honest reporter and, with @carlobonini and I author of our book #MurderOnTheOrientExpress on the assassination of #DaphneCaruanaGalizia pic.twitter.com/5KLoYCepvP

— John Sweeney (@johnsweeneyroar) March 4, 2022
Again, Robert Abela had the relatively good sense not to defend the billboard but to simply announce it's no longer up and to pivot nimbly to the topic of the new billboard that replaced it.
But, prime minister, the damage is already done. You've sown the seed of hatred which will grow and thrive, perhaps not so much in these next few days of this phony election campaign which most people are ignoring, and flourish more in the toxic atmosphere that often follows the news of an election result, however predictable it may be.
It would be naive of me to imagine that lessons the Labour Party did not learn when Daphne was killed in a car bomb, or when an independent public inquiry said it was their fault it happened, would not be learnt now because free speech campaigners told them a billboard targeting a journalist is out of order.
The simple fact is this is not about me. Any journalist knows that if they cross a certain line they'll be targeted too. That's the effect they want to achieve. They want all journalists working here to know what would happen if they crossed that line.
It is not quite as bad as Russia now where departing from the official story is punishable with 15 years in prison. Instead, the retribution served to journalists who step out of line in this country is identification for the heckling, the public insults and the threats of people who are told, from a Labour Party billboard no less, that you're a legitimate target of their hate.
I'm not saying thank you to Robert Abela for pulling down billboards that should never have gone up. No praise for a morning shit.