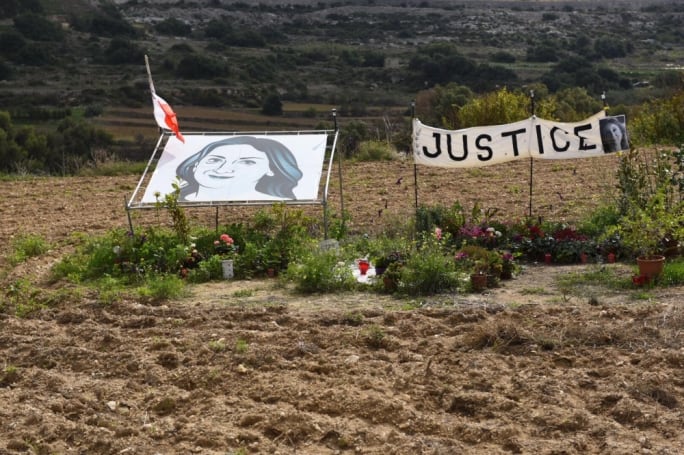 Barely a week after Russia invaded Ukraine, the journalist John Sweeney gave an interview to Manuel Delia. Sweeney was, and still is, in Kyiv, surrounded by air raids, bombs, gunfire and shelling. Describing his experience of being the first journalist to enter the TV Tower after it was bombed, he speaks of the blood left behind from a worker who was killed, of the corpse of an old man and the dead bodies of a mother and a child being removed from a nearby shopping complex hit by two missiles.
In the midst of all this brutality and bloodshed, Sweeney says this:
'It's the same story for standing up for Daphne and her legacy in Malta. It's the same story here. And it's virtually the same enemy in that you're fighting ignorance and stupidity and greed and corruption. This time armed with far more terrifying weapons but it's the same fight, pretty much against the same people.'
In the midst of war-torn Kyiv comes that same old cry: Daphne was right.
It feels strange. It feels eerie. It evokes a physical shiver. In the middle of a city being blasted by rockets and bombs, John Sweeney sees the wider connection for exactly what it is. Surrounded by death and destruction, he says this in all its clarity – the fight for justice for Daphne is the same bloody fight.
Those involved in this fight perhaps knew this or, at least, felt it. It's the story of rich passport-buying oligarchs who moor their yachts and their bank accounts in every available offshore haven. It's the story of corrupt governments helped into power by these rich oligarchs who – like the Steve Bannons and Aaron Banks of this world – seized their chance to destabilise the last remaining vestiges of democracy and happily supped spoons with Putin as they did. It's the story of theft and money laundering and lying and looting. It's the story of organised crime on a global scale.
Meanwhile, we're expected to 'take it on the chin' by the likes of Boris Johnson, currently under criminal investigation for breaking the laws put in place by his own government at the height of the worldwide pandemic. There's nothing like a war which you enabled and colluded in to wipe away the sins of the past, or at least shelve them for the time being. Nothing like helping a few of your rich pals squirrel away their cash while you play-act putting sanctions into place to stop the flow of money to the friends you partied with in Russia.
It's the same story in which journalists are threatened and killed. It's the story of Carole Cadwalladr being sued by Aaron Banks, the multimillionaire Brexit backer, for daring to expose his 'covert relationship' with the Russian government. It's the story of Jan Kuciak being gunned down with his fiancée for delving too deeply into the corrupt dealings of the Slovak tycoon, Martin Kocner, and the links between Slovak politicians and the Ndrangheta mafia. It's the story of Daphne Caruana Galizia, blown up in a car bomb for exposing the untold layers of stinking corruption saturating her home country.
While Putin was attacking Ukraine, the Malta Labour Party were mounting a war against one of their fiercest critics. The face of the journalist, Manuel Delia, was depicted on large 'campaign' billboards across the island – a mirror reflection of what happened to Daphne Caruana Galizia in 2013. The spine-chilling sensation emanating from this intensifies in the context of a country where the Public Inquiry into Daphne's assassination concluded that the Maltese State must bear responsibility for Daphne's murder, as, too, must disgraced ex-Prime Minister, Joseph Muscat (on the campaign trail as we speak), and Muscat's cabinet, many of whom remain in Robert Abela's cabinet today.
Following outcries from many international NGOs, the billboards were finally removed with no explanation, let alone an apology, from Abela himself. As Delia observes, the damage has already been done:
'It is not quite as bad as Russia now where departing from the official story is punishable with 15 years in prison. Instead, the retribution served to journalists who step out of line in this country is identification for the heckling, the public insults and the threats of people who are told, from a Labour Party billboard no less, that you're a legitimate target of their hate.'
Daphne Caruana Galizia was also positioned as 'a legitimate target of their hate', hence people celebrated her murder and her killing could happen with impunity.
Protesters, including Delia, had their candles, flowers, placards and photos removed over 500 times by order of the government until Delia won a court case against then justice minister, Owen Bonnici, the latter being found guilty of the violation of human rights. His punishment? To become minister for education.
Just as the faces of journalists are still plastered on billboards, so, too, protest materials continue to be removed. The day after Putin's forces invaded Ukraine, protesters gathered in front of the Russian Embassy in Malta. Several Ukrainian people spoke, calling for an end to Putin's violence. It was a moving and powerful protest. Once it finished, the Maltese police moved in. They tore down the placards and kicked away the candles.
'Why would you do that?' asks the Ukrainian man filming their fascistic actions.
Putin's bullyboys are alive and kicking in Malta.
The Public Inquiry revealed the mafia corruption embedded in Malta's police force where the now disgraced ex-Police Commissioner not only worshipped the balls off the Man of the Year in Crime and Corruption but was leaking information on the assassination inquiry to the criminals. The now disgraced lead inspector into Daphne's murder was holidaying with the prime suspect, Yorgen Fenech, the man now indicted for his role in the assassination. The now disgraced (disgracefully retired) Attorney General ordered a 'go slow' policy on the Panama crooks, Konrad Mizzi and Keith Schembri, the same Schembri who was on the blower to Fenech and Muscat the night before Fenech tried to flee the island on his luxury yacht – that status symbol of corrupt oligarchs.
Last year, Schembri was imprisoned briefly on charges of money laundering, corruption, fraud and forgery. Released on bail, ill health has been given as an excuse for his retreat from the public arena in which he might be adequately punished for his crimes. Despite Fenech's allegation that Schembri ordered Daphne's killing, Schembri has never faced trial for her murder.
In the Alice in Wonderland dystopia of Konrad Mizzi, having borrowed the sick note to absolve himself from facing the Parliamentary Accounts Committee, then refusing to answer questions when he did, he now pulls the most miraculous mercenary rabbit out the hat and declares that he's found God. Given Jesus chucked the moneylenders out the temple with a vengeance, one imagines Mizzi quaking as he bows his shameful head and pretends to pray. Or maybe he's overdosed on the magic mushrooms that his Lord of Misrule Muscat is so keen to patent. Some things are so far beyond a joke that laughter is as hollow as Konrad Mizzi's newfound faith.
In the land of Mizzi and Schembri, of Muscat and his chip-off-the-continuity block, Abela, no trick is too cheap and no hand too low to play. Immersed in scandalous property deals with his criminal legal clients, Abela refuses to answer journalists' questions about his friendship with a gang leader charged with kidnapping and allegedly involved in money laundering, drugs and arms trafficking, cryptocurrency and a scam to rip off tourists engineered in tandem with Transport Malta and LESA officials. Abela is too busy plastering the face of another journalist on his party's 'campaign' billboards.
Because that's how things work in Serenity. While war rages in the Ukraine and protests against this are trampled underfoot, Abela expresses gratitude that he's 'living in this beautiful country. Malta, which is so far away from the crisis and where you have peace, peace of mind and serenity.' Thank God, he says, kneeling with Mizzi, that on this island surrounded by sea, we don't have to worry about all those Ukrainian refugees. Thank God we can continue allowing migrants to drown in the Mediterranean and push those who survive back to Libya. That's how things work in Serenity.
Migrants with money, however, receive the warmest of welcomes and despite international sanctions all around, the Maltese government lingered like a noxious smell, refusing to relinquish its dirty cash-for-passports scheme – the one that pesky journalist Daphne Caruana Galizia exposed. Nearly a week after Putin started bombing Ukraine, Malta finally conceded, but only after that 'traitor' Roberta Metsola (newly appointed President of the European Parliament) stated unequivocally to the whole world, 'We can no longer sell passports to Putin's friends.'
Despite Alex Muscat's insistence that 'The concept of golden passports does not apply to Malta because investment tied to residency is completely different to golden passports', it seems nobody's reading this invisible small print. A company run by a Russian millionaire who acquired a Maltese passport via the IIP was suspended by the London Stock Exchange anyway. Pavel Grachev and his family received their Maltese citizenship in 2017, having applied through Henley and Partners whose boss, Christian Kalin, wrote to Muscat, Schembri and Owen Bonnici on their private emails asking permission to file a massive lawsuit against that meddling journalist, Daphne Caruana Galizia. Kalin planned to use the London law firm Mishcon de Reya, one cited by British MPs in the list of prestigious law firms used by 'wealthy clients and oligarchs from autocratic countries…to intimidate and silence journalists.'
You don't even have to join the dots but, from within the carnage of Kyiv, John Sweeney pointedly did. It's the same story, he said. It's the same story.
The devastating sound of that bomb in Bidnija reverberates across the war-blitzed Ukrainian skies. It's the story of oligarchs and champagne-drenched parties, of nefarious yachts on nefarious seas. It's the story of the dismantling of democracy through power-crazy greed and corruption. It's the same old blood-soaked story.