Scroll down for a statement by Repubblika issued this morning: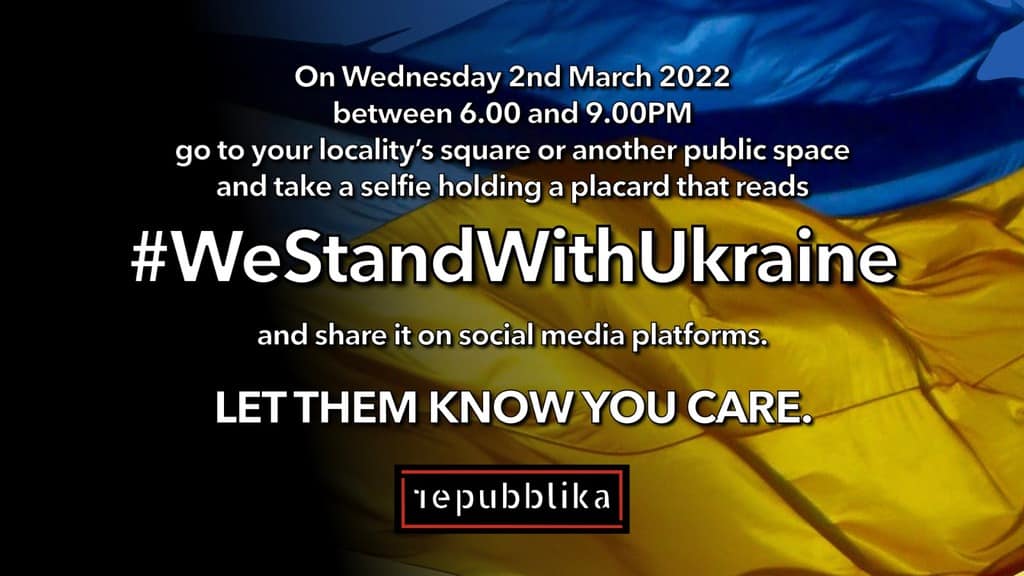 Repubblika is calling Maltese people of good-will to show their solidarity with the victims of the war in Ukraine by participating in a symbolic action called for tomorrow Wednesday 2nd March 2022.
Repubblika is disappointed with the attitude of the government, which is resorting to hollow excuses to avoid fulfillingits obligation as a member of the European Union. Instead it continues to accommodatee the needs of Vladimir Putin and his cronies. Malta has the duty to enforce the sanctions imposed against the Russian regime, which through its actions, is costing the lives of thousands of Ukrainian citizens.
Repubblika reiterates its solidarity with the people of Ukraine, victims of unilateral aggression of the Russian regime. Contrary to what Prime Minister Robert Abela is saying, this does not mean hatred toward the people or citizens of Russia. It means that we insist on the respect of the sovereignty and territorial integrity of every country and that every people has the right to live in peace free from aggression by neighbours more powerful than themselves.
This should not merely stop at words. Malta must immediately stop aiding the aggressive Russian regime by harbouring Vladimir Putin's oligarchs and helping them hide their money.
Maltese and Gozitans of good-will are called to visit the squares and open spaces of their towns and villages tomorrow Wednesday between 6 and 9 pm and to take a photo of themselves placing flowers and candles together with posters with messages showing their solidarity with the Ukrainian people. The photos should be posted and shared on social media with the caption '#WeStandWithUkraine'.
This will be a message of solidarity from all Maltese people of good-will to the victims of this war, unencumbered bythe ambiguity of the position of the government of Malta, which wants to stay on good terms with Vladimir Putin and his oligarchs.