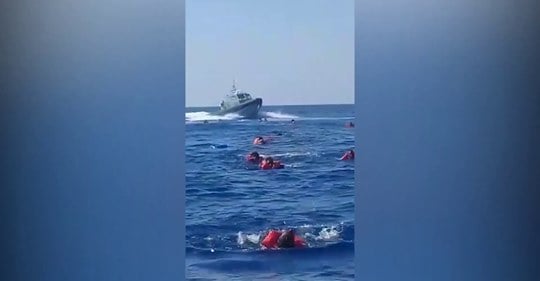 A report on The Guardian today says that "police in Sicily are investigating and the prosecutor's office may open an investigation against Malta in the next few days. Maltese officers risk being charged with aiding illegal immigration."
The investigation follows the publication of evidence that Maltese soldiers dragged out migrants from inside Maltese territorial waters within sight of Malta's coast and pushed them towards Italy.
The news of a criminal investigation in Sicily comes as a criminal inquiry in Malta started after a complaint filed by NGO Repubblika on related incidents at sea in the same week has been wrapped up. Prime Minister Robert Abela is believed to be in possession of a copy of the inquiry that is expected to conclude that no further criminal action is appropriate.
Press reports two weeks ago showed that the AFM forced migrants back on their dinghy, replaced their motor and led them out of Malta's search and rescue area pointing them towards Sicily.
The Italian foreign office in a statement to the Italian Parliament yesterday confirmed the news in a statement which was highly critical of the Maltese authorities.
"They came to us and said, 'Malta has a virus called corona, if you've heard about it. We can't take you there because everyone is sick in Malta. And Malta is small and can't take all of you,'" one of the passengers who eventually made it to Sicily on 12 April told the Guardian. "They gave us red life vests, a new engine and fuel and told us they would show us the route to Italy. Then they pointed guns at us and said: 'We give you 30 minutes.'"
The Guardian quotes MP Michele Anzaldi say he found it "shocking that a state like Malta shows such disregard for international treaties and the lives of people, who are not rescued and are put even more at risk by forcing them to leave their own waters". He said his party would raise the matter in Brussels.
The Guardian says the Maltese government and army did not respond to requests for comment.