It's almost exactly 40 years since John Lennon was shot dead outside his New York apartment, the man who imagined a world without countries, without greed, a world with nothing to kill or die for, where people live in peace. What a dream that was and humanity lost an influential voice of protest with the pull of a trigger.
The imagination is a powerful force and no amount of oppression or cold-blooded murder has managed to stamp it out. Creativity is what makes us human.
So imagine a country where instead of dismantling borders, continuous attempts (often sub-literate) are made to put them up under the guise of keeping an island crushed by the weight of construction (killing Miriam Pace and an ongoing number of construction workers) free from 'contagion'. Imagine a country where the Prime Minister and his government sit and watch as people plead for help from a boat which, and in adverse weather conditions, is about to give out. Imagine a country where the armed forces stand accused of cutting the cord to this boat's engine and telling the desperate people on board to die.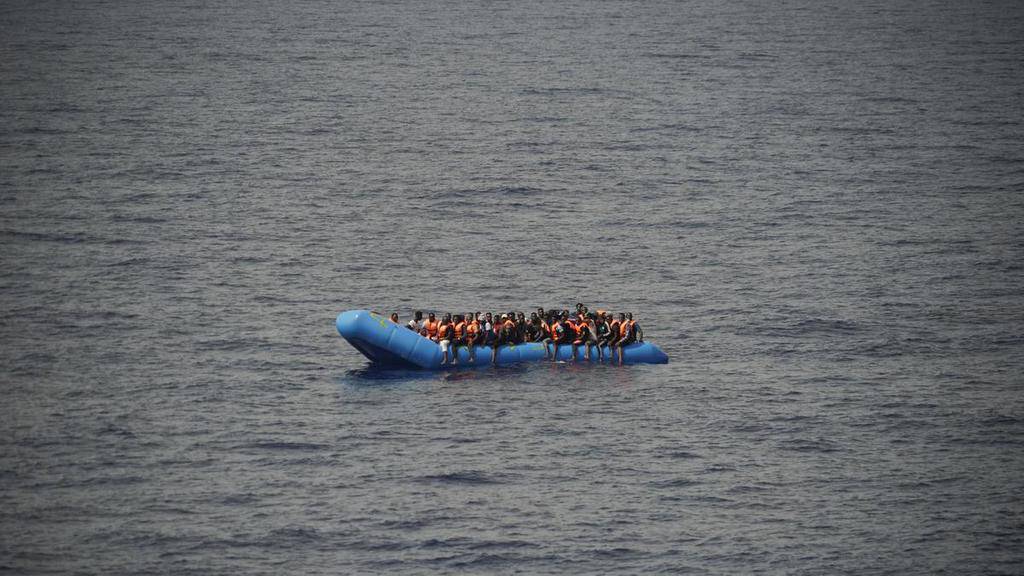 Imagine a country where the NGO trying to save these people's lives makes numerous attempts to contact the Rescue Coordination Centre but all the emergency numbers are repeatedly unreachable, emails go unanswered and then, when contact is finally made, the response is that nobody can enter Malta because of COVID-19. Yet during this same period of 'contagion', hunters are given the go-ahead to carry on with their sport because who gives a fuck about Gandalf, the Grey Heron, so good they shot it twice? Oh, and they were only joking about shooting quails because it was actually the endangered turtle dove these barbarians were after. Who could resist taking a pop at a bird threatened with extinction?
With the blood of 12 migrants fresh on his hands, Robert Abela rolled out the serenity carpet. Back we are yet again to a concept which clearly derives from some foreign PR consultant as the word's barely used in Maltese. This may explain its idiotic overuse by 'patriotic' politicians who revert to Maltese when questioned in English. Its anachronistic absurdity might make Christian Kaelin smirk as he serenely sells passports to money-laundering fraudsters of whatever nationality. Dodgy past? Come on down to Chetcuti Cauchi, where deals are solid as the beds in Hugo's Boutique Hotel.
Meanwhile Chris Cardona, that connoisseur of vibrating boudoirs, heaves his slippery carcass out of parliament, although remaining Deputy Leader of the Labour Party hardly equates with quitting politics. But there's no mistaking that revolving door through which Cardona slithers his way into the business world. As if by magic, he's an advisor for the Insignia Group who describe themselves as 'a global leader in lifestyle management and financial services for influential individuals'. Sadly, the typos and grammatical errors on their superficially glossy website are a bit of a giveaway: 'Are luxury brands are adapting to the volatile demands of ecological behaviour'; 'if you are considering getting away from it all and self-isolate somewhere'. Can't these prestigious pimps afford a proof-reader?
In the grammatically redundant jet-setting world of helicopters, fast cars and palm trees is a photo of a dinghy, evoking such a stark contrast with the one Abela serenely ignored before enlisting Neville Gafa, self-confessed prince of the pushbacks, to use his contacts in Libya, which include the militia warlord, Haithem Tajouri, to return the 51 survivors to the Libyan authorities to face torture, rape and/or death in the Takiq al-Sikka detention centre.
It's not impossible to imagine Tajouri has one of Insignia's credit cards advertised by Chris Cardona on Twitter, negating any conflict of interest with his position as ex-Economy Minister and current deputy leader of the Labour Party.
INSIGNIA LAUNCHES GROUNDBREAKING NEW TECHNOLOGY THAT REPELS BACTERIA FROM THE SURFACE OF PAYMENT CARDS https://t.co/mxYvneRLk5 pic.twitter.com/ImZuNC6HAr

— INSIGNIA (@InsigniaLB) April 7, 2020
Tajouri, once turned up for battle in a D&G sweatshirt and Chanel espadrilles. 
If the complaints of one ex-Insignia employee are to be believed then Cardona will excel in an environment where 'If you are prepared to keep quiet on inappropriate or ''grey'' matters you will do well'. Amidst the litany of criticisms made by this former employee is the comment 'Financial company based in Malta, speaks for itself.' Anybody would think we were the envy of Europe or something.
Angela Merkel must be green at the gills for being likened to Hitler by the then Maltese Ambassador to Finland and only two minutes after Malta gave the finger to Operation Irini. While it may not be perfect, this EU initiative is an attempt to impose an arms embargo on Libya and contribute to a peace process which took a step forward last January when both sides of the warring factions were brought together at the Berlin Libya Conference.
The other tasks of Operation Irini are as follows:
monitor and gather information on illicit exports from Libya of petroleum, crude oil and refined petroleum products
contribute to the capacity building and training of the Libyan Coast Guard and Navy in law enforcement tasks at sea
contribute to the disruption of the business model of human smuggling and trafficking networks through information gathering and patrolling by planes
It should be immediately apparent why Malta should be nowhere near such an operation. Daphne Caruana Galizia's investigations into fuel smuggling were confirmed by the Daphne Project only months after her assassination.  The fact that the Maltese authorities were turning an all too familiar blind eye is implicit to an earlier report by the Wall Street Journal and published on Caruana Galizia's blog in March 2016. A recent investigation exposing connections between the Swiss trader Kolmar Group AG and Darren and Gordon Debono cites an anonymous source as saying 'The smuggling of fuel from Libya via Malta picked up around late 2013 and early 2014, peaking in 2016.' 
Funny how this coincides with the time that Joseph Muscat swept into power, isn't it?
Referring to Darren Debono prior to his arrest, the Wall Street Journal notes the lack of comment from Maltese officials and states that 'Western and Libyan officials believe fuel smugglers use the same networks, vessels and ports that also make Libya a regional hub for trafficking weapons and humans.' 
A Maltese arms dealer, James Fenech, who sells lethal weapons to various unsavoury companies, was charged just the other week with violating EU sanctions by supplying rigid-hull inflatable boats to Libya. This harks back to the photos included in this article while Fenech's 'hunting shop', Fieldsports, alludes to those gun-toting rednecks who blast turtle doves from the sky. And Fenech just so happens to have a business with that Gozitan magnate, Joseph Portelli, securing highly lucrative road contracts from their pals in government. Fenech was also part of a consortium that bid for 70 million euro's worth of road projects, one that included the Turkish Excel Sis Enerji Uretim Construction.
Turkey: a country that gives as much support to Operation Irini as it does for human rights. Turkey, along with Russia, actively supplies weapons to Libyan rebels with the supposed intention that this will result in a cracking down on human trafficking and thus stem the number of migrants crossing the Mediterranean by boat. We're talking arms and Erdogan here so don't mistake this for humanitarianism.
Erdogan's appalling attitude towards democracy obviously hasn't stopped Evarist Bartolo from having a friendly meeting with the Turkish ambassador in Valletta nor Byron Camilleri from instigating informal talks with Hulusu Akar, Turkey's national defence minister. Given the Labour Party opposed EU membership to begin with and are now firmly in their bad books, it looks like they're cosying up to a regime frighteningly similar to their own, thus strengthening relationships with dictatorial and military forces in both Turkey and Libya.
And then we have Neville Gafa, called upon by the serene Robert Abela to return 51 migrants his government left stranded at sea to the Libyan authorities in a boat which had 5 corpses on board. Nothing's too grotesque for Gafa who threatens witnesses who would testify to his role in the medical visa scam and tries to gain their trust by telling them he's Muslim. Last month, it got worse, if that's possible and, in Malta, it always is. As Manuel Delia succinctly puts it: 'Neville Gafà told us what Robert Abela couldn't: that the Maltese government is participating in illegal human trafficking.'
Right now, two Captain Morgan pleasure boats – owned by Michael Zammit Tabona who described Merkel as Hitler – are holding about 167 migrants hostage with complete disregard for all human rights obligations, part of Malta's mercenary attempt to hold the EU at gunpoint. Apparently a third Captain Morgan vessel set out last Thursday.  
This pirate bravado is a further and dangerous display of Malta's superiority complex, a reassertion of the Labour Party's contempt for Europe which turns to anti-democratic factions in the Arab world for its defence. The severity of this situation cannot be underestimated.
And then we wonder why Malta is maliciously delaying the setting-up of the European Public Prosecutor's Office whose intention is 'to investigate, prosecute and bring to judgment crimes against the EU's financial interests, such as fraud, corruption or serious cross-border VAT fraud.' You're being asked to catch yourself red-handed. Imagine that.